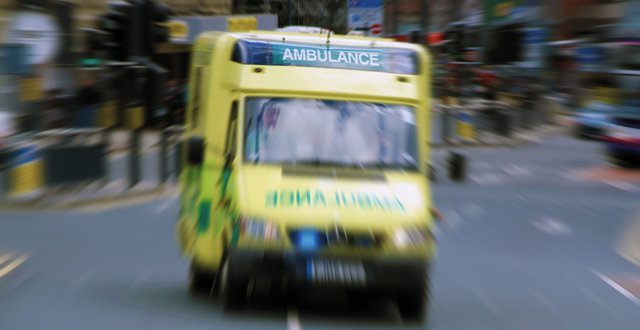 It was a moment I will not forget. He was three years of age. He was on the examination couch. He was not responding. He had the classical blue eyes, blond hair and beautiful complexion.
With authority and decisiveness, I told the secretary to ring 999… NOW. The boy was limp and could not be woken from his slumber, which we had hoped it was. All my pressing of pain sites and slapping of his face came to nothing. His pupils were distant but responsive to light. His heart rate was not alarmed and his breathing was calm. Eerily so.
At this stage his mother and relatives were in hysterics.
I had hoped the secretary would say: 'The ambulance is on the way doctor and will be here urgently.'
Instead I heard: "They want to talk to you, doctor." I dragged myself away from a dying child. The ambulance man began the questions: "What is his address, what age is he, what is his state at the moment? What is his… this? What is his… that?"
I interrupted the flow of questions because I truly believed he was mistaken about what was unfolding in front of me. I explained that "I am a doctor and I am in an after-hours clinic and I have a dying child here."
"Yes, but I have to ask you these questions." He was getting irritated.
I had been here before and so I knew where the questions were going and each second delay by protocol was a second lost to this boy, and possibly forever.
I stopped partaking in his delaying conversation. I passed the phone back to the secretary. He knew our address. The only thing that might awaken his stupor, out of protocol madness to medical urgency, was for me to get back to work. I now knew we were on our own. The ambulance might come. I felt sure it would come. But when?
I decided we were on our own, deserted by the system. "No rash," I said, "but still maybe it might be meningitis and maybe a penicillin shot might make the difference between life and death". It was the only thing I could consider in the absence of help. Do something. So I could say I tried everything.
With panicking relatives in the small room, I went to another room to draw up penicillin. They probably thought that I was fleeing the scene.
Watching the boy, flaccid in my arms and hearing the wailing cries in the background, I remembered how your life can flash in front on your eyes in a very short space of time. I travelled, in thought, through my past, my present and my future, like <em>A Christmas Carol</em>. In a split second.
The future? The final acknowledgment that he was irreversibly dead. The inquest. The relative's pain. My isolation and powerlessness. The unfairness of it all. The acceptance that this is part and parcel of a medical career. The sense of failure. The acceptance that I did all that could be done in the tragic circumstances. Acceptance that this may not be enough in a system that likes to blame professionals for simply being on the front line when, inevitably, tragedy occurs.
The present? I was speechless with confusion and anger at the ambulance service. But I also recognised that this is not a new problem. I have seen it before, even 20 years ago in Australia. I have spoken to other GPs over the years. It was not like this when I started out. There was some respect and teamwork. A doctor's opinion meant something. We were top of the heap. Now it appears we are bottom of the heap.
The advice from other GPs since that event is that this situation is real. It is not just me. It is a problem. The perception is that it is better for a patient to ring the ambulance service directly rather than the doctor ringing. There is more respect. More pragmatism. But maybe only a little more.
Why is this? Is it another symptom of putting the priorities of administration over clinical care?
So what happened next? The ambulance came, on time, and as life would have it, the boy awoke like some Lazarus. Making liars of us.
The ambulance boys were a welcome sight. I struggled between slight embarrassment at a now less-sick child and not wanting to give these good professionals a tongue-lashing for forces outside their direct control. Professionalism and teamwork won the moment. This time. I kept my counsel.
I rang the following day, as I sometimes do. The boy was home after being kept overnight. What a great gift for the family and for me. It could easily have been such a different start to the year.
We have choices to make here. Changes. Who will make them? Who was this lesson meant for?