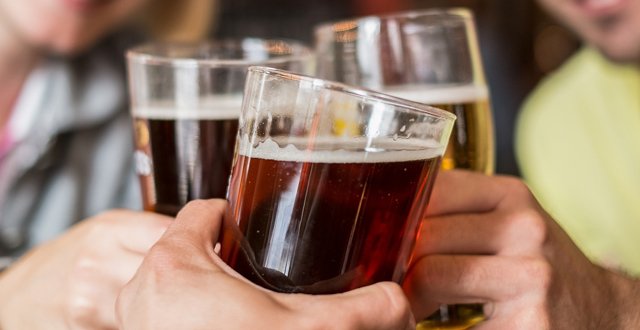 Friends with beer toasting in a pub
Doctors were warned to be aware of negative terminology when dealing with patients with alcohol dependency, a leading UK-based psychiatrist told the Irish Society of Gastroenterology Summer Meeting.
Prof Eilish Gilvarry, Clinical Director of Specialties and Forensic Services at the Northumberland Tyne and Wear NHS Foundation Trust, addressed the meeting on managing alcohol addiction.
Speaking about stigma, Prof Gilvarry warned that it was "so serious" and called for clinicians to maintain a positive attitude.
"Sometimes it's us as doctors who have the stigma and sometimes it's conscious and unconscious bias. But we need to be aware," she said. "I have banned the term 'this person has failed'. They just have had a relapse."
She was also concerned about the term 'self-inflicted' as there is a very significant genetic component to alcohol dependence.
She stressed for doctors to be careful of terminology. "I ban the term 'alcoholic', which is now seen as stigmatising and judgemental.
"It's a categorical definition. Are you an alcoholic or are you not? But it's not at all as simple as that."
The term now used in DSM5 was alcohol use disorder and this showed that a patient could have harm from alcohol, but not require detoxification.
The arguments for tackling this issue were undeniable, the meeting heard. Alcohol abuse accounted for 3.3 million deaths per year globally and 5.8 per cent of all deaths.
Some 5.1 per cent of the global burden of disease and injury was attributable to alcohol, and there was a positive correlation between the level of consumption and the prevalence of alcohol-related harm.
Its impact was felt in over 200 diseases, the largest proportion of which are related to cardiovascular diseases, injuries, and GI liver cancers.
The alcohol attributable fraction was highest for liver disease and foetal alcohol syndrome, and mortality and morbidity were higher per litre of pure alcohol in low-income countries.
Prof Gilvarry added that the burden of alcohol-related liver disease had increased dramatically in the last 20 years. "We're seeing people with acute hepatitis in the under-30s," she said.
"When they looked at an outcome and death measure in a confidential inquiry in England of those who had died, 70 per cent had already been in hospital two years beforehand, which shows you there is a huge opportunity to intervene with those who have alcohol problems."
She suggested that tax and minimum unit pricing would reduce alcohol-related harm, "no doubt about that", but "the drinks industry is very strong".
Prof Gilvarry added that brief interventions could make a significant impact from a public health point of view.
"If you add a motivational component, you improve the efficiency of a brief intervention," she said.