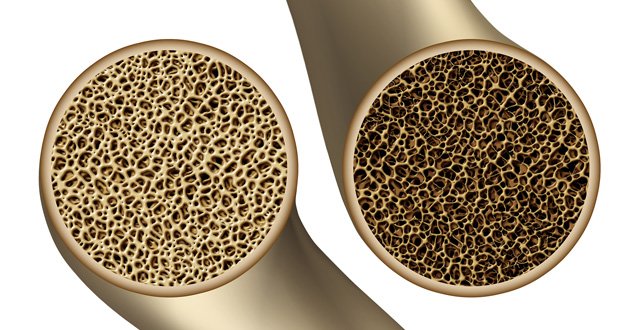 A clinical overview of the diagnosis, treatment and management of osteoporosis
A person will develop osteoporosis when more bone is lost than is formed. This results in low bone mass and compromised bone strength, with an increased risk of fracture. The majority of these fractures are preventable. The most common bones to fracture are the hip, spine and wrist, however it can affect any bone. All low-trauma fractures should be considered osteoporosis, unless proven otherwise, even when the patient has fractured bones from a fall on ice or cement.
One fracture doubles the risk of further fractures and untreated osteoporosis leads to pain, disability, loss of independence and premature death. Osteoporosis is the commonest bone disease worldwide and there are no signs or symptoms prior to fracture.
Prevention
More women die from the complications of osteoporotic fractures than from all cancers of the ovary, uterus and cervix put together.
While it is more prevalent in post-menopausal women, it should not just be considered an older woman's disease, as more men die as a result of osteoporosis than get prostate cancer. Men are more likely than women to die after fracturing a hip and also to require care in a long-term facility.
One-in-two women and one-in-four men over the age of 50 years will develop an osteoporotic fracture in their lifetime, if they do not look after their bone health.
About 20 per cent of people aged 60+ who fracture a hip will die within six-to-12 months, due to the secondary complications of the fracture, which are blood clots, pneumonia or infection from being bed-bound.
About half (50 per cent) of people aged 60+ who fracture a hip will no longer be able to dress, wash or walk unassisted.
Only 30 per cent of people aged 60+ who fracture a hip will regain their independence.
It is never too late to start a bone-healthy exercise programme, even if a person has already been diagnosed with osteoporosis or are at high risk of developing osteoporosis. However, those with bone loss (osteopaenia/osteoporosis and osteoarthritis) should not be encouraged to do yoga exercises/stretches (sit-ups, twisting of the spine, touching toes with legs straight) that involve forward flexion or high-impact exercises such as bone-loading due to the risk of fracture. These patients should be advised to avoid bending forward. These patients will be doing some flexion when dressing, etc. High-impact exercise should be encouraged in children, teenagers and young adults who do not have risk factors for bone loss. Research shows that weight-bearing exercise, especially right before puberty, can significantly improve bone density. Dancing is excellent for bones due to the variety of weight-bearing.
Every health professional should be screening their patients/clients for risk factors for bone loss. Any patient with a low trauma fracture should be assessed for their risk of bone loss.
NOTE: There has been a marked increase in the stress levels of both males and females, due to either excess psychological or physiological stress. Cortisol is released in response to stress. High levels of cortisol reduce both oestrogen in females or testosterone in males, causing increased bone loss. High cortisol increases RANKL and the formation of osteoclasts, which increase bone loss. It takes three weeks to lose bone, but three months to replace the lost bone.
Elevated levels of cortisol cause calcium depletion of bone tissue. Cortisol mainly acts on the outer layer of the bone called the periosteum. Elevated cortisol inhibits osteoblastic activity and cell proliferation, which reduces bone formation, resulting in reduced bone density and placing the patient at risk of fractures.
Diagnosis
Postural changes (loss of height, head forward from body, shoulders rounded, hump developing on back) are commonly thought of as the natural ageing process, when they are the biggest red flag for possible undiagnosed vertebral fractures. About 75 per cent of those with vertebral fractures have intermittent back pain; only 25 per cent have constant pain.
A DXA scan of the spine and hips is the gold standard for diagnosing osteoporosis and is the only test that the Irish Osteoporosis Society (IOS), who are the national experts on osteoporosis, recommend. A DXA scan is a simple, painless test that takes approximately 15 minutes and is not claustrophobic. A DXA scan involves a 10 per cent radiation level of a regular chest x-ray.
NOTE: The IOS does not recommend the use of ultrasound scanning of the forearm, heel or tibia for screening or diagnosing bone loss. The IOS does not recommend the Fracture Risk Assessment Tool (FRAX), as there are only 12 risk factors on it and there are approximately 200 risk factors for bone loss.
A T score compares an adult's results with the mean peak bone mass of a large number of normal females and males between the ages of 20-to-40 years.
A Z score compares the patient's score with their own age group; this is usually used in the diagnosis of the spine in children and adolescents (aged under 21 years). Their bone age should also be compared to their chronological age, by x-raying the carpal bones of their non-dominant hand.
NOTE: T scores and Z scores are the same between 20 and 40 years.
Mild osteopaenia is a T score of -1 to -1.49.
Moderate osteopaenia is a T score of -1.5 to -1.9.
Marked osteopaenia is a T score of -2 to -2.49.
Osteoporosis is a T score of -2.5 to -2.99.
Severe osteoporosis is a T score of -3 or higher.
Research shows that the majority of fractures happen in the moderate to marked osteopaenia range.
The T score of each vertebra should be included in the report, not just the average of the four. If a vertebra is more than one standard deviation better than the vertebra with the lowest T score, it should be excluded from the average score. This false higher reading may be due to increased density due either to osteoarthritis or to a vertebral fracture.
Examples of DXA results with false higher readings:
T score of L1 = -3.4 = Severe osteoporosis.
T score of L2 = -3.0 = Severe osteoporosis.
T score of (L3) = -1.9 = Moderate osteopaenia = false higher reading.
T score of (L4) = -2.0 = Marked osteopaenia = false higher reading.
The average of the T scores above, prior to elimination = -2.7
L3 and L4 should be eliminated, which is when you should see brackets around the results; unfortunately, this is not always done.
Therefore, after elimination, the average T score = -3.2. This shows that a person could be told they have osteoporosis, when they actually have severe osteoporosis. A diagnosis should not be made just on the total average of either the spine or the hip.
NOTE: If only two vertebrae are left, because the other vertebrae have been eliminated or both hips have been excluded because of hip replacements, then a lateral vertebral assessment (LVA) — a DXA of the mid and upper back or lateral thoracic x-ray — should be done.
If a person has developed a 'Dowager's hump', loss of height, postural changes, or scoliosis, back pain, an LVA is recommended. An LVA is usually not done unless specifically requested on the referral form.
If LVA is not available, a lateral x-ray of the spine is advised. This will show if the shape of the bones in this area is compressed due to osteoporosis fractures. However, this cannot be used to monitor the patient's response to treatment in this area.
Treatments
All treatments should be prescribed on an individual basis.
The menopause is only one of 200 causes and men do not go through the menopause! Bones need normal sex hormones, adequate calories and protein, vitamin D, calcium and fluids (1.5 litres), and appropriate, regular weight-bearing/strengthening exercise to keep them healthy. Stress, low sex hormone levels, family history, gluten sensitivity and medications/treatments causing bone loss are some of the many risk factors.
The causes of bone loss should never be assumed; they should be investigated and addressed. This is done by an extensive bone health questionnaire and extensive blood tests. Both can be requested from the IOS: info@irishosteoporosis.ie.
Bisphosphonates, ie, alendronic acid, and teriparatide and denosumab are all options for women and men. HRT and the pill are options for women. There are contraindications for all treatments and especially premenopausal women.
NOTE: Those with gastrointestinal disorders usually have difficulty taking bisphosphonates, which can decrease compliance levels.
NOTE: All patients need normal vitamin D, cortisol, calcium, PTH and renal function and appropriate weight-bearing exercise to get the maximum benefit from all treatments.
Situation in Ireland
There are approximately 280,000 people in Ireland who have undiagnosed osteoporosis, and of the 15 per cent diagnosed, only 5 per cent are put on a treatment. In the vast majority, 95 per cent, of people who contact the national osteoporosis helpline (01 637 5050), causes of bone loss have been assumed.
The low diagnosis rate of osteoporosis results in patients with low trauma fractures blocking hospital beds and with our ageing population, this is going to significantly affect our overstretched capacity issues and the quality-of-life of those affected. This is the reason why FLS (Fracture Liaison Services) are urgently needed in Ireland. An FLS is when a dedicated co-ordinator acts as the link between the patient and all other departments in a hospital, including primary care physicians. One hip fracture costs the state €55,000 in total and there are over 3,000 hip fractures a year, therefore FLS are essential.
If current trends continue, it is estimated that costs will be: €922 million-€1.077 billion by 2020 and €1.587-€2.043 billion by 2030.
Remember, osteoporosis is preventable as well as treatable in the majority of people.