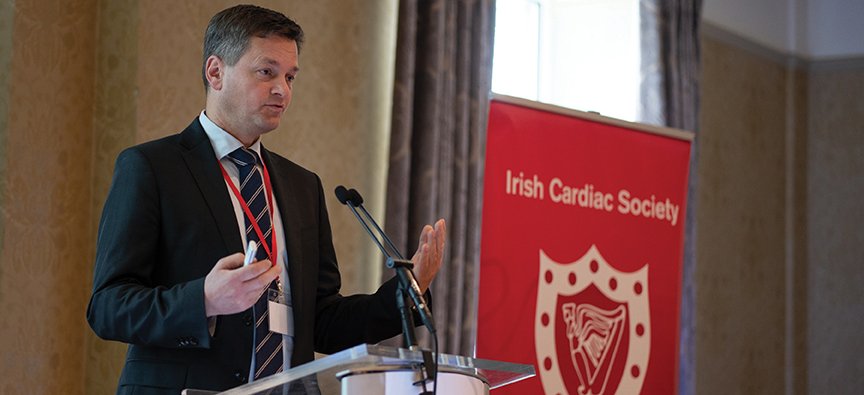 Prof Stephan Achenbach, President-Elect of the European Society of Cardiology (ESC), spoke exclusively with the Medical Independent (MI) at the recent Irish Cardiac Society (ICS) Annual Scientific Meeting and AGM about the perception of Irish cardiologists abroad and the ever-growing links between the two societies.
"The ESC greatly values the ICS, for two main reasons," explained Prof Achenbach. "First of all, we value the ICS because of the unbelievably high level of professional expertise, but also, as my colleagues and myself have observed, the way in which this Society nurtures the young [cardiologists]," he told MI.
"Even during training, very early on, the young people on their way to becoming cardiologists are perceived as being 'part of the family' in the ICS and receive fantastic support, and that's something that is very unusual. In many other countries, there is no such support – sometimes these younger individuals are perhaps seen as competition in some way. But the sentiment that I have about the model here is that it is a really nurturing relationship and environment for future cardiologists. That is something that seems exceptional to me and I am very impressed by it."
Prof Achenbach was also asked whether his role as President of the ESC will involve maintaining and strengthening collaborations and links with the ICS. "That is one of the areas I will focus on during my presidency," he said.
"My plan is to make the ties between the ESC and the ICS even closer than they are already. We in the ESC must not forget that it was actually the national cardiac societies which founded us in 1950 – there were 14 national societies initially that founded the ESC and the national cardiac societies are the basis for everything we do.
"Some national cardiac societies are different from others because they speak English as their native language – that is good and automatically makes the distance between these national cardiac societies a little bit smaller, because otherwise, we face an additional challenge because some of the practitioners may not be fluent in English, and their patients may not be fluent either," he explained.
"This is why the native English-speaking countries have an advantage to begin with but even with all that said, it is certainly my plan to make the ESC and the ICS even closer than they have been in the past."
The ESC and ICS together face huge challenges in driving cardiac care due to the ever-increasing population-level issues of the obesity epidemic and ageing populations and Prof Achenbach acknowledged that both societies must rise to these challenges. "We all have our hands full," he told MI. "The population is changing – we have had successes in treating cardiovascular disease, as well as other successes in areas such as oncology. This makes our patient population older, but these people also have more comorbidities.
"This is challenging, for two reasons," he continued. "First of all, [utilising] the sheer effort, expenses and resources that are necessary to care for everybody will be challenging, but also, when you think about it, most of the studies that we base our treatments on are in patients who are young – or at least are not very old and don't have many comorbidities – and often, patients who are older and have many comorbidities are excluded. So we need to adapt and realise that for many of the patients we treat, the scientific data does not apply. That's something that needs to find its way into the guidelines in the future and will become more and more important."