A new HSE strategy reflects the important role of the healthcare system in addressing climate change. David Lynch reports
The central goal of the newly published HSE Climate Action Strategy 2023-2050 is to achieve net-zero emissions for the HSE by 2050.
During the implementation period, the strategy promises to reduce the negative climate impacts of the health service and deliver healthcare that is environmentally and socially sustainable.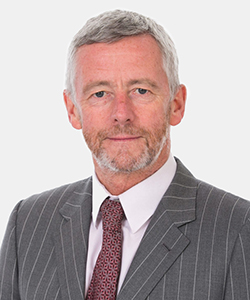 "It's a comprehensive plan," Dr Philip Crowley, HSE National Director, Strategy and Research, told the Medical Independent (MI). "It's one that goes [beyond] what we are committed to, which is net zero… by 2050. We understand that the Irish health service, no more than any other health service across the world, is a significant contributor to climate change."
Dr Crowley, who is a GP, added that the health service has to "absorb the impact of climate change" to mitigate its impact on the general population's health. "So we have multiple reasons to show leadership here, which is what we are trying to do with the strategy."
He said the HSE was "trying to build a movement among staff" as well as harnessing the existing work of staff and other organisations. "We can do this; it will pay off on so many levels," he said. "Quite frankly we have to do it."
Buildings and fleet
The HSE's huge estate includes buildings and green spaces. It comprises an approximate floor area of four million square metres spread across approximately 2,500 sites and 4,500 individual buildings.
Dr Crowley said the HSE has already identified about 170 buildings that are significant energy users across the health sector. "These are the bigger sites, the energy intense sites; they would account for around 80 per cent of our energy use and our carbon emissions."
The strategy aims to progress a "deep energy and carbon retrofit programme" of existing buildings to reduce energy usage and shift away from fossil fuels to renewable energy technologies. "We will continue to do that over the period of this plan; we have a lot of old buildings that require more retro-fit than the newer ones," added Dr Crowley.
The strategy also aims to make the HSE fleet 'greener', while reducing the reliance on car transport by staff and service users.
Encouraging cycling among staff "is definitely part of the strategy", said Dr Crowley. "Part of that is making it easier, for example, to secure the bike when you are at work."
Procurement
At the Environment, Health, and Wellbeing Conference in November, Dr Rachel MacCann of Irish Doctors for the Environment (IDE) told MI she would like to see a "particular focus" on green healthcare procurement. She noted that a significant majority of emissions in the sector can be attributed to procurement.
"So making one big change in one central area, I think, can have a more overarching and longer impact than a lot of the individual efforts," Dr MacCann added.
The new 64-page HSE strategy describes the Executive as a "key strategic buyer" with an annual spend of nearly €4 billion a year. In this context, the HSE's procurement division is acknowledged as "a key enabler" to deliver climate action.
"Yes, one big area is sustainable procurement," Dr Crowley told MI. "…. Our supply chain would be responsible for maybe 65-to-70 per cent of our overall impact on the environment. So that's clearly an area that we need to build on."
Under the new plan, climate impact assessments would be part of "every procurement decision that we make". However, Dr Crowley noted that while the HSE was a big player in Ireland in regard to procurement, it was "tiny in the global market".
"But equally we will be linking in with colleagues in England and the US and hopefully in the future with many other jurisdictions, to give the same message to the supplier. Then that message will start to become an overwhelming message."
Dr Crowley added that he believes "a lot of suppliers we work in partnership with will not be antagonistic" to the need for climate action.
He said the 'greening' of procurement would be a "slow burner", but work has commenced. Some other countries have a "decarbonisation trajectory in their procurement supply line and that is something we will develop as well, as part of our overall move towards net zero by 2050."
Synergy
Ms Roisin Breen, a physiotherapist working on climate change and sustainability issues with the HSE, told MI a "lot of collaboration" was happening beyond the organisation. Links have been established with the Department of Health, the Department of Transport, and the Environmental Protection Agency, to name a few. These "are synergies that we can jump on", according to Ms Breen.
She noted that electrifying the HSE's ambulance fleet was a priority. In regard to the general HSE fleet, Ms Breen said the Executive will work closely across the public service to make the means of transport more environmentally friendly. There will be a "communications campaign" on active travel for HSE staff. She added that the increase in the use of e-health, and "enabling staff to do their job without so much commuting", also fed into the aims of the strategy.
According to the strategy, the majority of emissions associated with medicines are typically generated during the manufacturing and freight stages, with a select few "high-emission" medicines (ie, anaesthetic gases and inhalers) occurring at 'point-of-use'. "For example, commonly used metered-dose inhalers (MDIs) contain a high volume of hydrofluorocarbons, a potent greenhouse gas. Switching from an MDI to a dry powder inhaler is estimated to achieve carbon savings equivalent to driving 275 kilometres in a standard petrol car."
In April, the College of Anaesthesiologists of Ireland (CAI) published "a strong advisory" to members that continued administration of desflurane "is no longer justifiable due to its super-potent greenhouse gas effects". The CAI stated that while "almost all commonly used anaesthetic gases" were potent greenhouse gases, desflurane was "of particular concern".
"Desflurane is a particularly heavy anaesthetic gas in terms of environment impact," according to Dr Crowley, who said a number of HSE sites have already eradicated its use.
He also referred to the work the ICGP is undertaking regarding inhalers and their impact on the environment.
"So it is a matter of supporting them [the ICGP] and our GP colleagues to look at gradual replacement of inhalers with the [dry] power-based ones."
Targets
The strategy notes that the healthcare sector is a notable contributor to greenhouse gas emissions, accounting for an estimated 5 per cent of total emissions globally. It is also responsible for responding to people's changing health needs that arise from climate change.
"By 2021, the HSE achieved a 9 per cent reduction in energy-related emissions and our new target is a 51 per cent reduction by 2030," according to the document.
The strategy will be "reviewed annually and updated, when required, as additional guidance and policy information becomes available, carbon hotspots are identified, and when specific targets are made more granular and timebound".
Dr Crowley said that when the strategy was presented to the HSE board prior to its official launch, board members were "very energised" by the plan. "That gives us a lot of backing to go out to implement it."
Doctors
In recent years, there has been a clear growth in the level of climate action activism among doctors in Ireland. The work of the IDE and the sustainability working group within the ICGP are just two prominent examples. In 2020, the CAI became the first of the specialty colleges in Ireland to set up an environmental sustainability committee.
"Clinical leadership of all varieties will be fairly pivotal here," agreed Dr Crowley. "We need activism… people will be critical of the pace of change, but that's good. Bring that on. Because we are all very aware that this is urgent and any pressures to get on with this is very welcome."
The strategy can be found at the following link: www.hse.ie/eng/about/who/healthbusinessservices/national-health-sustainability-office/climate-change-and-health/hse-climate-action-strategy-2023-50.pdf.