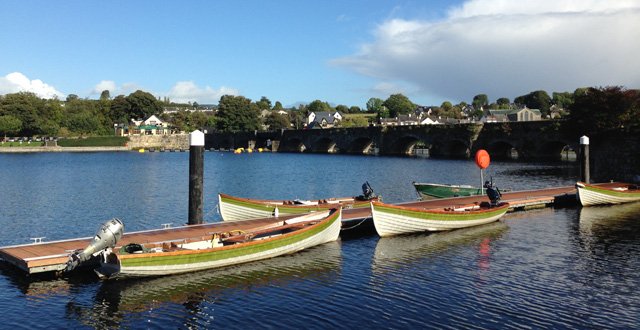 It takes a village to rear a child. It takes a village to keep my house and garden going.
When I moved to Dromineer 20 years ago, I was told there were a hundred houses, about half being holiday homes. We're a small community. The numbers have gone up a bit, but that split is much the same. The summer people say, "Dromineer must be so quiet in winter". And we residents agree cheerfully.
Within the village, there are some demarcations. A resident complained about badly-parked cars. A neighbour commented that her own brother parked his truck anywhere and everywhere. The answer: He was born in this village. So that's clear: 20 years or forever, I'll still be a blow-in.
Down by the lakeshore, there are divisions too.
Dromineer Boat Club is for fishing folk; Mayfly season is serious. Lough Derg Yacht Club is for sailors, like me, and some fishermen too. There's the Marina and a public harbour too.
But we all hang out in the Whisky Still and the Lake Café, which both serve great food.
In our small community, there are many useful people. We have a couple of judges and a school principal. When Tom got into a battle with An Bord Pleanala, he went to Liz for a legal chat. Noreen has advised on endless school problems over the years. The ex-head of An Taisce lives here too, and a former President of the IMO — yes, that's me. Another neighbour has a connection to US Immigration at Shannon Airport, which is handy in these troubled times.
They all play a part in village life, but I rely on some other very important people.
Across the road lives Willie, who built my house, taking a long break in Mayfly season. This year, he's building me a tiny garden house. In the great snow of 2018, Dromineer was cut off from the world. But within the village we had no problems: Willie and his digger cleared the snow from roads and driveways, so Noreen could walk up to my house for coffee, and later we got to the pub for a hot whisky.
Anthony, who plumbed this house, lives round the corner. The day the water tank burst in the attic, and water poured down my kitchen walls and through the light fittings, he was here within minutes.
My Aga is serviced by Jim. He doesn't bother with appointment times, just calls in on his way home — he lives down by Dromineer Castle. When I dropped the big Aga kettle, and the handle broke off, he fixed that too — all part of the service.
My garden was planned and planted by Ger, whose sister has a holiday house in Dromineer. With a team of helpers, he's kept it going through storms, snow and sun.
When Donal retired from teaching, his wife volunteered him to walk my dogs. Even though he's busier than ever, he finds time for them most days and they get so excited when they see him.
Sometimes deliveries need help too.
On Mother's Day, Annie sent flowers from Cardiff, but the delivery man couldn't find me. So Biddy hopped in to show him "the doctor's house" and to confirm they were from "Tom's daughter". She has dozens of flower pots outside her own house. A few years ago, on a dark winter's evening, we were all summoned to the pub to celebrate Biddy's 90th birthday.
There are some slight problems: village people don't bother much with schedules, so they can turn up at any time.
I used to tell guests there's no-one around outside; just a field with bullocks. I don't say that anymore, since a friend took me a bit too literally. Fresh out of the shower, she threw up the window-blind of the downstairs guest room… just as a lawn-mower was being pushed past her window.
Bank holidays have no relevance either.
On New Year's Day, my sister and I were having a late breakfast in our PJs when a truck pulled in. It was just Sean delivering a load of wood. He's another Mayfly man. He once told me a story about ghillying for some useless people; they nearly capsized his lake boat and the shock of it set off his intra-cardiac defibrillator.
At the June weekend, I was at Bloom helping a neighbour sell gardening gear. Surprisingly, a career in hospital medicine has made me a star seller of hats and gloves. Noreen called up each day to feed the cat. Ger and friends were in the garden cutting back shrubs. Then Donal checked on my flower pots, and phoned me.
I'd left my keys hanging in the back door. That's village life. That's Dromineer.