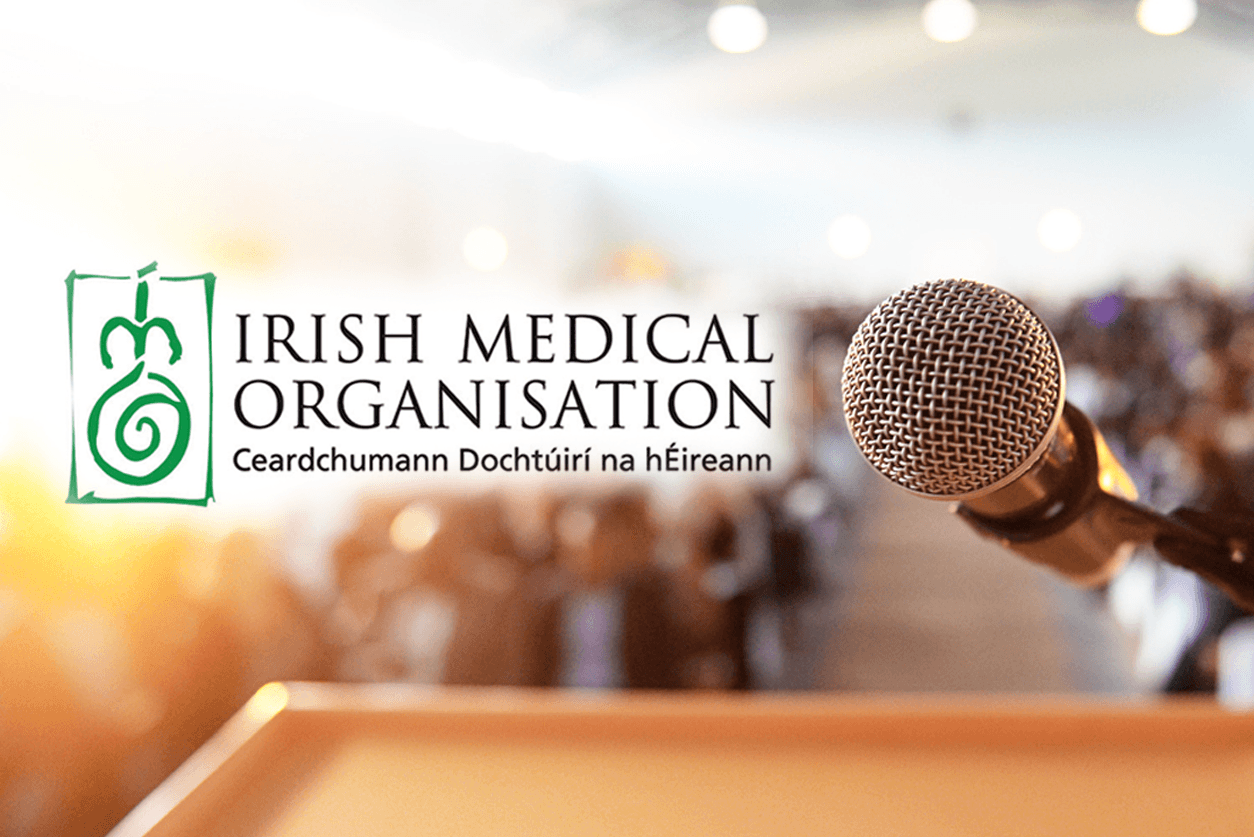 Dr Christine O'Malley gives a personal account of the IMO AGM 2019 in Killarney
Once again, CEO Susan [Clyne] and the IMO team gave us a wonderful AGM. Usually, they organise glorious sunshine too; this year Storm Hannah swept in. But the Europe Hotel, spiritual home of the IMO AGM, kept us safe as we welcomed our new IMO President, Padraig McGarry.
I hardly went outside all weekend — there was so much happening. AGM motions can start a debate on a topic. The educational sessions were varied and interesting, and I attended most of them.
It was great that Clive [Kilgallen] was quoted in three national newspapers when he said that cancer patients can't get operations because there's no beds. It's been true for years and is very distressing. Why did journalists pay attention this time? Maybe Clive found the magic words and they heard it. Maybe what Cillian [Twomey] called "trolley fatigue" is wearing off. Maybe health is back on the national agenda. I hope so.
It was fascinating to hear from journalists about the media view of the unfolding CervicalCheck controversy. Then Martin [Wall] explained why they don't do "good news" stories. Journalism covers what is not normal, just like the IMO shouts about 500 vacant consultant posts, not filled ones.
Listening to Patrick [Kelly], Irish Army doctor, and Niamh [Allen], Médecins Sans Frontières, tell their stories of managing Ebola and cholera in Africa, I was proud to be an Irish doctor.
In contrast, Suzanne [O'Sullivan] said that Irish obstetricians love their work but most would not recommend it as a career. Later, John [Higgins] added that in his maternity service, every bad outcome of significance results in the loss of a staff member. Perhaps the Irish should stay in Australia. According to Mick [Molloy], one hospital in Perth has 20 Irish doctors working in ED, and that's more Irish doctors than any hospital here.
The Minister visited us again, and pointed to the GP FEMPI deal as evidence he can work with doctors. I really hope he can solve the two-tier consultant pay. I'd love to see Irish doctors return from Australia. I'd really hate to see a doctors' strike.
My current focus is on muddled health data. I found some fellow enthusiasts when I spoke about the Hospital In-Patient Enquiry (HIPE) system. All patients who are admitted but stuck on emergency department trolleys are ignored by HIPE, and loads of surgical cases too. We don't get the credit for work done in the public system.
Charles [Goh] said in his hospital, about once a week, appendix cases remain in theatre recovery overnight, because there's no bed. That's 50 appendices not recorded by HIPE in one hospital. Des [Fitzgerald] told us a letter was sent to the hospitals instructing them to create "virtual wards" to address the problem, but the order was later cancelled.
I presume OECD numbers come from HIPE data, so they're wrong too. Brian [Turner], health economist, reminded us that "official" figures on Irish waiting lists were rejected some years ago, at European level. Let's reject HIPE numbers!
After a motion on reconfiguration of services in Portlaoise and trauma, Paddy [Hillery] and I talked about the data gathered on trauma cases. At least, that's better than our experience in the Mid-West, where changes were imposed without any patient research. Apparently, a lot of trauma patients are elderly, which may come as a nasty surprise for the new trauma centres. I hope they're getting ready. I suspect not.
Bernie [O'Reilly], patient representative, spoke of the "difficult conversations" that take place between doctors and patients after an error. Austin [O'Carroll] talked about doctor's problems communicating with patients. Then Angela [Tysall], from the HSE, and Seán [Tierney] outlined the serious issues with open disclosure in the new Patient Safety Bill. It's a bureaucratic and legalistic procedure, not good for patients or doctors.
There were late nights, a few drinks, and singing in the bar till the small hours, with pianists Larry and Matt. Over a glass of wine, I was told to make a book out of these Mindo columns. Should I?
Lynda, Lisa and I mulled over young people's issues with anxiety. But I get anxious too — it can be hard on my own at the AGM. Annie couldn't join me in the Europe Hotel. But this summer, she's hoping to work in Dublin with Niamh, Artistic Director, whom she met at the AGM last year.
I left Kerry on a beautiful sunny morning, all traces of Hannah gone. In Abbeyfeale, I stopped to get petrol. A few miles out on a country road, my car sputtered gently to a halt, and I remembered that it's a diesel car.
Oh dear. Still, it was another great AGM.