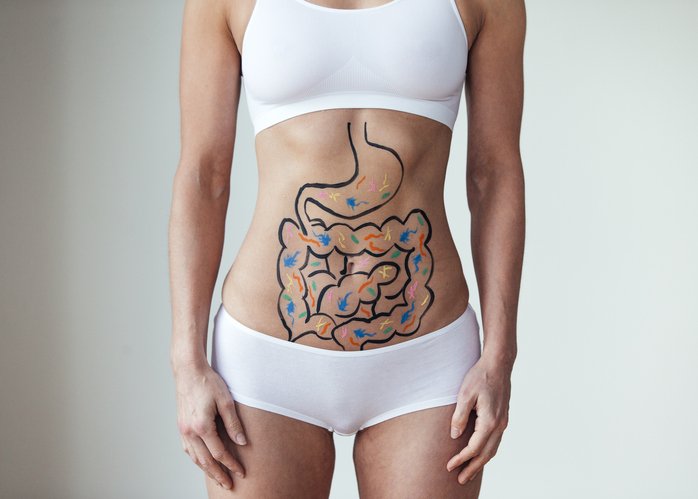 Female with an illustration on her abdomen of intestines with colourful bacteria
Irish Society of Gastroenterology Winter Meeting, in conjunction with the Irish Association of Coloproctology, 12-13 November 2020
Coeliac disease (CD) is one of the most common autoimmune diseases worldwide with a particularly high prevalence in the West of Ireland, a team of researchers at Galway University Hospital (GUH) have said.
In a poster from the ISG's Winter Meeting, McHale et al from the department of gastroenterology, GUH, sought to ascertain the macroscopic
diagnosis of coeliac disease in the West of Ireland.
They aimed to review the macroscopic appearance of D2 [second part of the duodenum] in newly-diagnosed coeliacs over a four-year period, and determine the proportion of biopsies that were taken solely based on the macroscopic appearance of D2. Finally, they sought to determine if there is a discrepancy in the grade of endoscopist who identify macroscopic abnormalities of D2.
They carried out a single centre retrospective observational study, where all new referrals to a coeliac clinic in the West of Ireland between 2014-2018 inclusive were identified.
All patients in which index oesophago-gastro-duodenoscopy [OGD] reports were available were included and an online reporting system was used to collect data points including patient demographics, indication for OGD, reported appearance of D2 and the grade of performing endoscopist. The statistical analysis was completed using both Excel and MiniTab.
In terms of findings, 184 index OGDs were included by the researches, 116 in females and 68 in males, with an average age of 43 years (4-89 years). OGDs were carried out by consultant gastroenterologists (78), SpRs/registrars (101), nurse endoscopist (three) and unspecified (two).
Of these, 154 OGDs (84 per cent) were performed in patients with positive coeliac serology or clinical suspicion of CD. The most common indication in the unsuspected cohort was abdominal pain.
Of the remaining 30 OGDs, 50 per cent had D2 biopsies performed because of the abnormal macroscopic appearance of D2. Descriptions of D2 in the unsuspected cohort included flat (10 per cent), scalloped (10 per cent), nodular (3.33 per cent), oedematous (10 per cent), duodenitis (16.66 per cent), and ulcerated (3.33 per cent).
Registrars/SpRs and consultant gastroenterologists reported macroscopic abnormalities in 55 per cent and 44 per cent of cases respectively (p=0.724 – Chi-square).
In conclusion, the researchers found that 52.7 per cent of newly diagnosed coeliacs had an abnormal macroscopic appearance to D2. They added that 50 per cent of those who had no clinical or serological suspicion of CD had a diagnosis made because of macroscopic abnormalities of D2.
There was no significant discrepancy between SpRs/registrars and consultants in identifying such abnormalities.
"This highlights the importance of close inspection of D2 in all upper GI endoscopies irrespective of the indication for the procedure," they concluded.