I have a friend who was offered a cash deal to part with his recently purchased Hyundai Ioniq 5. He didn't take it. It might be an indication that he has enough money, but it made me think a little.
Then I was asked to have a look at a Suzuki car by a friend and thought it was alright. Not brilliant, but acceptable. But the salesman suggested that we look at the Hyundai i20. And I have to say I was impressed, as was my friend. It was quiet, refined, and beautifully finished for a car of that budget. I felt it was better than the Suzuki. But I'll get to that another day.
My brother happily fixes and sells cars all day long. A few years ago, he had a well-used Hyundai for sale. The one remark he made about it that stuck with me was that it never failed to start first thing every morning.
A lot of people know very little about Hyundai. The company started by manufacturing ships in South Korea and in the 60s assembled the Cortina under licence from Ford. In 1975 they made their first car, the Pony, using a handful of British engineers. At one stage it was a bestseller in Canada. As a result of the Asian financial crisis of the 90s, Hyundai bought a significant stake in its rival, KIA. Of particular interest to doctors is reliability – I can report that the Hyundai brands including Hyundai, Kia, and now Genesis have taken three of JD Power's top four reliability slots in 2022.
I don't have stats for Ireland, but about 10 years ago the average price of a Hyundai sold in the UK was £10,000. Now it is £30,000. As of last year, Hyundai ranked number three in global car manufacturing, behind Toyota and Volkswagen, similar to the Irish sales figures.
So between the jigs and reels I managed to get a loan of a car for a weekend from our local dealer (thanks very much Conor Walsh, Drogheda Car Sales). What I had arranged was the Ioniq 5, the winner of the World Car of the Year in 2022. However, due to a technical glitch, I ended up with the Ioniq 6, winner of World Car of Year in 2023. A win-win situation, really.
The first thing I noticed about the Ioniq 6 was how odd it looked. The wedge shape is described as a streamliner shape, and it is the most efficient aerodynamic shape for a car. To me it looks like a cross section of an airplane wing, but it is shaped to stay on the ground. Over my weekend with the test car, I had people stop me in the street to talk about it and had all sorts of glances from passengers in cars overtaking me on the motorway. Opinions are mixed on the style. But I have to admire Hyundai's courage in breaking from the current mould of car styles. It is effective in making the car seem quieter, although the double glass may also have an effect. Back-to-back with the Ioniq 5, I felt it was quieter. Speaking of the Ioniq 5, which has similar internal bits, the Ioniq 6 has 100km more range, as a result of its shape.
At the business end of the car, the steering wheel is nicely sized with a non-reflective twin screen in front. Changing wiper or lights setting is accompanied by a visual information display telling you what setting you're in, such as auto or otherwise. Lane departure is on by default, but it's easy to switch off. Passive safety features are plentiful and sensitive, including warnings for cars braking in front and pedestrians stepping off footpaths. It can even self-drive for a bit before it tells you 'get your hands back on the wheel'. Do too much of this and it even suggests, ever so politely, that you might consider having a break.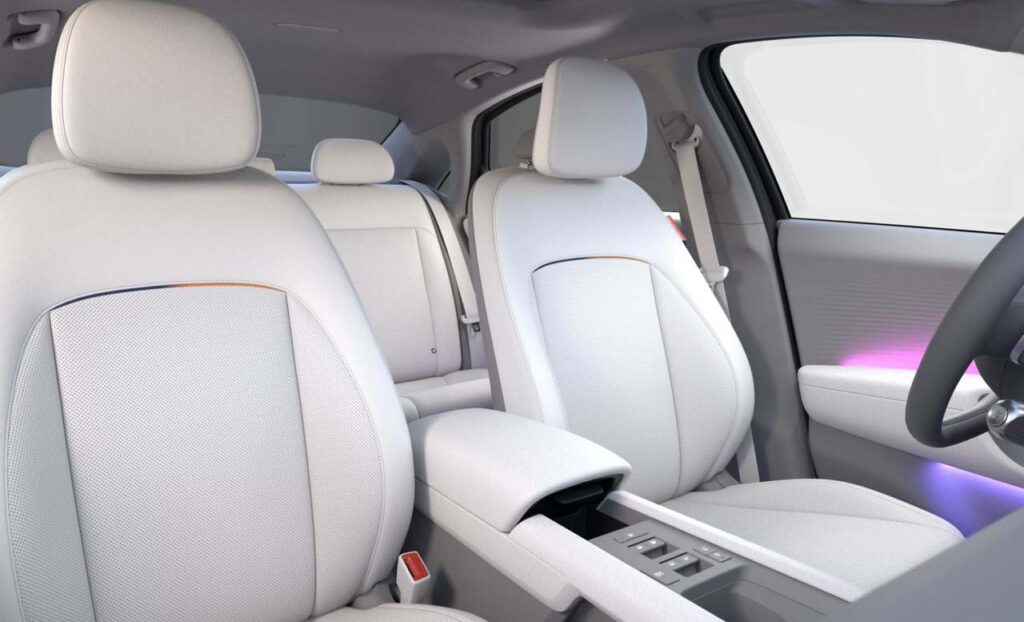 Overall, I found the suspension to be a little on the firm side. The grip on corners was excellent, no doubt helped by the weight of the batteries. Full throttle acceleration out of car parks onto busy main roads are simply fuss free, giving no indication of which wheels are driven (they're at the back).
Rear legroom is vast. Although it has a lot of similarities to the Ioniq 5, it doesn't have the 5's sliding rear seat which would help the boot space (401 litres). Headroom is a little compromised by the aerodynamic sloping roof. USB sockets are littered about the car and, if they are all used up, there's wireless charging available for your phone. It can even run, for example, an electric fridge by plugging into a 230V socket from the internal battery. I have no idea what effect this has on range.
Previously, I would talk about engines, but now I need to tell you the basic model Ioniq 6 has a 53kWh battery driving a single motor. This gives 151 PS (near enough to bhp) with a 0-100kph time of 8.8 seconds and a range of 429km. Further options include larger batteries and two motors. In terms of pricing, the Signature version starts at €45,395*, while the Finesse version starts at  €69,250* (*Prices quoted exclude delivery and related charges).
Overall, the Ioniq 6 comes with unique design, a family history of reliability, and lots of safety features. If you like the look, it is a surprisingly good car. Over to you then.