The Ford Mondeo has been around for almost 30 years and now the American marque has given the stalwart family saloon a contemporary hybrid engine to appeal to the surge in customer demand for electrically assisted cars
Though late to the game, Ford's Mondeo Hybrid Electric Vehicle (HEV) estate offers an alternative for a motorist with a family who doesn't want a crossover or a diesel engine. The Mondeo was once one of Ford's best-selling cars; however, it has now slid down to 49th place and with three-out-of-five of Ireland's top-selling cars being crossovers, (here comes a sentence I never thought I'd write), how about standing out from the crowd and embracing the counter-culture by driving a Mondeo?
The hybrid Mondeo, aside from its electric motor-powered, torque-filled, silent acceleration, felt exactly like a Mondeo. No weird stuff or surprises; you didn't have to lick the steering wheel to activate the handbrake or anything. It was almost exactly what you expect, like a pub carvery dinner, only this time made with a plant-based beef alternative. Think Coke Zero, only a Ford Mondeo.
Personally, I like estates, though they have never sold particularly well in Ireland compared to the UK or mainland Europe. I tested the diesel saloon Mondeo for the Medical Independent in 2018 and described it as "the ultimate all-rounder for your family's needs" and in terms of hybrid estate cars, the Mondeo doesn't have much competition in its price segment.
Inside was spacious, comfortable, and the trim was unmistakably Ford-ish. The long boot, however, wasn't as deep as its diesel brother because the batteries are located beneath and thus reduce the overall capacity, however, it still offers 403 litres with the back seats in place and 1,508 litres with them folded down. This car also offers a specially-developed exhaust gas heat recovery system that enables faster cabin-warming for those chilly winter mornings.
This Mondeo HEV is a usable, practical, daily drive that offers a low entry price point, as well as a Government VRT rebate and €180 annual road tax. The electric motor uses regenerative braking technology to capture up to 90 per cent of the energy normally lost during braking in order to replenish the battery, meaning you don't need a home charging port to top-up your electric motor. It uses a 2.0 litre non-turbo petrol engine that utilises an Atkinson combustion cycle system to produce 184hp. The hybrid powertrain combines the Atkinson cycle petrol engine; electric motor; generator; 1.4kWh lithium-ion battery; and a Ford-developed power-split automatic transmission, for a very futuristic hybrid offering.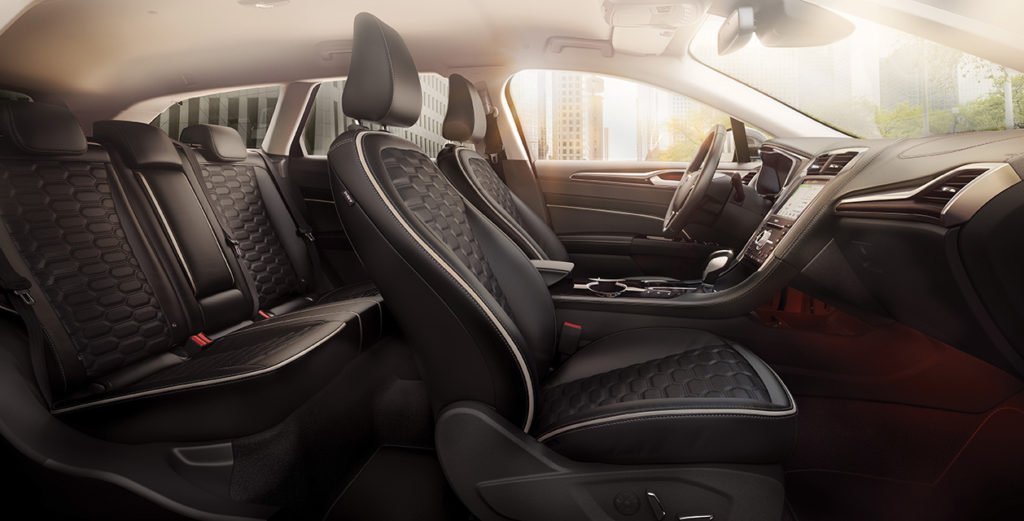 According to research conducted by easytrip.ie, one-in-four motorists are considering buying a new car in 2020 and 36 per cent of them want a hybrid. For this very reason, I'd be surprised if it didn't outsell its diesel brother. In fact, Roelant de Waard, Vice President, Marketing, Sales and Service, Ford of Europe, said the "Mondeo Hybrid offers a compelling alternative to diesel powertrains" and he expects "the Hybrid to account for up to 50 per cent of sales".
The entry price for the Mondeo is €32,580, however, the starting price for the test model I drove, the Titanium estate HEV, is €35,247. My test car had some optional extras too, putting the price up to €36,197.
The Ford Mondeo HEV is a safe pair of hands, it is well built and historically its motors have been reliable and long-lasting. It's not a show-stopping car, but it's a very dependable workhorse and with hybrid-assisted fuel consumption figures of almost 70mpg (4.2l/100km), it will be frugal too. If you're the type of person who doesn't take well to change, then this is the perfect car for you to safely dip your toe into the future of motoring without the scary prospect of plugs, charging points, and Prius ownership.
TECH SPEC
Ford Mondeo Titanium Estate – Hybrid
2.0 Automatic HEV 187 PS
CO2 emissions (g/km) 126-140
Colour: Moondust silver
Features on Titanium HEV
16" alloy wheels
Power folding door mirrors
SYNC 3 with 8" touchscreen
Parking sensors – front and rear
Keyless entry
Cruise control with speed limiting device
Traffic sign recognition
Lane keeping aid