Morgan Flanagan Creagh reviews Renault's Mégane Grand Coupé
Renault's Mégane Grand Coupé is a very well-priced and, if you select the right extras, well-equipped family saloon. This Mégane is a fine car, but it is not a coupé, nor is it grand; it is a saloon, or sedan if you're that way inclined. It is the replacement for the French marque's popular Fluence, which sold in Europe from 2009-2016. Around the world sales figures for saloons have been dropping, but Ireland is bit of an outlier in this respect, as saloon sales are still relatively okay here. Many brands have actually abandoned this segment, but Renault is not one of them. In fact, since the launch of the new Mégane over two years ago, the Grand Coupé has been the best-selling body style in that range.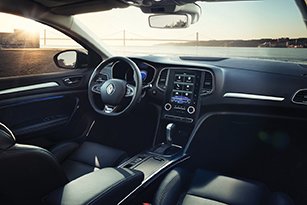 I found the Grand Coupé to be a handsome motor, especially in the Mars Red colour, which my test car came in. It was comfortable to drive with smooth gear changes, although I feel it would have had a more premium feel, but worse fuel consumption, with the automatic option. The eco mode was very calm around town and because it was a manual, I had more control over the bane of modern motoring that is the stop start system. Stop start systems in automatic cars seem to cut the motor at the most inopportune moments, with no respect for the need of immediate response required for city driving. However, in a manual if you keep the clutch depressed while the car is stationary the vehicle will remain ready to take that rain sodden right turn, between the sprinting cyclist and the plodding, Bentley-wielding pensioner who is sailing down Waterloo Road, in Dublin 4. The Grand Coupé has a sport mode, which really made an impact if you're used to driving a more responsive vehicle. Obviously, it will play havoc with your fuel consumption and your eco mode statistics, but it's nice to have the option if you need it.
The WLTP (Worldwide Harmonised Light Vehicles Test Procedure) is an international, harmonised standard for determining the levels of CO2 emissions, pollutants and fuel consumption for petrol, diesel, hybrid, and electric vehicles. In the wake of WLTP Renault has introduced a new petrol engine, available in a six-speed manual or new seven-speed EDC automatic. My test car had this new 1.3 TCe 140 petrol engine, which was nice around town, and as mentioned earlier, when you adjusted the settings it was also quite responsive.
Renault hasn't done away with its diesel offering just yet as the 1.5dCi engine is still available, this time with increased power and the new AdBlue system. For those who don't know, AdBlue is a liquid that is added to the engine of a diesel car to reduce emissions, helping manufacturers to reach emissions targets. According to Renault, the system is low-maintenance with a refill lasting for several thousand kilometres. The diesel engine is also available in six-speed manual and seven-speed EDC gearboxes.
The Grand Coupé offers three trim levels, the basic Play trim, mid-level Iconic and the top of the range Signature. Of course, with respect to the glistening and gilded readers of the Medical Independent, I was given the Signature with a smorgasbord of extras. As standard, the Renault Mégane Grand Coupé Signature comes with built-in 8.7" navigation screen, the multi-sense multimedia system, the visio active safety system, leather interior, Apple CarPlay®, Android Auto®, climate control, parking sensors, 18" diamond cut wheels, full LED lights as standard, and to top it off a five-year manufacturer warranty.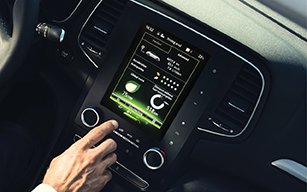 The Grand Coupé Starts at €23,940 for Play model and €32,570 for the top of the range diesel. My test model was €29,015 and, in all honesty, you get a safe, practical and well-specced car for the price. The boot was nice and big, but the glove box was appallingly small and the bonnet release was on the wrong side, which felt lazy from Renault. The car suffers a little with road noise, but thankfully the sound system is great. The infotainment system was alright and thanks to Apple Play and Android Auto you can bypass it and have a happy life.
Renault's Mégane Grand Coupé is a great, cheap and cheerful family saloon. I'd worry about how it will age, but it ticks an awful lot of boxes for a car of this price.