Renault's full-fat RS Trophy is the toughest thug in town
The 'hot-hatch' segment is a pretty rough neighbourhood, with big names like Focus RS, Civic Type R and Golf GTI lurking menacingly on the tyre-scorched, dimly-lit street corners. The Mégane RS is an iconic 'hot' hatchback from Renault, which has been in production since its first incarnation as the Renault Sport 225 in 2004 and it has won best hot-hatch in both Top Gear and What Car? magazines. In order to get this beast onto the radar of Ireland's finest medical minds, Renault loaned me the brand new, top-of-the-range Mégane RS Trophy.
You will hear the RS before you see it. It's quiet enough to alert the neighbours that you're on an early shift, without completely roaring them out of bed. However, once you get it out onto the open road, you can make as much noise as you like, with its orchestra of bangs, pops, gurgles and growls from the magnificent direct-injection turbo engine. However, the motor wasn't the loudest part of this RS; that was the preserve of its aesthetic, with its swollen wheel arches, aggressive rear diffuser and vibrant 'liquid yellow' paint job.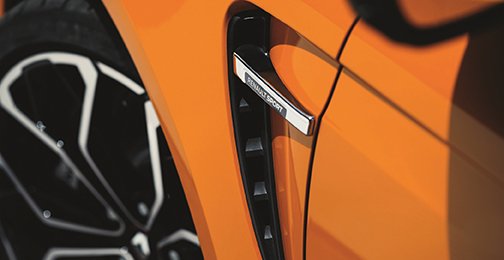 My other half Tanya and I took the RS to Kinsale, Co Cork, for the weekend, giving it a thorough testing on a range of roads and it performed fantastically. Renault's racing credentials are plastered all over this car, from its body-hugging Alcantara sports seats, all the way to its four-wheel steering system, Brembo brake callipers and light cup chassis. This car was a hoot, a panic and a blast as it made everyone in and outside it grin manically.
Under the infotainment system lurks a little penalty point dispenser that says 'RS' on it. Push it and you have the choice of comfort, sport and race. If you press race, the mood lighting in the car turns red, the traction control comes off and the little yellow Renault Mégane turns into a ballistic missile. It has a limited-slip differential on the front axle and a four-wheel-steering system called 4Control, to increase agility in slower corners and stability in quicker corners, thus helping you to avoid introducing it to an immovable object at high speed.
I write this following sentence despite praising the Ford Fiesta ST for being an understated hot-hatch just last month, but the RS really encompasses the brilliant lunacy of a proper, full-fat hot-hatch. This French brute is quite at home gurgling, popping and lurking in the murky shadows of the hot-hatch segment. In fact, the RS is the only thug in town with its own Formula One team, as Honda only makes engines.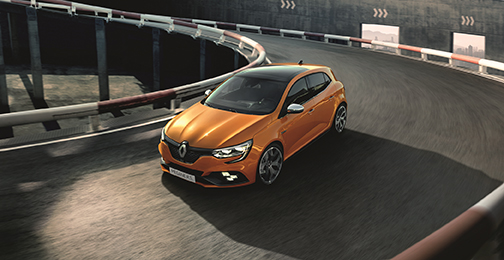 The Renault Mégane RS Trophy I tested produced a rather potent 296bhp from its 1.8-litre turbocharged engine, which it shares with the super cool Renault Alpine A110. This lightweight hot-hatch will take you from 0-100km/h in 5.7 exhilarating seconds. The direct-injection turbo engine has one of the best torque ratings in the category at 420Nm (310lb-ft) and the chain-driven timing system helps to reduce CO2 emissions and fuel consumption.
Two gearboxes are available in the car, a six-speed manual transmission and for the first time, a six-speed dual-clutch, EDC automatic gearbox, with flappy paddles, a multi change-down feature and launch control. The model I drove had the automatic gearbox, which I liked, for the most part, though it was a little dim-witted from time to time. The paddle shift option allowed me to take over at such moments to correct it, while also being a tactile and exhilarating way to climb up and down through the gears.
Despite being more hardcore than the Fiesta ST, it was easier on the bum over the bumpy roads. Had I had the ST in west Cork, I probably would have needed a haemorrhoid ring. I thought there was plenty of space, but tall people will be a little cramped in the back; there were lots of cubby-holes and the door pockets are carpeted to stop loose items rattling, while being big enough to accommodate a water bottle. There are adequate USB and 12v sockets – but, and it's a big 'but' – the R-Link infotainment system isn't great. It's okay, with a small 'o' and 'k', and you can avoid it if you plug in and use your Apple Car Play or Android Auto. The on-screen volume controls are pretty bad, but you have a wheel and buttons on the steering wheel, so it's primarily a passenger, or Tanya, problem. The built-in satellite navigation system also froze on the M50 and didn't come back to life until we were on the N7.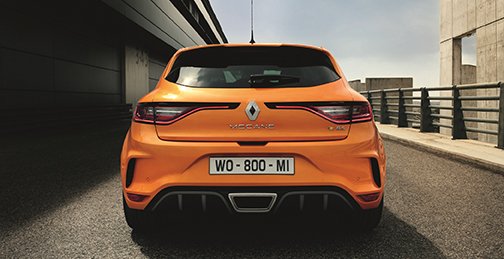 The recommended on-the-road price of this car is €41,995 and the full-fat model I drove was €50,970. To put this into context, the Golf GTI's recommended on-the-road price is €46,170 and the hotter Golf R is €50,523, while the Ford Focus ST 3's recommended on-the-road price is €44,754. This means that the Renault Mégane RS is comparatively well priced, with only Hyundai's I30N coming in cheaper, at €40,495.
I loved the Renault Mégane RS Trophy. It's a big statement car and if you're into hot-hatches and maybe the odd track day, then this is for you. But it's certainly not for everyone.
If I was in the market for a hot-hatch in this class, I historically would have skipped the Renault, but after living with one for a while, my mind has been changed and my eyes opened.