The Mazda-3 was reviewed in this publication last year and at that time, I advised shrewd Medical Independent readers to hold their fire and wait for the release of the Skyactiv-X engine, which Mazda implied was going to be a revolution in fuel economy. Here we have the follow-up, as I was lucky enough to test the new saloon model, which I think is a little less stylish than its hatchback brother. The car has a 2.0-litre, four-cylinder petrol engine, which produces 180hp and 224nm of torque. It is also equipped with Mazda's mild Hybrid system that they say reduces fuel consumption and increases fuel economy. It does this by recycling energy recovered during braking to power an electric motor that assists the engine, though I must admit I didn't notice anything particularly hybrid-like about the driving experience.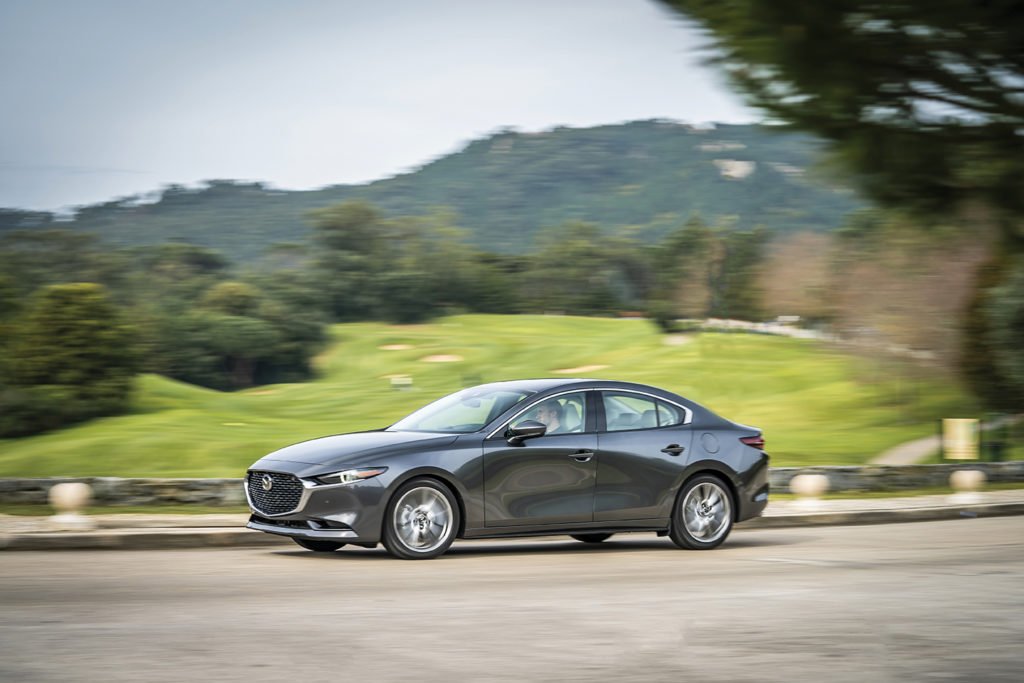 What makes this new Skyactiv-X motor special is that it has a new take on the whole suck-squeeze-bang-blow business, as it combines petrol and diesel processes, with the aforementioned spattering of hybrid technology.
In a normal petrol engine, gasoline is sucked into the cylinder, where it is compressed and ignited using a spark. The resulting explosion created by igniting the fuel and air mixture causes the cylinder to move, which sets in motion the chain reaction that results in drive. Alternatively, in diesel engines the fuel and air are squirted into a cylinder and are heavily compressed until the mixture reaches its pressure-induced flashpoint, at which point it ignites, explodes, and pushesthe cylinder, eventually moving the vehicle.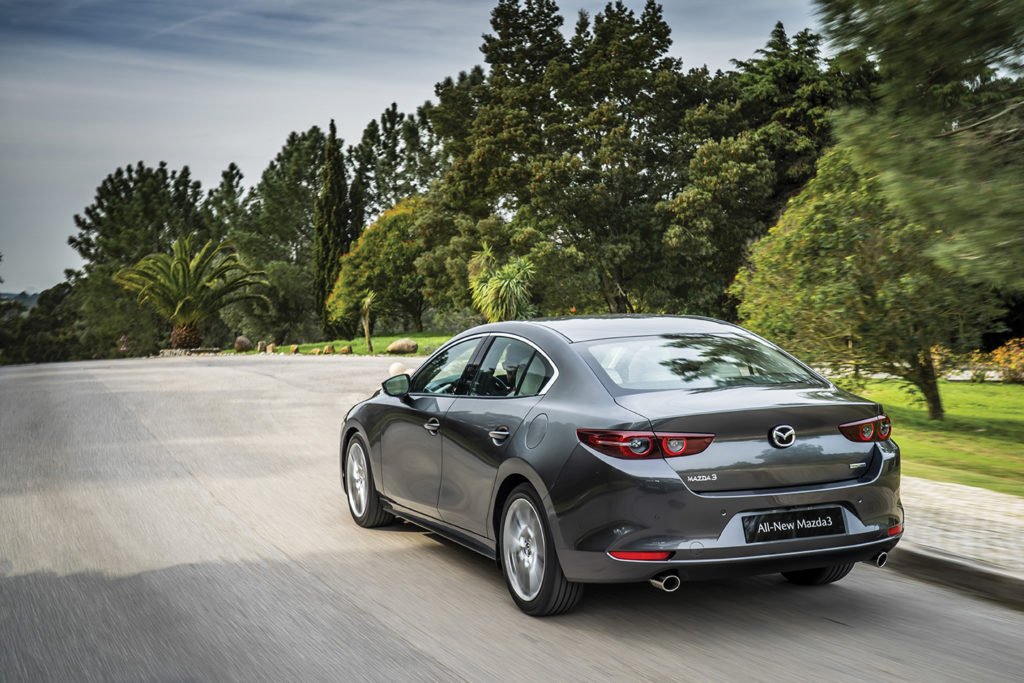 To make this new motor, Mazda has added some diesel systems to their petrol engine by compressing the gasoline at a much higher ratio, generating a leaner burn, which causes a reduction in both emissions and fuel usage. The Skyactiv-X engine is the world's first commercial petrol unit to combine the spark ignition of a petrol engine with the compression ignition of a diesel, and Mazda claims it has led to fuel economy of 5.6l/100km, or 50.4mpg.
Mazda loves mad motors like the Wankel rotary it used in its RX cars, and it's interesting to see some lateral thinking in regard to modern engines. My test car was frugal, but I found the engine idle noise to be jarring. I initially thought the car was broken until I remembered the diesel technology in its DNA. With the radio off, the rattle-n-hum was not a fun experience and I found myself hoping for the stop-start system to kick in and silence the orchestra.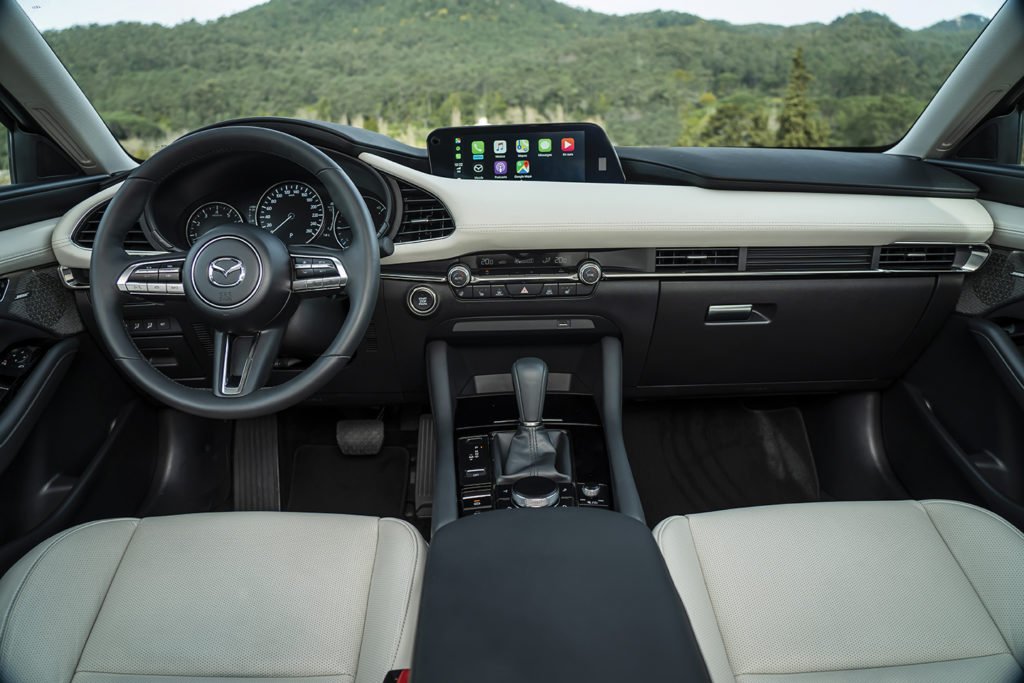 The saloon model is more spacious, especially for back-seat passengers, as it doesn't have the sloping profile of the hatchback. Mazda built this car, so it feels balanced, handles wonderfully and the gearbox is a little gem. However, I feel a little short-changed regarding the 180hp as I really had to work the motor to find this power. Perhaps I'm just longing for a Mazdaspeed3 to arrive on the press fleet.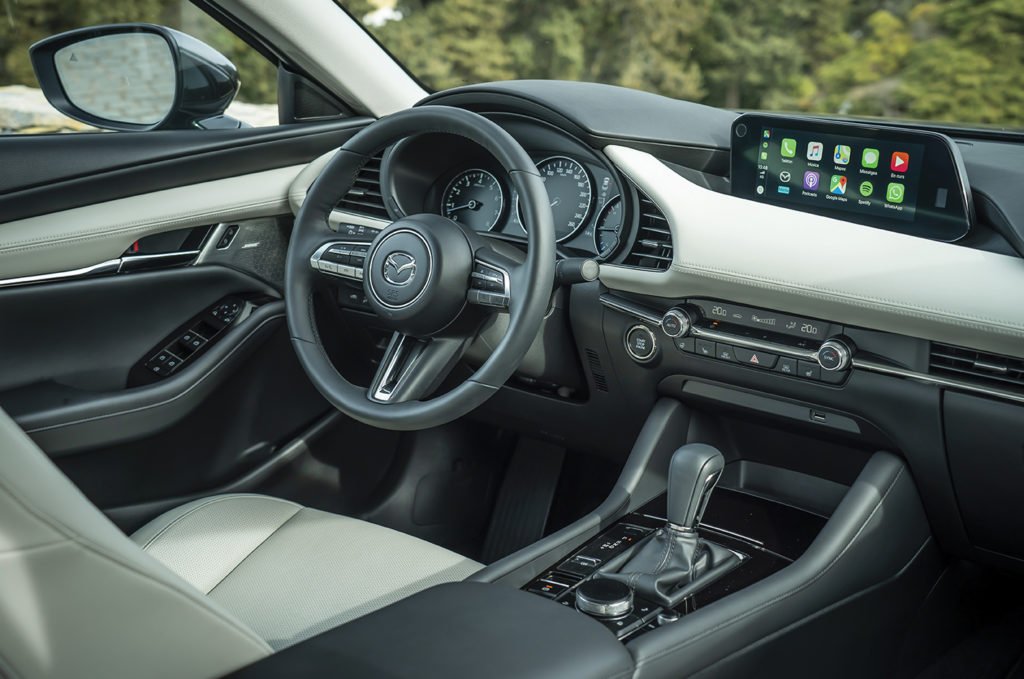 The cockpit is stylishly designed and uses decent-quality plastics. My test model had some lovely cream leather, heated seats that were very handy for cold winter backsides and were accompanied by a heated steering wheel, which really came into its own during the cold test week. The Bose sound system was tremendous, despite being attached to the Mazda infotainment system, which is not my favourite. The parking cameras seemed to be very high-resolution and the test car had the very useful overhead parking camera, which stitches together images from cameras all around the vehicle to build an augmented reality parking assistant.
The Mazda-3 starts at €28,320 but the model I tested will set you back €37,270. Personally, I don't think Mazda have managed to divert fuel economy-focused, prospective buyers away from hybrid or plug-in hybrid offerings with their new Skyactiv-X motor.
Tech Spec
Power 180hp
Torque 224Nm 0-100km/h 8.2 sec
Top speed 216km/h
Claimed consumption 5.6l/100km (50.4mpg)
CO2 emissions 127g/km
Motor tax €190
Price €37,270 as tested Mazda 3 starts at €28,320