The breadth of electric vehicle (EV) options is staggering compared to what we were offered a mere three or four years ago. One of the manufacturers buffing out this list is BMW. They made great progress with the futuristic i3 a full decade ago. As we move through 2023, they are really starting to flex, with six compelling all-electric models now on offer.
Looks
The iX1 has distinctively sharp looks; full of creases and clean lines, with a decent serving of beefy aggression. The distinctive kidney grille is retained, but in electric format is closed off and seems to assimilate a little better into the iX1's nose.
Step inside and it's a little more mellow. BMW certainly knows how to produce a luxurious and refined vehicle. Our test car was fully kitted out, costing nearly €10,000 more than the entry level price of €65,395. So we were treated to the 'M Sport Pro' pack featuring a superb Harman/Kardon surround system. Yet, we still had to adjust the seats manually. That feature demands the 'Comfort' pack, which costs an additional €1,358.
The seats were very comfortable, with plenty of lumbar support, adjustment, and the right amount of padding for comfort. The leather interior is fitted with precision; it's well-sculpted and tastefully done. The quality finds its way throughout the cabin, with passengers treated to a high quality finish in the back also.
Space
The common phrase with many SUVs is that it has 'road presence'. Although the iX1 will fall short of its BMW stablemates in this sense, it still has obvious bulk. However, the advice is not to buy the iX1 if interior space is high up on your list. I set up the driver's seat in a comfortable position for my height of 6ft 2. However, when I tried to sit in the back, I couldn't really fit. Having said that, the boot has a very reasonable 490 litres of space.
Driving
As you would expect, BMW has executed the driving dynamics particularly well. Of course, this being an SUV, there are limitations, and if you fancy a real driver's car then the BMW i4 is a much better option for you.
The iX1 is an all-wheel-drive, which provides excellent grip and will be quite useful to those that find themselves in slippery conditions or soft-roading from time-to-time. The electric motors have an output of 230kW, which equates to 313hp. This gives the iX1 a 0-100km/h time of 5.6 seconds. With the addition of a 'boost' paddle directly behind the steering wheel, the acceleration feels incredibly direct and responsive.
Batteries and range
The iX1 is equipped with a 68kWh battery, 64.7kWh of which is usable. That gives it a WLTP range rating of 440km. However, that figure is optimistic, and something more like 360-to-380km is a reasonable expectation for most of the year.
AC charging comes in at 11kW as standard, and you can option 22kW for €1,081 if you think you would benefit from that. On DC, the iX1 will peak at 130kW. So a 10-to-80 per cent charge will take 29 minutes on a high-powered unit.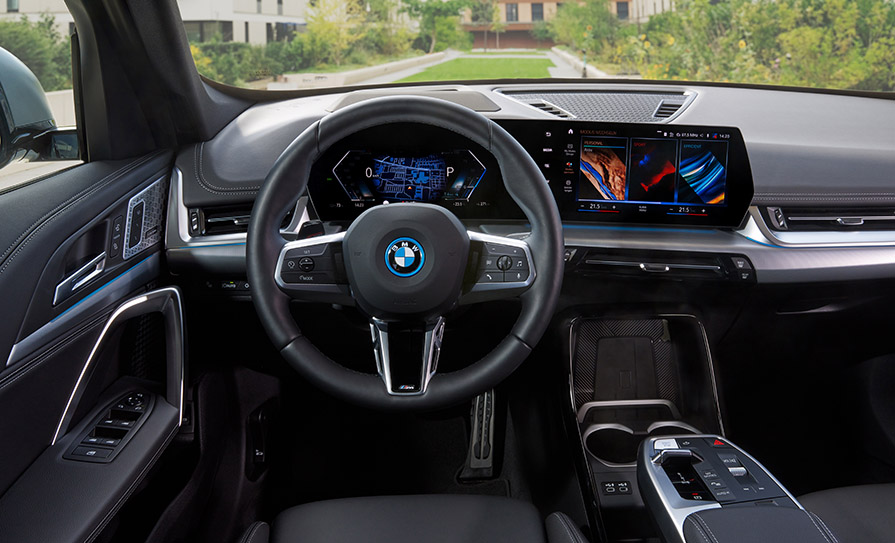 Superb quality… but not cheap
There is no doubting the quality of the iX1. It feels great on the road, has plenty of power, and is finished to a very high quality. However, you do have to pay for that privilege.
On the road pricing starts from €65,395, which seems reasonable considering the dizzying height prices have risen to over the last couple of years. As you can imagine, it starts to spice up as you hit the options list. If you want to step up from the basic trim to the M Sport, you will pay €68,775. Our test car had the beautiful 'frozen pure grey' paint, but that will set you back €2,581. The car doesn't come with adaptive cruise control as standard, but you can option the 'Driving Assistant Professional' pack, which costs a cool €2,028.
Summary
It's hard to find fault with BMW's stylish and comfortable SUV. It's not a ground-up EV, and consequently lacks the bit of space inside that they could have eked out from a car this size.
There is a long list of positives, and this is what will compel customers to part with their money. All of the quality that you would expect from a BMW SUV is on display. It looks great, the interior quality is excellent. There is buckets of power, and plenty of grip to tame those electric motors. Range is more than enough for the vast majority of people and it charges really well to get you back on the road.
This should definitely be on the shopping list for anyone looking for a higher-quality mid-sized SUV. The fact that it is fully electric makes it even more responsive and comfortable to drive.