Morgan Flanagan Creagh reviews the Renault Captur
Here we are with another motoring review, at a time when doctors are trying to save the world. Apologies if this makes you cringe, like those hearty salutes given to oil mining astronauts in Michael Bay films, but thank you all for your continuing hard work on the front line. I hope you can find some time to decompress and enjoy some of the many offerings in the Medical Independent.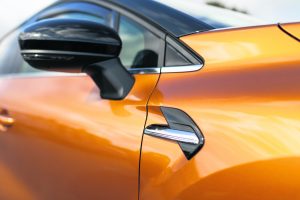 Renault cars sell like hot-cakes in Ireland and they sent me off in their all-new Captur, which is the country's most successful compact SUV ever. The French marque has sold almost 10,000 of them here since 2013, so they must be doing something right. Although the Renault Captur wouldn't be on my personal shopping list, I can see why it sells so well, especially if you want a brand-new registration plate on your car and you want it for a terrific price. Irish car buyers love a bargain and love crossover SUVs, so the Renault Captur is right up most buyers' alley. It's a cute, small SUV with a range of mix-and-match colour options for in and outside the vehicle.
The Renault Captur's incredible sales figures come in part from the accessible price point and the PCP (personal contract purchase) offers in place. The 2020 Capture stars from €21,995, or €199 per month with 3.9 per cent APR. That's an eye-opening price for a brand-new car with a lot of modern conveniences as standard. You can buy it in three trim levels: Play, Iconic and S-Edition, however the starting price only covers the Play model.
The Play trim level has the smaller 7" touch screen with smartphone mirroring, LED lights, climate control and 17" alloy-look flex wheels, as well as some safety specs like E-Call, Lane Assist, Traffic Sign Recognition and AEBS as standard.
The next tier is the Iconic, which has all of the above and ADAS (Advanced Driver Assistance Systems), keyless entry, built-in navigation and two-tone paint.
Finally, the big-daddy S-Edition offers the buyer the bigger 9.3" portrait multimedia screen navigation, LED lights, keyless entry, ambient lighting and more posh paint options. In fact, customers can pick from 11 exterior colours and four roof finishes, giving a total of 90 colour combinations. Renault are offering four petrol engines and three diesels for the Captur, which range in size from 1 litre to 1.5 litre and all of which fall between the €190-€270 motor tax band.
Renault, which was recently voted Manufacturer of the Year by TopGear.com, has always had a focus on occupant safety and the new Captur continues that trend as it boasts a 5-star Euro NCAP safety test rating. It also has improved interior and boot space thanks to its 110mm increase in length. I'll be honest, I didn't notice much aesthetically differed between this and the previous model, however Renault tell me that there are full LED lights with C-shaped LEDs at the front and back, with those at the rear curved around the tailgate and the two-tone roof also has a new chrome strip.
The base model Captur will set you back €21,995, while the top trim S-Edition petrol model is €29,945 and diesel is €31,445. If you're looking for a cheap and very cheerful brand-new car, then the Captur is one to seriously consider.