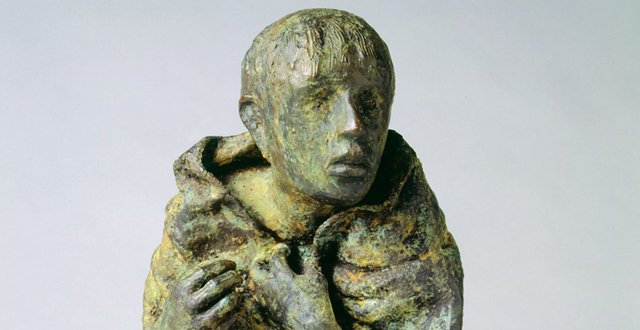 Dublin Castle is currently hosting a remarkable exhibition of art related to the Great Irish Famine (1845-52), titled 'Coming Home: Art and the Great Hunger' (until 30 June). The exhibits are drawn from the world's largest collection of Famine-related art, at Ireland's Great Hunger Museum in Quinnipiac University, Connecticut. This is the exhibition's first showing in Ireland and it is well worth a look.
The impact of the Famine on mental health in Ireland is a relatively understudied area. This is regrettable because in the early 1900s, Ireland had more mental hospital beds per head of population than any other country in the world, and no-one could explain why.
It fell to the much put-upon Inspectors of Lunatics to oversee this vast asylum system and figure out what to do about it. They made an apparent breakthrough in 1914, when they noted (in the language of the times) that "an exceptional number of insane and idiots derived from the population born during the decade 1841-51". Did babies born during the Great Irish Famine have increased susceptibility to mental illness?
Based on their observations, the Inspectors concluded, not unreasonably, "that children born and partially reared amidst the horrors of the famine and the epidemics of disease that followed it were so handicapped in their nervous equipment as to be weak-minded from the start or to fall victims to mental disease later".
Were they correct? Recent evidence from other countries suggests they possibly were. People who were in gestation during the Dutch Winter Hunger of 1944 had twice the risk of schizophrenia in later life compared to those not exposed to famine conditions during pre-birth development. Similar results are reported from China, following the Chinese famine of 1959-61. These effects are likely attributable to the effects of hunger and stress on the developing brain prior to birth, leading to altered patterns of brain development in childhood and adolescence, and increased risk of schizophrenia in young adulthood. Did something similar happen in Ireland during our Famine?
Irish research shows that there was an increase in first-admission rates to asylums between 1860 and 1875, when those in gestation during the Famine reached the high-risk age for the illness we now call schizophrenia. But admission rates were rising in Ireland anyway, and those decades following the Irish Famine saw similar increases in admissions in other jurisdictions that did not experience famine. So, did the Irish Famine really increase risk of mental illness?
A closer look at the figures provides further evidence that it did. The continued increase in admissions following the Famine was not randomly distributed: Admission rates increased between 1857 and 1868, most especially in Connaught, the area worst affected by the Famine, and not by nearly as much in Ulster, Leinster and Munster, which were less affected. Was this increase in admissions a direct effect of the Famine on the biology of babies and children conceived and reared in hunger? Or was it a result of poverty more generally? Or maybe, did it simply reflect differing community expectations of asylums, as all kinds of people were committed to institutions for all kinds of different reasons?
Overall, research to date suggests that, in the areas worst affected, the Famine altered early human development in such a fashion as to increase risk of mental disorder in later life. But before a firm conclusion can be drawn, account must be taken of potentially confounding factors, such as changes in committal practices, rates of co-occurring physical illnesses, migration, changes in population structure, declining rates of marriage, and various other influences. There are, in addition, great challenges associated with interpreting diagnostic categories from the past and translating them into contemporary terminology.
As a result of these challenges, the core question remains unanswered and is possibly unanswerable. Based on the analysis of admission statistics, ie, did the Famine act as a 'setting event' that produced transgenerational changes in risk of mental illness that extended well beyond the lives of those born during the Famine or just after it, right up to the lives of Irish people today?
An alternative approach to studying this issue centres on the potential epigenetic effects of famine. Epigenetics is the study of how genes are expressed over time and how changes in the expression of certain genes might be inherited. While genes themselves might not change, alterations to the 'methyl groups' attached to them can result from diet, lifestyle and other environmental influences. Such changes can alter gene expression and some of these changes might be passed on to future generations. Rachel Yehuda and colleagues have presented preliminary evidence of this kind of epigenetic inheritance in their study of Holocaust exposure-induced intergenerational effects on methylation, suggesting the possibility of lasting epigenetic inheritance following trauma (<em>Biological Psychiatry</em> 2016; 80: 372-80).
It is possible, although unproven, that the Famine had a similar effect in Ireland. There are many questions to be resolved. First, was there really an increase in risk of mental illness in Ireland following the Famine? If so, are epigenetic explanations the most convincing ones? And if they are, how do they add to our understanding of the causes of mental illness more generally? Data from the Famine era might well hold answers to some of these questions over the coming years.