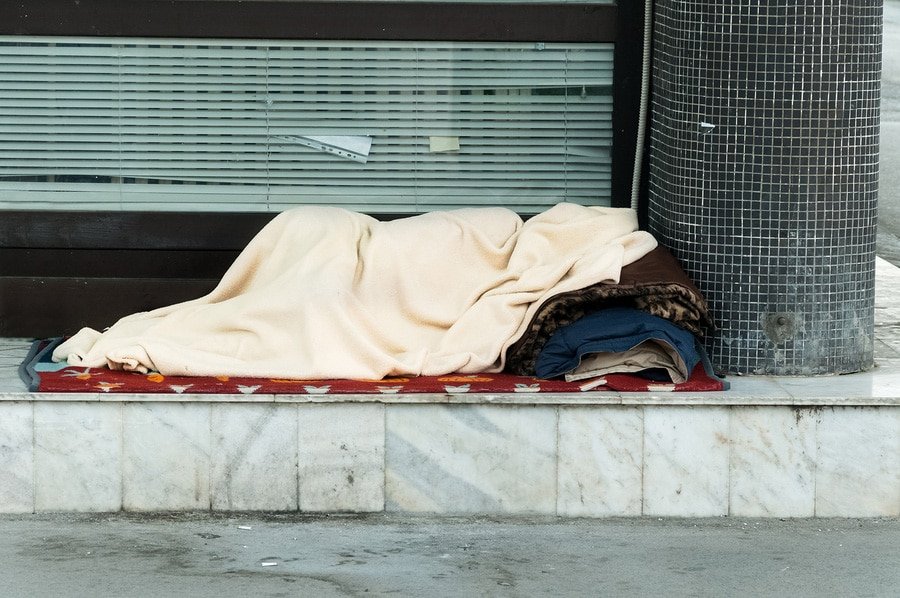 Poor homeless person, covered with a blanket, sleep in the shadow on the street. Social documentary street. Homelessness.
Three times a week, I cross the river and drive up the hill to go to work. I pass historic landmarks that are synonymous with my city (Cork) – the goldie fish of Shandon, the Lego-like structure of the North Cathedral. This is where the Northsiders live, the butt of many jokes, eaters of bodice, drinkers of raza, sound men, salt of the earth.
There is a culture and community spirit here that has prevailed through boom and bust, war and famine, strikes and layoffs. A working-class community can be a curiously static place, insulated from outside turbulence, unaffected by major economic events. The recession did not cause major social change in this area. If you're poor to begin with, and your home is not your own, and you don't have a job to lose, then rising house prices and record-breaking unemployment rates don't actually make a whole lot of difference in your life. If you're already at rock bottom, it is hard to fall further.
So our practice demographics were not influenced much by the economic downturn. Sure, some of our squeezed middle-income families ended up finally getting the medical card they had been trying to get for years. Some doctor visit cards were downgraded (upgraded?) to full medical cards. But mostly we have had a consistent ratio of private to GMS patients, with our proportionate income staying steady for the past 10 years or so: 90 per cent of practice income comes from State contracts – Primary Care Reimbursement Service, Mother and Infant, Immunisation and Department of Social Protection.
When those fees were cut by 38 per cent, there was no possibility that our private income was ever going to be able to cover the slack. But it was not fair for our patients, whose lives are already fundamentally quite a bit worse than our own, to be penalised, so we took the brunt of most of this decimation of income through reduced drawings and staff wage cuts.
Working in the Deep End (a term coined to describe GPs working in areas of deprivation) has challenges that are almost impossible to explain to a person who has no experience of that environment.
The challenge starts on the drive up that hill. Walking past those historic landmarks is the single mum with two children, two different long-gone dads, two congenital disabilities. Two hands held as they cross the road, one cigarette clinging to her bottom lip. I knew her mother; her varices bled all over the living room floor. The pub doorways shelter the men who come to see me more often than the "men don't do doctors" ads would have you believe. These men aren't afraid of doctors; we are an integral part of their lives. Social welfare certs. Letters for the judge. Forms for the community welfare officer. A bit of benzo arm-chancing. They are good at asking, but not so great at listening. The footpaths are littered, but not broken; the corpo is always quick to pre-empt any potential personal injury claim. The houses are small and close together, with wildly variant garden styles – some meticulously manicured, some landfill. There are bookies, chip shops, ethnic food stores, afro hairdressers. There are too many aimless young people for this working hour. No one is shooting up, or wielding guns, but the cars are a bit louder than they should be and there is an intimidating undercurrent to the shouted banter from the smoke-filled pub doorways.
It's simply not the same kind of place that I drive home to in the evening.
So what?
My patients will die, on average, five years earlier than my neighbours. They will suffer from old people's diseases at a younger age. They are more likely to have addiction problems and to experience poor mental health. They have increased morbidity and mortality and yet poorer access to diagnostics and secondary care. Their risk of having adverse childhood events is far greater than that of the tutu-wearing kids hopping into 4x4s outside my daughter's school. Their literacy rates won't reach European norms. The children I see as patients are more obese, unlikely to have been breastfed and present with more behavioural problems and chronic illnesses than the children who come to my house for play dates.
The dichotomy of this experience is probably the hardest part of working in the Deep End, for me. As I drive down the hill, past the proud symbols of our rebel city, I leave behind a community with great spirit and character, but which has been told for many decades that it does not deserve the same treatment as those of us across the river. Being told that you are worthless is one of the aforementioned "adverse childhood experiences" that are significantly linked to poor health outcomes in adulthood. Northsiders have been hearing that from our society for years. It's high time we act in a way that shows people in deprived communities they are valued and not left abandoned to sink or swim.