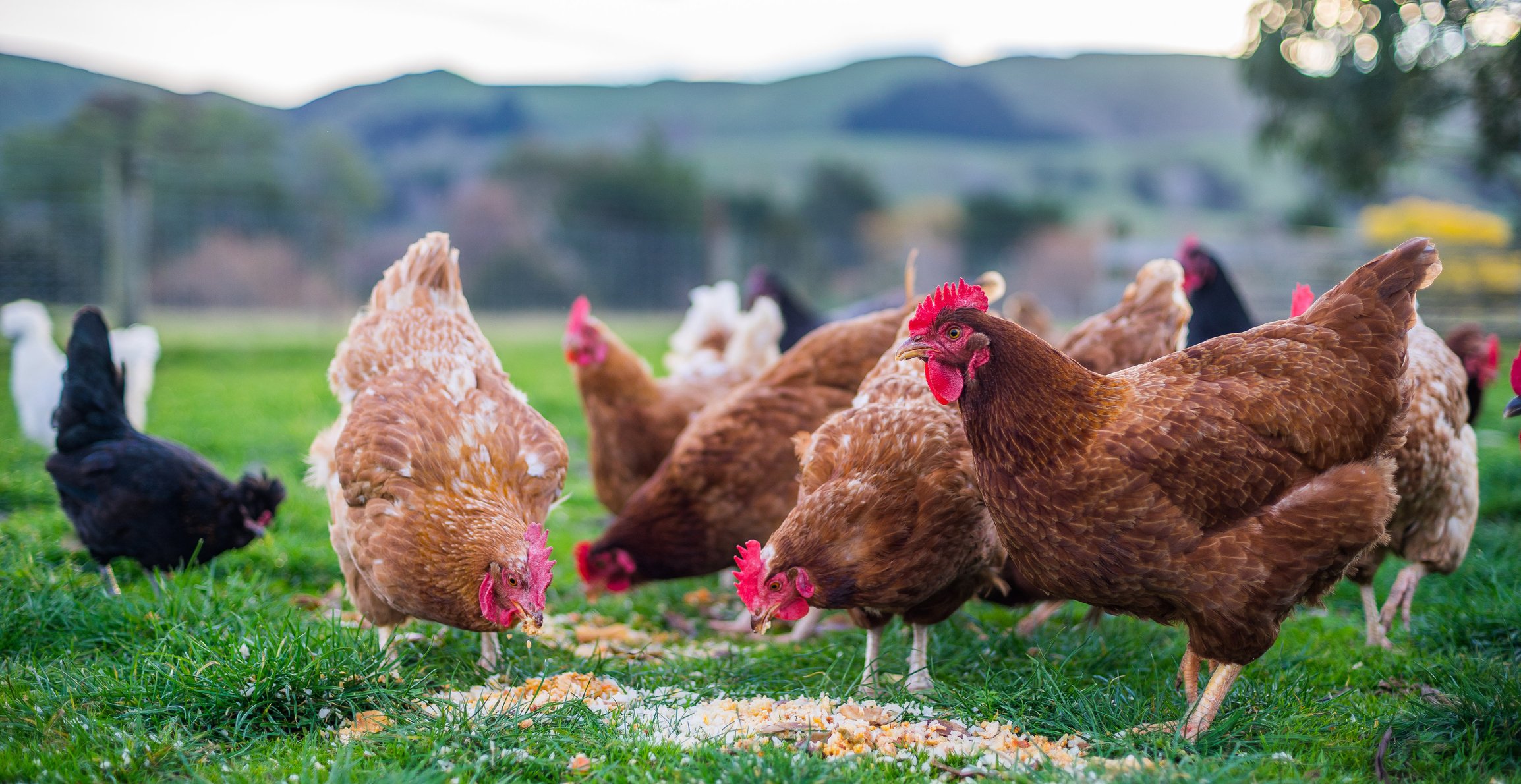 Chickens on a farm in New Zealand at a feeding time
The pandemic has led to thoughts on how we treat our poultry
When I saw the local paper open on the kitchen table  at a page looking for volunteers to rescue hens, I knew it had already been decided. I had heard Pauline McLynn on the radio and I knew that many thousands of farmed chickens were going to be executed for the crime of reaching 18 months. Not that I minded; we like having animals about the place. We had kept hens, ducks, geese, and even a peacock at home when I was small and I still attribute my fleetness of foot to being  regularly chased by a variety of savage male birds through the orchard. Despite this I like hens.
So I sent away for a coop. It arrived flat packed. I spent an enjoyable couple of days putting it together. Like all these things, it could be done in a lunch break if you knew what you were doing. It looked a bit small so I sent away for a fox proof fence. It arrived in a bundle and needed assembling too. It was not simple, but a weekend at it sorted it out. It was black and unpleasant looking and the eldest said it made her think of prison camps.
A farmer who had come in about his bad back parted with three bales of straw and when I lifted them, I could see why his back was jiggered. I bought a hen keeping book, of course. I seldom do anything without buying at least one book. I would have bought more, but I had already spent a fair amount so one was deemed sufficient. The co-op sold me a bale of bedding, water dispenser, and a feeder and we were all set.
Then the evening arrived when we would become hen keepers. The dog's crate, which had not been needed since she was a puppy, was brought along and we assembled in a supermarket car park. There were cars all around us full of excited children and parents. A four wheel drive towing a large horse box lurched down the road and we ran up to meet our hens.
They were packed in the sort of trays you see the bread being delivered in. We had decided to take three, that being the number the book said would get along harmoniously.
They were scrawny, reptilian, all beaks and claws and goose pimpled flesh. The feathers were scanty and seemed to have been randomly stuck on. There were not enough feathers between the three of them to decently cover one bird. They blinked up at us with the dull eyes of political prisoners.
We got them home and deposited them in the nesting box. The next day they sat there. It took them hours to venture out. After a year and a half in a big noisy shed they were now in a garden under trees. They walked around uncertainly. But in the nest box they had left us three brown eggs. I estimated that it had cost me about €50 an egg.
We had been told they could only eat layers pellets as their digestive systems were delicate. They looked frozen and the straw bales were invaluable in keeping the wind off them. Every night I wrapped the nest box in an old duvet and covered it with a tarpaulin.
One of them, the scrawniest had a red bottom. 'Cage scald', said the book. We called her Dotty. Every morning and evening I sprayed her backside with a blue tetracycline mixture. The vet gave me an antibiotic, which I did my best to get into her. The one who looked most like a hen was called Brownie and the brightest was called Miss Marple, which seemed to suit her.
They laid and laid. I wished they wouldn't. They looked like they need the nutrition. Within a month they roamed freely in the same orchard where I had been chased by enraged cockerels. They lay in the sun and wallowed contentedly in the dust. They ate worms and slugs and scratched and flapped their wings. The feathers grew back in a reddish brown and the straw bales became perches. I never bought an egg from a shop since. We get them in the farmer's markets. Every egg from a backyard keeper means one less egg from a factory. Somewhere, in a hellish shed, drenched with antibiotics and disinfectant, a chicken hosts a new virus. The next one might be worse.