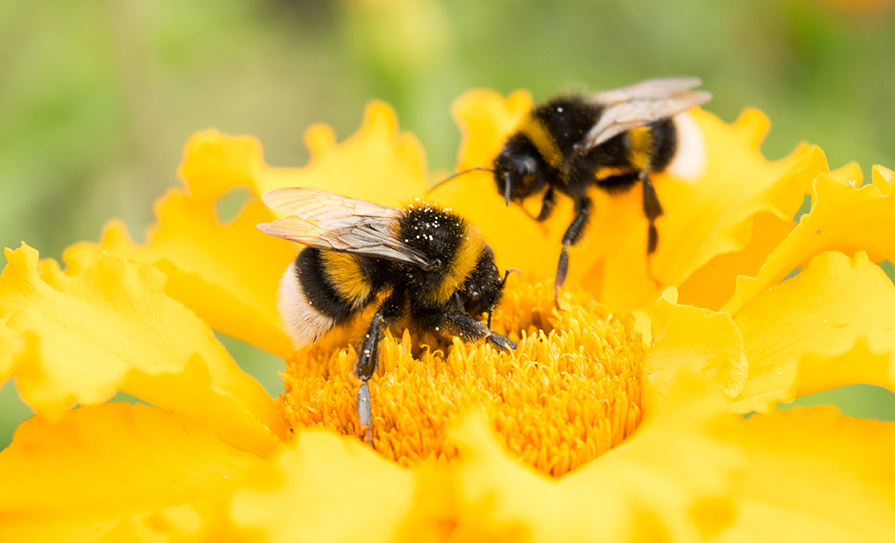 A return to beekeeping has brought back the honeyed flavour of my youth
A swarm of bees cascaded through the garden yesterday, flashing above the trees in the sunlight. I felt like I had unexpectedly returned to a place I knew well, and I was a small boy again, rushing out and banging a pot with a spoon, to entice the bees to settle on a branch .
I was an unusual boy, no doubt, but then not many seven-year-olds had their own bee veil and gloves, as I did.
We kept bees at home. My father had a job that no longer exists: Horticultural Instructor and Beekeeper for the Department of Agriculture. So he knew his stuff, but he also kept his own bees because he liked them. He liked them so much that he really did not like taking honey from them, and spoilt his bees in a way that is fashionable now, but not in the 1960s, when cottage industries were taken seriously. The Department of Agriculture also had a team of domestic science instructors and even poultry instructors. All were experts who would call to your big or small holding and help you out for free.
We also had an orchard. In those days, apple orchards were commonplace in Tipperary. A hive was seen as an essential aid to pollination, sitting snugly under the trees while the blossom flowered above.
Our bees lived halfway down the garden and we learned not to walk in front of the hives, much in the way you would not step out into traffic. So although there were always five-to-10 hives we hardly noticed them. The hives were white in the traditional manner with cute little gable roofs. They were made of heavy, solid wood, and could be awkward to work, but they had great insulation and looked lovely.
My father had caught so many queens that he could grab any bee by the wings. Many a bee or wasp battering against a window was absent-mindedly scooped up and dropped outside before it knew what had happened, which caused some strange looks in public places.
The school holidays were beekeeping time and I would hop into the car to join him. We would drive past the high hedges on winding backroads to call on beekeepers. We found hives in village back gardens, in rows in orchards, in the gardens of stately homes or tucked away in lakeside woods.
There would be a reassuring chat and then we put on the veils and went down to the hives. I would hold the smoker and puff away diligently. After a diagnostic check, the queen might be caught and marked. The sun always seemed to shine and the gardens buzzed with friendly pollinators, while in the house the banished children and dogs stared out the window at Mr Harrold and his tiny son.
Is it any wonder I became a country doctor, driving through the bohreens bringing help, science, and a bit of lore and wisdom?
When a hive would swarm in our own garden, the children would rush out beating saucepans to make them settle. I think my Dad was in two minds about this. On the one hand, it was not too scientific. But on the other hand, it was a tradition, and he had a great interest in folklore. So we followed another old tradition when my grandmother died. I was seven-years-old and he stood beside me when I told the bees she had gone in a shaky voice. It was healing, I suppose, and to me it was no stranger than talking to our spaniels or the cats and hens. This was an old pishogue that you should tell the bees of a death in the family.
And it did not seem strange when, 30 years later, I told the bees in our garden that their keeper had gone forever. Shortly afterwards I gave away the hives, as I was living far away.
But a life has many mysterious turns and I moved back to the same old house and garden a few years ago.
I signed up for classes and installed new hives where they had always sat. In time-honoured fashion, a friend supplied me with two swarms and then the bees were back and all seemed right with the world.
Much has changed and much has not. I don't drive around the countryside on house calls any more, to patients or bees. But I am blessed to sit and watch the bees working their way through the blossoms, in the place where I grew up and learned one trade, and maybe another.