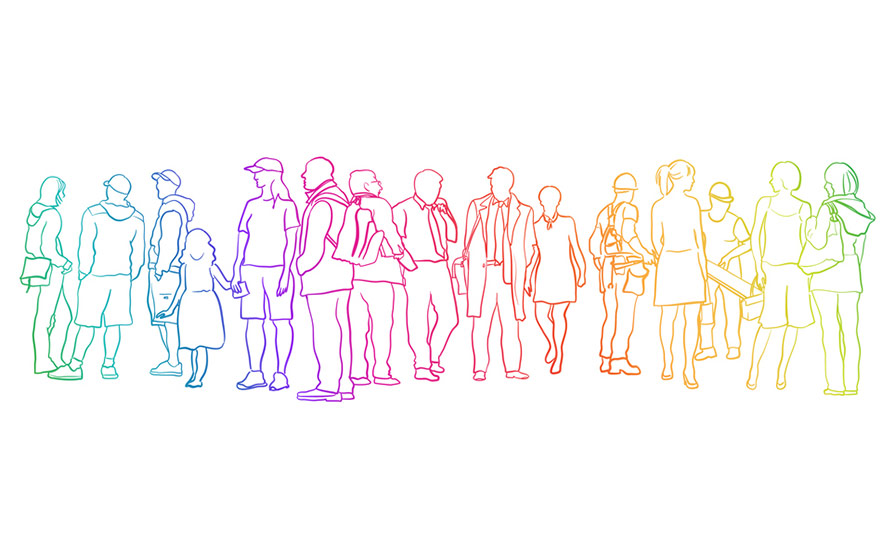 A series of recent random encounters made me ponder on how others perceive us
The station guard put up a broad palm and announced, in a grave and gravely Dublin accent: "Sorry. You can't come in. This carriage is first-class only."
The poet Robbie Burns had astute things to say about how if we could see ourselves as others see us we would get a right shock (he put it better than that).
I know the guard in Heuston saw a grey-bearded man with a black hat, a sort of taller Terry Pratchett, and he must not have looked as if he could afford the privilege of an Irish Rail first-class ticket. The clothes might have had something to do with it. Earlier in the day I had passed a well-known TD, who wears informal clothes in the Dáil, presumably because he is a man of the people, and I was close enough to see that his denims, t-shirt and runners easily all cost four figures. I was not dressed too differently (apart from the Discworld hat), if not in such high-end brands, but it did not cut it with my guard. Presumably he was no socialist.
It had been a long day. When I had left Heuston that morning and hopped on the Luas a gentleman offered me his seat. Nobody had ever offered me a seat on public transport or any other kind of transport before. He was, I would say, about 70, and looked like he had lived most of those years with a drink in his hand, and despite the early hour obviously had already taken the cure and a few extra just in case. I politely declined, as I was afraid he would fall on me if I sat down and he stood up. When a seat became vacant at the Museum stop, and I took it, he roundly berated me for having refused his one. I left him to it at the Four Courts and took the next Luas after that and stood all the way to Abbey Street, musing that it had to happen eventually; I would get so old that decrepit strangers would offer me a seat.
Another incident happened the day before when I went for a haircut and nearly got into a fight. I had pulled into the car park beside the barber's. The car is electric and silent and two wasted youths, possibly sons or grandsons of the man on the Luas, got a fright and lurched at me cursing fluently. I was moving swiftly towards the door of the barber's, ignoring them, when the door burst open and a young woman ran at them waving a broom.
"Leave him alone!," she shouted and they promptly staggered away.
Where will it all end I thought, as I stared at the station guard's broad palm. Offered seats, girls getting into fights for me. At the National Gallery that morning I had left in my bag and the cloakroom attendant asked me severely if I intended to look at the paintings at all, or was I just using it as a dumping ground while I hit the town, so I must not look too intellectual either.
A lifetime in medicine has taught me to never make assumptions about how people are likely to think or behave from their accents, age or clothes.
I wanted to tell the guard that earlier in the day I had been at a Seamus Heaney exhibition. I often saw Seamus Heaney and even talked with him after readings. He looked like a small farmer who had come to the town with a few calves to sell. His fellow poet Richard Murphy, who ran a commercial sailing ship, looked and sounded like a Shakespearian leading man, and was no more like your hardy west of Ireland boatman than Hugh Grant.
And I could have also told the station guard that I actually had a first-class ticket in my wallet. It was a small indulgence, but the last time I had taken the Dublin train the wee light displaying my name changed to somebody else as I took my seat and a young woman with a face like a hungover wombat ordered me out of her seat. I spent the journey sitting on the floor with a therapy Leonberger. It was not the worst of journeys, but I had a forlorn hope a first-class seat was less likely to be deleted if I paid more for it.
So, I did what any self-respecting passenger would do. I silently moved along, climbed into the next carriage walked up into the first-class coach and there I stayed for the whole journey. Nobody asked me for a ticket at all.