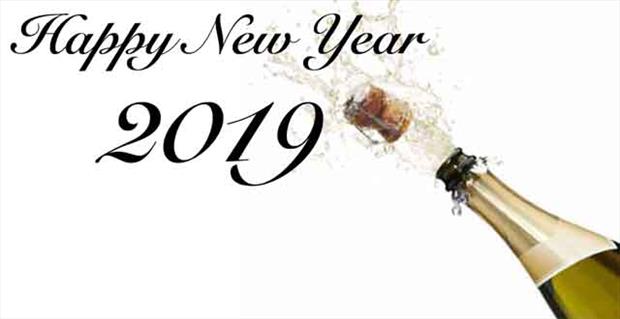 t the time of writing, 2019 is hovering around the metaphorical corner. The New Year puts me in mind of a teenager, waiting uncertainly at the door of a bar he has heard might serve him drink without asking too many questions.
His hopes and dreams can be easily divided into three categories: What he hopes will happen; what he hopes will not happen; and what is likely to happen. He hopes that he will be welcomed into a riotous night of good cheer, adventure and romance. He fears that he will be ignominiously turfed out to wander home alone, with only the glow of embarrassment in his newly-shaven cheeks to keep him warm. What will probably happen is that he will be admitted for a while, to enjoy the feeling of being grown up while wondering how they drink such awful stuff.
My feelings for the year ahead can be similarly grouped.
I hope that the world will wake up to the terrible crisis of man-made damage, which is approaching, and tackle the environmental challenges before it is too late. My fear is that they will listen to money-crazed despots and bugger it all up for generations to come. The reality is that we will probably jog on much as before.
I suppose an Irish general election is inevitable. The present Government have a disastrous environmental record — the worst in Europe for two years in a row. I hope that one of the big parties gets in only by being at the complete mercy of the Green Party and Labour. Then a 'green Ireland' could move off the pages of Tourist Board brochures and become a reality. The homeless crisis would be solved by giving incentives to do-up the hundreds of thousands of derelict and unused properties in towns and cities. What I fear will happen will be more of our polluting, 'Dublincentric', 'make-it-up-as-we-go-along' policies until we are expelled from the EU for poor civic spirit and dirt. What is likely to happen is more of the same, whoever gets in.
In health, I would like to see the abolition of the HSE and the formation of three health boards,with some accountability and structure. A couple of thousand hospital beds would take the pressure off emergency departments. A hospital environmental ombudsman would have a small but doughty office, which would tackle waste in all forms and save millions for the price of a few salaries. Ireland would sign-up to the human genome project. The crisis in general practice would be solved by a few ministerial signatures, restoring decent pay and working conditions. I would not expect any great outcry among the voting population if doctors and nurses in primary, secondary and tertiary care were to be treated with dignity and compassion, which they would in turn pass on to those in their care. What I fear will happen is absolutely no change until the last few doctors collapse under the pressure of it all, which I suppose also fits into what is likely to happen.
I would like to see Ireland win the Rugby World Cup and Liverpool win the Premiership. Both teams are the equal of any on their day and if you throw in Tipperary for the hurling All-Ireland, it would make for a happy year. I fear that none of the three will make it, but it is likely that at least one will and we will have had an exciting time watching. None of those teams could be accused of being dull.
I hope that the big schisms in general practice, between the NAGP and the IMO and the pro-choice and pro-life, get sorted out. We are in too perilous a position to quarrel among ourselves, but the fear is quarrels will continue. The likelihood is that it will settle down in time, if we keep our heads and don't get hysterical.
I hope, oh I hope, that Trump gets nailed by Mueller and is revealed to be so loathsome that even his supporters will turn their backs on him, his policies are overturned and his hateful politics are scrapped in the US and every other country that imitates him. I fear that the contagion will spread and wars will be started and the whole world will be plunged into financial and environmental crisis. It is likely that his horrible reign will come to an end in the courts.
And lastly, I hope that the Medical Independent continues to inform and entertain your good selves, gentle readers, for another year. I would bet on that one.