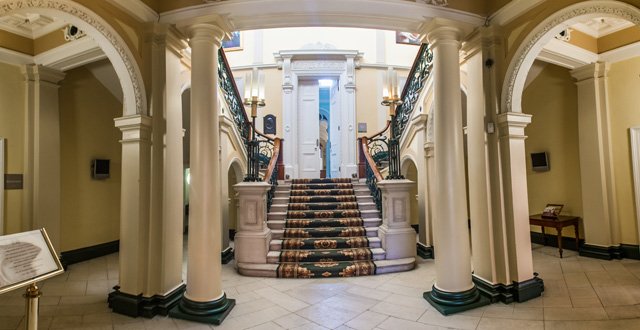 Roddy Doyle's literary achievements make him an extremely worthy recipient of the RCPI's Honorary Fellowship
On 21 June, Irish writer Roddy Doyle became an Honorary Fellow of the RCPI. Since 1654, the RCPI has been working to improve patient care and standards of medical practice in Ireland. The College's home, 6 Kildare Street, is a truly iconic feature of Ireland's historical and contemporary medical landscapes. In 2018, the College's Heritage Centre received full museum accreditation, further safeguarding its wealth of fascinating medical material and historical resources for future generations.
Fellowship of the College reflects an international standard of professional excellence and recognises substantial clinical and other achievements, conferring both international peer recognition and enhanced professional opportunities on recipients. Honorary Fellowship is the highest award the College can bestow and it acknowledges an individual's exceptional and important contributions, and recognises outstanding distinction and eminence. Previous recipients include writer Colm Tóibín, athlete Eamonn Coghlan and pianist John O'Conor.
This year, writer Roddy Doyle was added to this list. Doyle's contribution, distinction and eminence are beyond question and his recent award was richly merited. Born in Dublin, Doyle grew up in Kilbarrack and graduated with a BA from UCD. His first novel, The Commitments, was published in 1987 and was followed by the two other books in his celebrated Barrytown Trilogy, The Snapper (1990) and The Van (1991). All three novels have become icons of modern Irish writing, celebrated films and essential elements of contemporary Irish cultural consciousness.
In 1993, Doyle won the Man Booker prize for Paddy Clarke Ha Ha Ha, an inventively structured novel about a 10-year-old boy in Barrytown in the late 1960s. And in 2010 he completed another series of three novels, The Last Roundup, centred on the character of Henry Smart, spanning most of the 20th century.
All told, Doyle has written 11 novels for adults, eight children's books, seven plays, many, many short stories, and countless newspaper columns. He has also written screenplays including one of my favourite Irish movies ever, When Brendan Met Trudy (2000). While the film is, essentially, a hugely enjoyable (and completely daft) romantic caper, Doyle, interviewed in The Guardian at the time, spoke seriously about the necessity of understanding the voices of different kinds of people in society. This need to understand extends beyond his writing. As he told The Guardian in 2001, "I've met heroin addicts and I'm trying to understand the language around heroin – not that I'm intending to write about it, but I want to understand."
And then there are the plays. Doyle has a long association with the theatre, too long to detail here. Most recently, in 2018, the Gate Theatre commissioned him to write a stage version of The Snapper, which played to packed houses and brought in new audiences to the theatre. The production returned in June 2019, offering a warm, frank and wickedly funny account of family life and pregnancy in northside Dublin in the 1980s.
Also on the Dublin stage in 2019, Doyle's hilarious Two Pints runs in the Abbey from June to August. This play is about that most dangerous of situations: Two Irish men meeting for a pint. It started life as a conversation on Facebook and went on to enjoy sold-out tours of pubs across Ireland, the UK and the US. In typical Doyle style, Two Pints is "achingly, breathtakingly funny", according to The Sunday Independent, and "an absolute gem", according to The Sunday Times.
But it is not only Doyle's humour that underlies his appeal, it is his truthfulness. Doyle's stories and plays are full of laughs, but they also address issues that are routinely ignored: Domestic violence, depression, and serious illness. In his 2014 children's book about depression, Brilliant, Doyle even addresses the issue of obesity, writing: "Did you see the state of your man next door? He has a belly on him that'd stop the tide from coming in."
In his 2014 novel, The Guts, Doyle reacquaints us with Jimmy Rabbitte from The Commitments. But now Jimmy is diagnosed with colon cancer, which changes both everything and nothing. The trademark Doyle humour is still in evidence and the book contains the best description of social networking that I have ever read: "It's like a club, but yeh have your own room, for the people yeh want to meet. Except there's no room an' yeh meet no one." As the New York Times pointed out, "the plot here is simple, albeit hectic." It's hectic alright: There is surgery; chemotherapy; Chinese food; Facebook; erotic temptation; music; a dog, another dog; and more unvarnished humanity than most of us could deal with in a lifetime.
The human consequences of cancer treatment are especially well drawn: "He was wearing proper trousers for the first time since he'd got out of the hospital. They were a bit strange. Not tight – he'd actually lost a bit of weight. More, heavy. Like armour or something. And complicated." As the New York Times concluded, "this sense of dislocation serves the story well", as does "Doyle's deft tendency to play on the backbeat, so to speak, to give us not the moment of confrontation, but the moment of consequence… The effect is gorgeously understated, and lets the book's high comedy, as well as its melancholy, have its full due."
In 2009, Doyle, along with Seán Love, established a creative writing centre called 'Fighting Words' in Dublin. This kind of initiative, along with his own brilliantly incisive writing, made Doyle a worthy recipient of Honorary Fellowship of the RCPI this year.