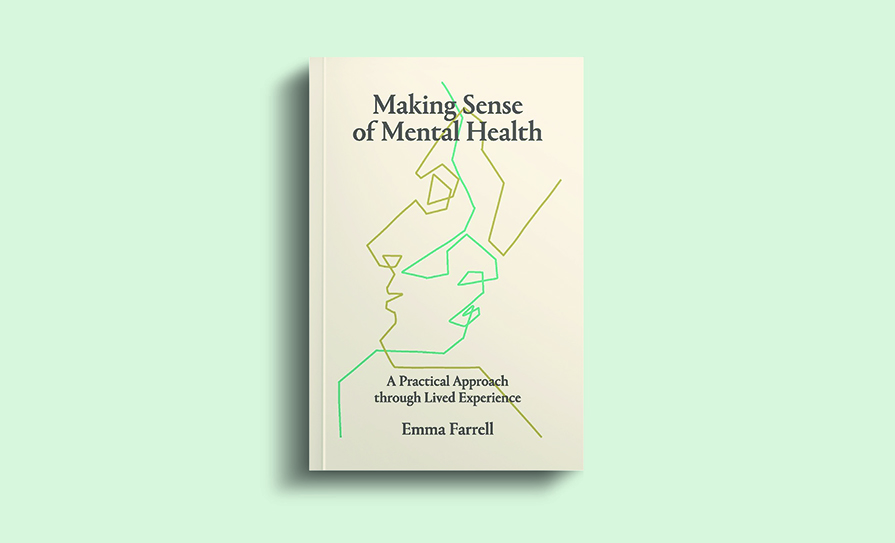 Title: Making Sense of Mental Health: A Practical Approach Through Lived Experience
Author: Emma Farrell
Publisher: The Liffey Press
Reviewer: Prof Brendan Kelly
Concern about mental health was a key feature of the Covid-19 pandemic over the past few years. From the outset of the outbreak, the World Health Organisation and various governments noted the potential impact of the virus and public health restrictions on mental health and wellbeing. At an extraordinary time in human history, it was soon clear that the psychological consequences would be significant for many.
In the event, research showed that around one-person-in-five across most populations reported significant psychological distress, rising to two-in-five healthcare workers. Today, many people with long Covid continue to experience problems with mental health, while others still grieve those they lost. The pandemic's effects on mental health have been varied, substantial, and, for some, sustained.
Hopefully, the awareness of mental health that grew during the pandemic will continue after the acute impact of Covid-19 has subsided. For this to happen, we need sustained discussion of mental health and illness from diverse perspectives, with a plurality of voices expressing a multiplicity of views about how to understand psychological distress, mental illness, and human suffering – and how to address them.
This new book by Emma Farrell, Making Sense of Mental Health: A Practical Approach Through Lived Experience, makes an essential contribution to this discussion and provides a practical, grounded approach to this area. Farrell's book is centred on in-depth interviews with 27 adults coping with distress and mental health issues. Farrell follows their journeys from the origin of their distress to their lowest moments to eventual recovery. From a theoretical perspective, Farrell provides a refreshingly comprehensible account of "hermeneutic phenomenology", the theoretical framework that underpins her approach to understanding "the nature and meaning of distress".
As I read Farrell's book, I was especially fascinated by its descriptions of psychiatric treatment and participants' responses to hospitalisation. Accounts of acute inpatient care are always valuable to those of us who work in the mental health system, so this aspect of the book was especially interesting to me. One participant described psychiatric hospital as "a weird mixture of good and bad" – a description that will, I imagine, resonate with many.
For this and various other reasons, Making Sense of Mental Health is a valuable, fascinating book – and not just for what it says about mental health, but also the insight it offers into the experience of psychiatric care.
Too often, discussions of psychiatric treatment seem strangely distant from what happens in real life, rooted in pre-existing ideology rather than direct experience. I have particular concerns about casual use of the term "biomedicine" in books about mental health. While Farrell's book is suitably insightful on this topic, other authors use "biomedicine" as a convenient strawman – an over-simplification that conceals a great deal of the complexity, nuance, and "non-bio" things that happen in medicine. Often, mental health teams spend far more time searching for housing for people with mental illness than they do diagnosing disorders or making "biomedical" decisions.
In addition, many clinicians use diagnostic categories as discussion tools and general guides, rather than boxes for people to fit into. Happily, Farrell avoids these over-simplifications, not least by remaining close to her sources. In one passage, for example, she demonstrates how participants' backgrounds shape their attitudes towards medication: "Claire, Marie, Ella, and Mai, all students studying for Bachelor of Science degrees, commented on how medication and the biochemical approach 'was a good approach for me, again a scientific mind' (Claire). Marie spoke about how she 'wasn't completely averse to the idea, because, I suppose, studying science I wouldn't be', while Ella spoke about being 'a big believer in modern science'."
The point here is not so much the value or otherwise of medication, but the fact that participants' backgrounds profoundly shaped their views of the treatment offered. Farrell's book abounds with insights like this, confirming that, despite a certain amount of common ground, each person's experience is unique to them and is reflected in their individual story. As Consultant Clinical Psychologist Dr Lucy Johnstone (PhD) notes: "Farrell gives space for people's own narratives, and in doing so enriches our understanding of the complex ways we make sense of our distress".
Farrell is well placed to write about these themes. She is a chartered psychologist and senior interdisciplinary researcher at University College Dublin. She is also a founding member of Headstrong (now Jigsaw), The National Centre for Youth Mental Health; was an advisor to the national taskforce for youth mental health; and has written widely, for The Irish Times and other publications. She is co-founder of www.thinkful.ie and her knowledge and experience are clearly evident throughout her book.
Ultimately, Making Sense of Mental Health delivers exactly what it promises – an intelligent, compassionate way to approach psychological distress and to move beyond it. We learn from each other, and, in this book, Emma Farrell explores the wisdom of direct experience of mental health problems and how to navigate them. The book reveals the essential humanity that lies at the heart of suffering, healing, and dealing with the challenges that so many people face.
Prof Brendan Kelly is Professor of Psychiatry at Trinity College Dublin and author of In Search of Madness: A Psychiatrist's Travels Through the History of Mental Illness (Gill Books).