Pictured L-R: Prof Marcus Kennedy, Vice-President of the Irish Thoracic Society (ITS), presenting Prof JJ Gilmartin with the ITS Award for Outstanding Contribution to Respiratory Medicine with Prof Anthony O'Regan, who delivered the citation
Prof JJ Gilmartin, MD, FRCPI, FCCP, Professor Emeritus National University of Ireland (NUI) Galway, was presented with the Irish Thoracic Society (ITS) Award for Outstanding Contribution to Respiratory Medicine at the recent ITS Summer Meeting in Galway.
A citation, delivered by friend and colleague Prof Anthony O'Regan, drew on tributes and anecdotes from a wide circle of colleagues and recognised Prof Gilmartin's illustrious career and far-reaching contribution to the development of modern respiratory medicine in Ireland, both at national level and regionally throughout the West of Ireland. The following is a summary of the citation. 
Early career
Following graduation from University College Galway in 1974 Prof Gilmartin worked in Galway and Mayo, spending time in both medicine and obstetrics, before embarking on further training in the UK where he soon secured a competitive research Fellowship within the Freeman and Royal Infirmary, Newcastle. Here he gained a reputation as an outstanding clinical physiologist, cementing his clinical interests and research focus in respiratory mechanics. During this time, he acquired expertise in fibre-optic bronchoscopy, ICU and CCU medicine, pulmonary function testing and sleep medicine – skills that would prove integral to his later development of services in Ireland.
He rounded off his training in University of Brussels, after which he was awarded his MD by NUI Galway in 1988, before being appointed as a consultant in Sunderland Health District. As the first Irish trainee in Newcastle, he paved the way for many more who followed in subsequent years, forging strong links with the region, largely fostered by his friend and mentor Prof John Gibson.
On his return to the west of Ireland he took up the post previously held by Dr Harry Hitchcock – a post that had remained vacant for many years due to the recession of the 1980s. Prof Gilmartin was the first dedicated Chest Physician appointed to the west of Ireland, joining a team totalling of five physicians and four surgeons. Despite the vast clinical workload, within two years he had established the first bronchoscopy service, pulmonary function laboratory and he was the inaugural Chair of the Hospital Medical Board. He was a member of the Western Health Board for a decade from 1992-2002 and chaired the acute services subcommittee from 1999-2002. He worked tirelessly to advocate for a cardiothoracic surgical service in the west and, although it took nearly 15 years of work, this was eventually realised in 2007.
Merlin Park
Perhaps the most significant development for respiratory medicine in the west occurred in 1998 with the establishment of the Regional Respiratory Centre in Merlin Park's Unit 8, site of the former tuberculosis (TB) unit run by Dr Harry Hitchcock. Prof Gilmartin garnered the necessary resources and built a highly talented and committed multidisciplinary team to create an exceptional modern regional service. This included respiratory specialist inpatient and five-day service, a full pulmonary function testing (PFT) and sleep service, a state of the art one-stop-shop day case service with access to CT scan, PFTs, and bronchoscopy. 
A revitalised TB service, the first lung cancer service providing chemotherapy for small cell lung cancer in the absence of dedicated oncologists, a specialty sarcoid service and a pulmonary rehabilitation service all followed suit. Today this unit provides close to 1,000 bronchoscopies annually. Each week there are over 50 day case assessments, 100 PFTs, 10 sleep studies, and the severe asthma biologic and interstitial lung disease service. It will soon provide the rapid access lung and cystic fibrosis regional service.
Advocate
Throughout his career Prof Gilmartin has been a prominent and well-respected advocate for respiratory medicine at a national level. He was a member of Comhairle na nOspidéal from 2001 to 2006. This committee was a vital interface with the Department of Health for workforce planning. Prof Gilmartin was member of numerous subcommittees including the applications, maternity, neurosurgical, acute medical, and tuberculous committees. His experience was instrumental in the approval of regional respiratory consultants, specialising in tuberculosis and cystic fibrosis, at a time when new appointments were rare. Prof Gilmartin was a member of the national advisory committee on tuberculosis, has co-authored guidelines on tuberculosis and lung cancer, has provided long-term support to the Asthma Society of Ireland and more recently was Chair of COPD Support Ireland.
Training
Training and education have always been a passion for Prof Gilmartin. He was an early coordinator of the western pre-membership training scheme in the early 1990s, which is now the Galway RCPI BST scheme. He was an original member of the first specialty training committee in respiratory medicine and was National Specialty Director from 2008-2011. As Hospital Dean for the RCPI, he set up and ran the membership in Unit 8 for over a decade. He wrote the original curriculum and taught medical students in Galway throughout his career, many of whom went on to become colleagues in the field of respiratory medicine.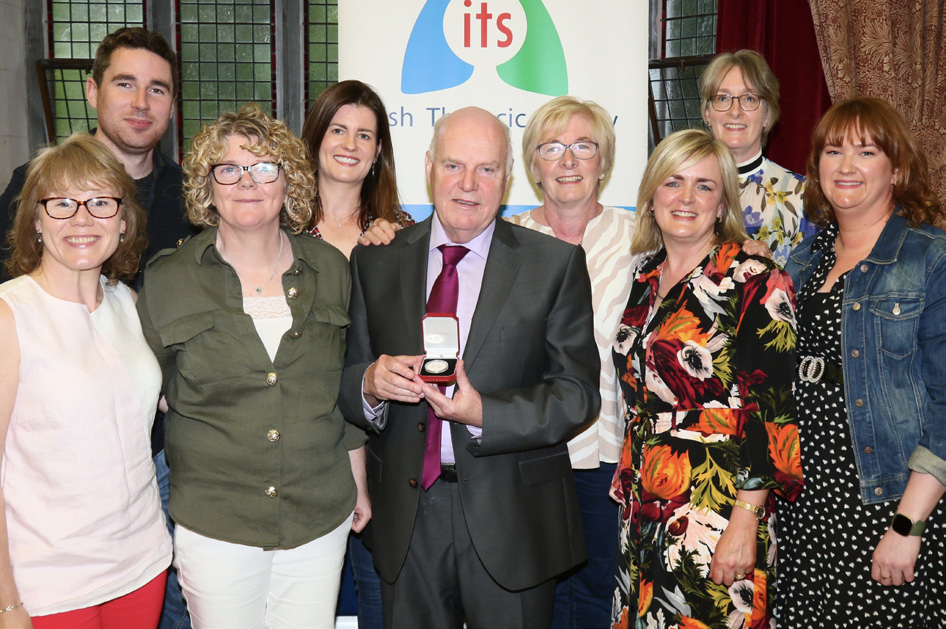 ITS
Another major national contribution has been in his dedication to the ITS, for which he has long been a stalwart supporter and champion. Along with others, he was instrumental in turning the ITS into the broad, multi-professional society we know today. President of the ITS from 2006 to 2009 and the first ITS President in the era of the new permanent executive, he led the crucial development of new governance structures including establishment of greater representation and stronger links with specialist registrars and increased integration with affiliate bodies for physiotherapy (CPRC), nursing (ANÁIL), and pulmonary physiologists (IARS).
Prof O'Regan concluded with a tribute to Prof Gilmartin's many qualities: As a clinician, chairing conferences up until recently; a strategist and developer of services whose remarkable legacy is Merlin Park; as a leader who fosters unity and direction; and most of all as a great friend and colleague.