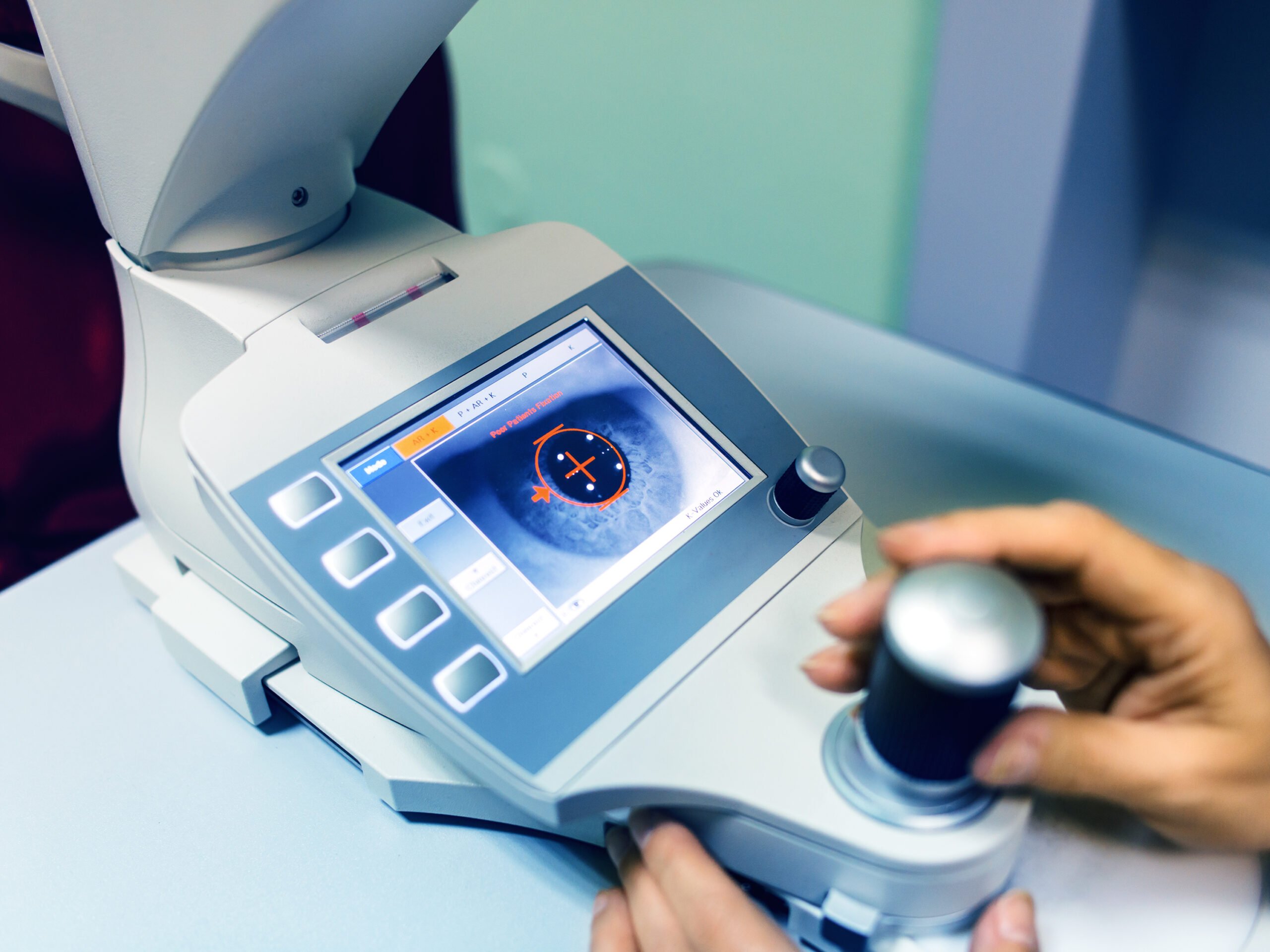 Optometry Corneal Topographer Showing an Eye and Cornea on Screen
Irish Society for Rheumatology Spring Meeting, Virtual, 13 May 2021

Dr Duncan Rogers, Consultant Medical Ophthalmologist at the Mater Hospital, was the first speaker to present at an ISR Spring Meeting session on how ophthalmological imaging can assist in rheumatological diagnosis. Dr Rogers' presentation spoke directly to the application of ocular imaging in rheumatic disease. Dr Rogers presented three types of ocular imaging and three cases alongside each to illustrate their application in rheumatological diagnosis.
The first case involved a 34-year-old female presented with floaters and distortion in both eyes. Her symptoms had been present for approximately a month, before deteriorating rapidly in the two days prior to presentation. The patient reported significant fatigue and weight loss over the previous two months. The modality employed was a fundus photo which revealed abnormalities, including scattered haemorrhaging, indicating ischaemia and retinitis. Overall, the fundus photo revealed arterial dominant occlusive retinal vasculitis with retinitis, the most common cause of which is lupus retinitis. Following positive results for both anti-double stranded DNA (anti-dsDNA) and antinuclear antibodies, the patient was diagnosed with systemic lupus and referred to rheumatology.
Optical coherence tomography (OCT) imaging was employed in the second case. OCT imaging creates a picture of the retina and choroid at the back of the eye. The patient was a 76-year-old female who presented with a sudden unilateral loss of vision, reduced sensation and paraesthesia in her hands and feet, in addition to a rash on her lower limbs. While the fundus photos for this patient were normal, the OCT pointed to the circulation in the inner retina as paracentral middle maculopathy. Her erythrocyte sedimentation rate (ESR) was found to be significantly raised and a dermatologist confirmed that the rash was necrotising arteritis. This patient was diagnosed with polyarteritis nodosa.
The final ocular imaging modality presented by Dr Rogers was fundus fluorescein angiography (FFA). In this modality, fluorescein is injected into a vein on the back of the hand and its progress to the eye is monitored. In this case, an 85-year-old male presented with a history of purple flashing lights in his right eye, accompanied by a flickering loss of vision. Both the fundus photo and OCT were normal.
Proceeding to FFA, at 26 seconds, the patient's arterial tree was just beginning to register, in delayed choroidal and retinal filling. Serology showed that the patient's ESR was 110 and with a C-reactive protein (CRP) level of 90. Histopathology of a temporal artery biopsy then confirmed giant cell arteritis in this patient.