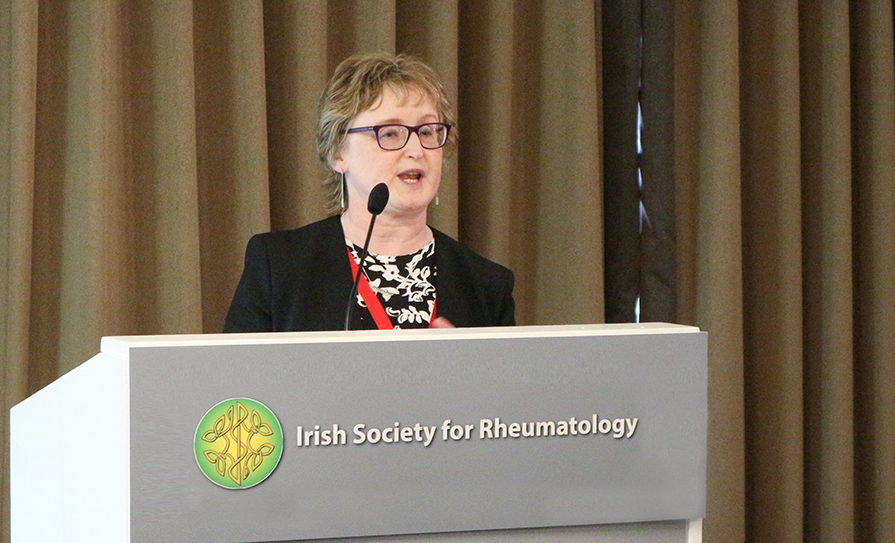 Professor Gaye Cunnane
The Irish Society for Rheumatology (ISR) Spring Meeting 2023 heard from Prof Gaye Cunnane, Consultant Rheumatologist and Director of Health and Wellbeing at the RCPI, who gave a presentation titled 'In the direction of flow'. Prof Cunnaneis in the process of completing a book on the history of the ISR, titled Standing on the Shoulders of Giants: A History of Irish Rheumatology from the Past to the Pandemic, which is due to be published next year.
In her talk, Prof Cunnane explained that the concept of 'flow' "has a lot to do with rheumatology, and is also intricately associated with history," she said. "The wonderful American writer Ursula Le Guin said when she was reflecting on her long life: 'There is a great river and it flows through this land, and we have named it 'History''. She wrote this in the context of describing the water at any given moment in time — you can see the great river, or perhaps you can see the detail of it, such as the rocks, the turbulence and the problems. Or you can stand back and see that it actually starts from somewhere small, and ends somewhere great. It's important to take a step back and reflect, and I think this is what history does for us — it helps us to understand the here-and-now and see how far we have come, to celebrate achievements, but also to remember how we got here and who helped us along the way."
Prof Cunnane elaborated: "Flow is very much about guidance, whether we choose to acknowledge that or not. We can only know things based on how others have helped us, directly or indirectly." She gave a brief overview of some of the pioneers in Irish rheumatology and said: "Flow is about a sense of wellbeing, and that means a total absorption and effortless concentration, where we are fully engaged with the task at hand. This could be at work, at home, cleaning the floor, painting, running, writing, singing — it is a highly-focused mental state conducive to productivity." The term 'flow' was first coined by psychologist Mihaly Csikszentmihalyi, she explained, who was preoccupied with the question of what makes people happy in their everyday lives. He suggested that people need to engage in activities that are meaningful for them, that are challenging, and for which they have the required skills. "All of those components are essential for flow," said Prof Cunnane.
"History is important because it gives us an understanding of the past and a vision of the future," she told the conference. "It gives us perspective, appreciation, humility, and a sense of wonder, which are all essential features in the facilitation of flow."