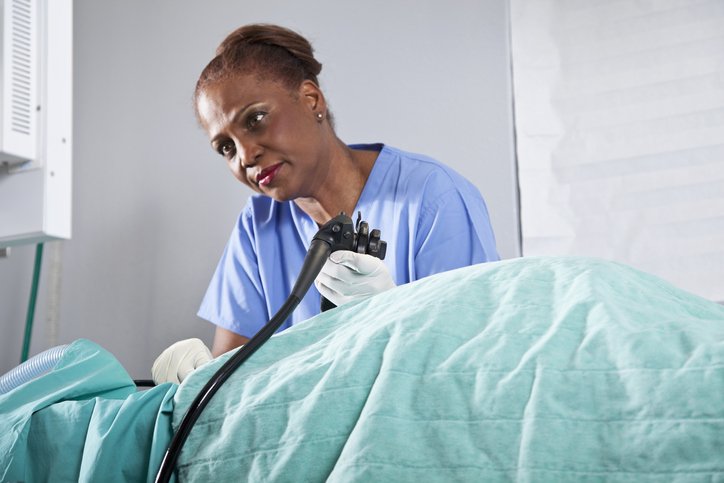 Veterinary technician (mature African American woman, 50s) using an endoscope.
Irish Society of Gastroenterology Winter Meeting, in conjunction with the Irish Association of Coloproctology, 12-13 November 2020
The Covid-19 pandemic has compounded the issue of long endoscopy waiting times, a poster at the Irish Society of Gastroenterology (ISG) Winter Meeting stated.
A poster by Kerr et al from the department of gastroenterology, Mater Misericordiae University Hospital (MMUH), Dublin, carried out an analysis on the utilisation of a private institution to bolster the Mater's gastrointersinal services during Covid-19.
"During Covid-19, HSE, BSG [British Society of Gastroenterology] and JAG produced guidelines for endoscopy during the pandemic, and during the first wave, endoscopy procedures were significantly curtailed," the researchers said.
"From April-June 2020, the HSE procured some private hospitals and private consultants and to help meet the need for urgent procedures in MMUH, we outsourced a cohort of patients to a private institution."
The researchers analysed the processes involved in 242 endoscopy procedures from May to June 2020. They examined referral letters, ERS (Endoraad), histology reports, and follow-up letters.
They found that 205 urgent patients ( 242 procedures) were outsourced to a private institution, comprising of OGD=89, FC=65, LC=14, OGD+FC=37. While 167 patients' procedures (81.7 per cent) were completed, 38 were not completed due to patient factors; 32 due to refusals/DNAs [did not attend], with illness precluding attendance for the remaining six.
A total 90 patients (53.8 per cent) were discharged to a GP, and follow-up was required for 68 patients (40.7 per cent) in MMUH. Of these follow-ups, 35 were due to symptoms, five for Barrett's, five due to poor prep, four for new inflammatory bowel disease, four for polyp surveillance, and nine for other reasons. Only two cancers were detected.
"Outsourcing of referrals improved our P1 waiting times and the patient experience," the researchers found.
"Some 50 per cent of patients were discharged directly back to their GP. However, the process generated a significant administrative workload in an already stretched service. The majority of patients did not have significant pathology."
It was of note that 16 per cent of patients either refused the procedure or did not attend, despite being deemed urgent.