The 69th Irish Cardiac Society Annual Scientific Meeting and AGM takes place in Galway this week. Niamh Cahill speaks to Irish Cardiac Society President Dr Albert McNeill about the Society's activities and what delegates can expect from this year's gathering
Hundreds of delegates attending the 2018 Irish Cardiac Society (ICS) Annual Scientific Meeting and AGM will converge in Galway from 4-6 October to hear the very latest in cardiovascular research and developments.
The meeting, in association with the Irish Nurses Cardiovascular Association, Cardiac Clinical Physiologists and Irish Atherosclerosis Society, is the all-island society's 69th meeting and will include presentations from some of the world's foremost experts in cardiology.
The meeting will feature an international element, with speakers from the US and Europe in attendance.
Dr Janet McComb, consultant cardiologist, Freeman Hospital, Newcastle, UK, will deliver the keynote presentation of the event, the Stokes Lecture. Dr McComb will speak on the topics of electrophysiology and pacemakers.
Another important aspect to the event is the presentation of around 60 local abstracts, which gives young Irish cardiologists working in Ireland or abroad the opportunity to present their research and highlight the level of research taking place inside and outside of Ireland.
Dr Albert McNeill, consultant cardiologist at Altnagelvin Hospital, Derry has been President of the Irish Cardiac Society for two years.
Last year's ICS meeting was held in Derry and was regarded by many delegates as an academic and cultural high point, Dr McNeill told the Medical Independent (MI).
"We were very pleased to have among others Dr Mary Norine Walsh who was the president of the American Society of Cardiology. We had several other international speakers. We always have an international array of speakers; American, European and British speakers," Dr McNeill said.
"During the course of the year the international activity of the society continues when I represent the society at the American College of Cardiology, British Cardiovascular Society and at the European Society of Cardiology meeting and those are in March, June and August respectively."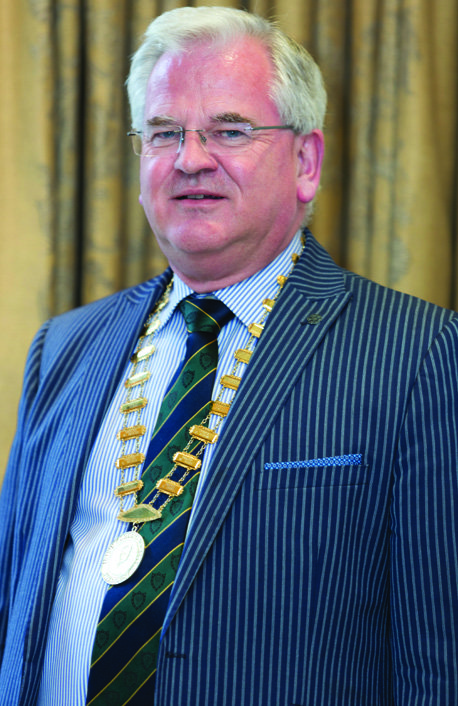 Dr Albert McNeill, President ICS
Joint sessions
The ICS enjoys a very warm relationship with the American College of Cardiology, according to Dr McNeill.
The ICS and British Cardiovascular Society hold a joint session with the American College of Cardiology at their annual meeting in March. The theme of this year's session was electrophysiology.
"At that we have a reception for Irish American cardiologists, both people who have trained in Ireland and gone to America and some of whom have stayed and American cardiologists who have an Irish background," Dr McNeill stated.
"That's always very useful socially and gives us a chance to network with our American colleagues. We have some presentations about the opportunities for Irish trainees in America and that's really an opportunity for cardiologists of the future to get to know what happens in American cardiology."
Similar joint sessions are held at the British Cardiovascular Society meeting. The European Society of Cardiology (ESC) meeting was held in Munich this year, which provided the ICS with an excellent opportunity to network with other cardiologists, Dr McNeill said.
"We want to encourage Irish cardiologists to get involved at a clinical level in terms of submitting abstracts and chairing sessions and also to get involved in some of the administrative roles within the ESC. The more that we network with people and get a flavour and handle of what's happening in Europe the better that is for Irish cardiology."
The ESC meeting is of particular benefit to Irish patients and clinicians, Dr McNeill explained, as the ICS "buys into and ratifies ESC guidelines for use within the island of Ireland".
Guidelines
This year guidelines launched at the Munich meeting include four new ESC clinical practice guidelines on: Arterial hypertension; syncope; myocardial revascularisation; and cardiovascular diseases during pregnancy.
Local meetings that run under the ICS's auspices include an annual update in Enniskillen and an annual aortic valve meeting, while ongoing training aspects take place nationally throughout the year.
International speakers
Turning to the upcoming event in the Galway Bay Hotel, international speakers include Dr Michael Valentine, President of the American Society of Cardiology; and Prof Pepe Zamorano, Vice President from the European Society of Cardiology.
They will speak at the international session alongside Prof Nick Linker of the British Cardiovascular Society on Saturday morning. The session will be chaired by incoming ICS President Dr Jim Crowley.
The three-day event begins on Thursday morning with the meeting of the Irish Nurses Cardiovascular Association.
On Thursday evening two parallel sessions on electrophysiology and interventional cardiology will take place.
On Friday a day-long meeting of the Irish Cardiac Clinical Physiologists is scheduled while further ICS sessions will take place.
Prof James Moon, Professor of Cardiology at University College London, will deliver a session on: "Myocardial tissue characterisation to improve outcomes" on Friday morning.
The 2018 Stokes Lecture will take place on Friday afternoon before a special gala event that evening where Dr McNeill will hand over the presidency to Dr Jim Crowley, Consultant Cardiologist, Galway. Scientific sessions will continue on Saturday morning before the event closes.
Travelling Fellowship
Also in attendance will be this year's Travelling Fellowship recipients. The Travelling Fellowships provide financial support to trainees during their first year abroad training at international centres of excellence.
This year's Travelling Fellowship recipients are supported by Bristol Myer Squibb and Daiichi Sankyo. The Brian McGovern Travelling Fellowship is supported by Bayer.
Meanwhile, any trainees who are abroad and have an abstract accepted are eligible for travel home sponsorship, which is provided by MSD. There are nine recipients this year.
Brian Maurer Award
There are four finalists for the Brian Maurer Young Investigator Award.
There are two American-based finalists and two finalists based in Ireland hoping to win the award for their work on the "Role of zfhx3 in atrial fibrillation", (Dr Alan Hanley); "The Clinical Course of Heart Failure Patients Managed in a Disease Management Programme", (Dr Robbie Murphy); "Factors Contributing to Left Atrial Remodelling and the Development of Atrial Fibrillation in Hypertrophic Cardiomyopathy", (Dr Sarah Cuddy); and "An Investigation of Global Longitudinal Strain in Primary Mitral Regurgitation: A retrospective cohort of patients with mitral regurgitation", (Dr Ros Lavery).
For the first time, the Society this year has a prize for best moderated poster supported by Daiichi Sankyo.
Looking at developments in cardiovascular care in Ireland, Dr McNeill said "a big change in management" that occured over the past few years was the 32-county roll-out of primary percutaneous coronary intervention (PPCI).
"We have provided that for the last two years on a cross border basis for people from Donegal," Dr McNeill explained.
"In a way that is fitting that my Irish Cardiac Society president role mirrors my clinical role where I have an involvement in the management of patients from both sides of the border."
The gold standard treatment for a major heart attack (ST Elevation Myocardial Infarction-STEMI) is primary percutaneous coronary intervention (PPCI).
Since 2016 Donegal patients have had access to the life-saving service at Altnagelvin Hospital, Derry.
The service has been hugely successful and further improvements are planned in the North, Dr McNeill said.
"The big things we're looking for, certainly within the North, is the roll-out of a preventative cardiology service for patients, both with established coronary disease and patients at high risk of coronary disease. That's going to be analogous to a programme which works out of Galway under the auspices of CROÍ," Dr McNeill said.
"Within the North we're going to look at how can we replicate and put resources towards preventive cardiology, both for high risk primary prevention, people who don't as yet seem to have the disease and for secondary prevention for people that have established disease."
He said the plan was to imitate the work of the CROÍ heart and stroke charity in the west and use it "as an exemplar" and potential template to try and replicate for similar preventive work in the North.
Ongoing future research that may have an impact on cardiovascular practice in hospitals is particularly promising, Dr McNeill added.
New ways to manage heart failure, stratified medicine where therapies are individualised to an individual patient, translational medicine and gene therapy are among the areas to watch out for based on current research, Dr McNeill stated.