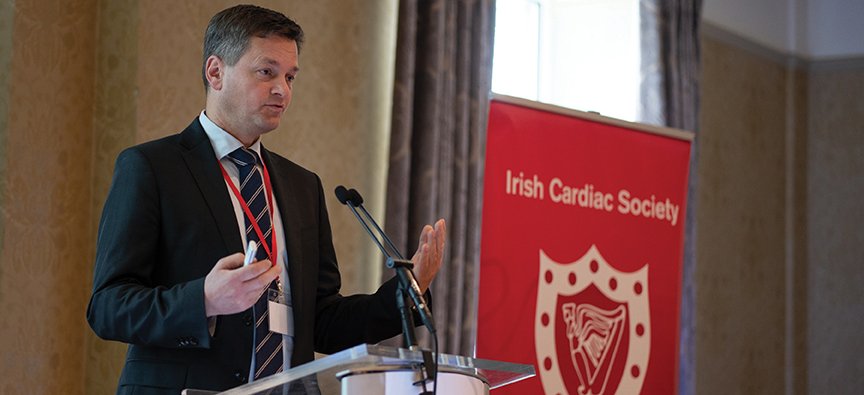 The International Session at the Irish Cardiac Society (ICS) 70th Annual Scientific Conference and AGM heard from Prof Stephan Achenbach, President-Elect of the European Society of Cardiology; Prof Simon Ray, President of the British Cardiovascular Society; and Prof John Harold, past-President of the American College of Cardiology. The session was chaired by Prof Albert McNeill, past-President of the ICS and Consultant Cardiologist at Altnagelvin Hospital in Derry.
Prof Achenbach presented a challenging case study to attendees, who were able to participate via an app created for the conference.
Participants were asked to contribute their clinical opinions on the initial assessment of a patient with typical chest pain, testing procedures and potential treatment pathways. He pointed out that in his home country of Germany, in the past, patients who underwent STEMI were typically kept in hospital for three weeks, whereas now, they usually stay in hospital for an average of two days.
This patient was readmitted with a range of complications, including S.aureus and mitral valve regurgitation. Along with other complications, this necessitated further testing. After complicated evaluations, the patient turned out to have an infected osteum of the right coronary artery. This infection was caused by an infected stent, Prof Achenbach explained, and caused a mycotic aneurysm.
Prof Ray presented a case of a fit 39-year-old woman who frequently took long-haul flights as part of her work and who had been previously treated for locally-invasive carcinoma of the cervix, which appeared to be in remission.
She presented with transient left-sided weakness and was confirmed to have suffered a middle cerebral artery embolic stroke, from which she made a rapid recovery. However, in this challenging case, she returned to hospital some days later for an ECG and was found to have a mobile mass attached to the posterior mitral valve leaflet. Blood cultures were negative, with no signs of embolisation, and she was borderline anaemic.
After surgical excision and subsequent extensive testing by a range of specialists, the patient's condition severely deteriorated and it was eventually discovered that while no solid cardiac tumour mass could be found, despite intensive medical and surgical treatment, the patient died a couple of months after her initial admission, explained Prof Ray.
"A post-mortem diagnosis showed thousands of micro-deposits of adenocarcinoma," he explained. Despite numerous scans for a solid tumour mass, the patient had a highly unusual micro-metastatic tumour, he told the attendees, adding that around 20 per cent of such cases often present with systemic embolisation.
Prof Harrold gave the session an overview of the history of the ICS and American College of Cardiology, as well as a historical overview of the evolution of cardiology research and treatment worldwide. "I want to congratulate the ICS on its 70th anniversary," Prof Harrold told the attendees. "It's about building bridges, not walls, and this event provides opportunities to build bridges between all of us. These are fantastic networking opportunities and one of these is the chance for an expanded relationship with the ESC; this is all about the importance of inter-organisational collaboration."