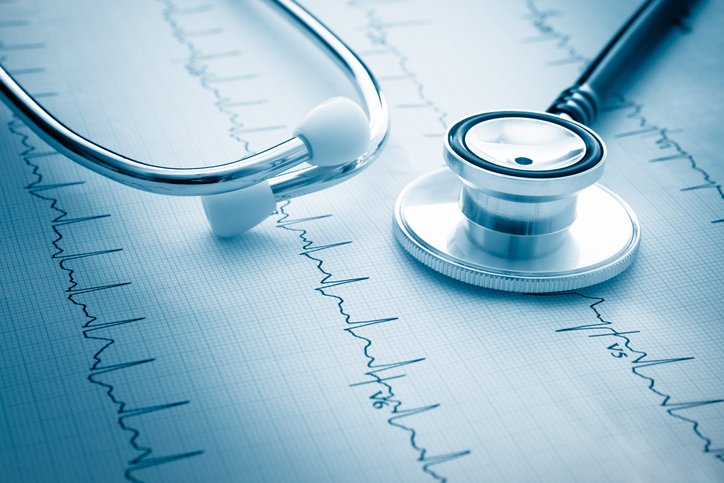 Stethoscope and Electrocardiogram
How to approach screening, risk estimation and management of coronary heart disease in asymptomatic patients
An estimated 17.7 million people die of cardiovascular diseases each year representing 31 per cent of all global deaths. Coronary heart disease (CHD) mortality rates worldwide have declined over the past four decades, but CHD remains responsible for about one-third or more of all deaths in individuals over age 35 years.
There is a high prevalence of coronary artery disease by middle age, more so in men compared to women, hence there is a rationale in timely detection. The first presentation with advanced obstructive coronary artery disease can be catastrophic, resulting in an acute myocardial infarction (MI) and sudden cardiac death with minimal or no previous symptoms. The detection at subclinical stages might permit the identification of subjects at increased risk of a cardiac event and appropriate therapy might improve the prognosis of those at high risk.
The symptoms of coronary artery disease are an important predictor of outcome. However, a significant proportion of patients presenting with sudden cardiac death or MI can be asymptomatic and silent infarction is quite common in older patients with risk factors. Almost half of the patients presenting with sudden cardiac death may be previously asymptomatic. Among patients presenting with first acute MI, only half may have preceding angina. Silent MI represents up to one-third of MI with increasing prevalence over age 60 with cardiac risk factors.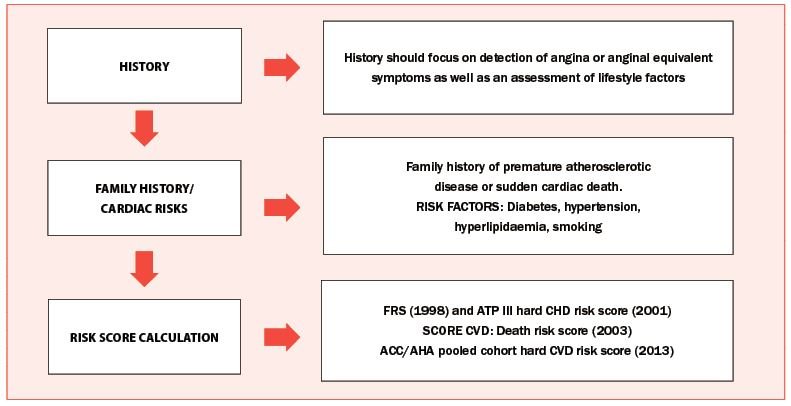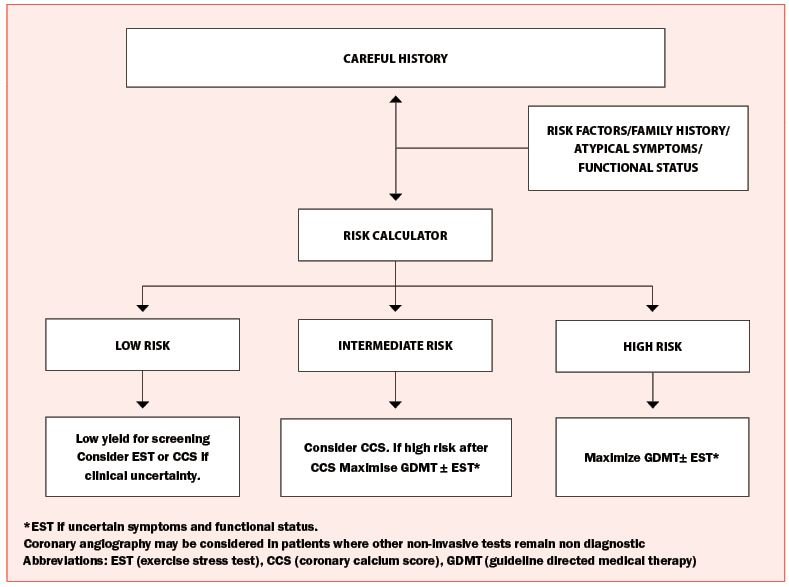 Screening and risk estimation
The screening versus risk estimation for CHD carry certain similarities and differences; both are performed in asymptomatic individuals with an aim to improve outcome with intervention if needed. Screening identifies existing disease whereas risk estimation predicts the likelihood of a future cardiovascular event. Adult patients with cardiovascular risk factors should undergo periodic cardiovascular risk assessment every three to five years.
The approach to screening and risk estimation (Figure 1) should include a detailed history, assessment of cardiac risks including family history and the use of available various risk scoring systems, which can help categorise individuals into low (<10 per cent), intermediate (10-to-20 per cent), and high-risk (>20 per cent) by estimating a 10-year cardiovascular risk. However, risk calculators are based on multivariable statistical models that perform moderately well at a population level.
Caution needs to be exercised in asymptomatic individuals with risks, as risk calculators can place a high number of asymptomatic individuals in low or intermediate risk categories where the risk of a first coronary event can be as high as 60-tp-70 per cent. Also, they have limited value to discriminate individuals who will experience a coronary event.
The Framingham Risk Score (FRS) estimates risks of cardiovascular events in 10 years with a low risk <10 per cent, intermediate risk 10-to-20 per cent, and high risk >20 per cent. It does not consider diabetes or family history of CHD. It does not incorporate diabetes or family history.
Guidelines
The current guidelines do not recommend routine screening in asymptomatic individuals. The United States Preventive Services Task Force (USPSTF) (recommendations 2012) recommended against routine screening in adults at low risk for CHD events. American College of Cardiology/American Heart Association guidelines do not support routine exercise stress testing (EST) in asymptomatic adults, however, subgroups that may benefit from screening are:
Asymptomatic patients with diabetes who plan to begin a vigorous exercise programme.
Patients with multiple risk factors for CHD as a guide to risk reduction therapy.
Men aged over 45 years and women aged over 55 years who are presently sedentary and plan to start a vigorous exercise programme.
Patients who are involved in occupations linked to public safety like pilots, bus drivers, scuba divers, etc.
The American College of Sports Medicine supports EST in men/women >40/50 years of age with multiple risk factors starting a vigorous exercise programme.
Screening approach
The screening of asymptomatic patients for CHD starts with a good history, assessment of risks and use of various risk calculators which stratify the patients into low, intermediate and high risk categories (Figure 2).
Screening tools for CHD include a lipid profile, high sensitivity C reactive protein (Hs-CRP), resting ECG and ambulatory ECG, which can identify silent ischaemia and arrhythmias. Further tests include EST, myocardial perfusion imaging (MPI) and stress echocardiography, which are alternative tests in individuals unable to exercise.
Coronary calcium score (CCS) and CT angiography can directly identify the presence of atherosclerotic coronary disease but CT providing functional information is not widely available yet. CCS provides additional prognostic information to most risk scores (Figure 3).
Cardiac MRI and perfusion scans can also be employed in certain patients for detection of cardiovascular disease. On occasions, coronary angiography can be considered as a first-line test in high-risk patients where other non-invasive tests remain non-diagnostic.
Limitations
The limitations of the non-invasive tests should be kept in mind. EST in an asymptomatic patient can indirectly identify the presence or absence of underlying obstructive CHD by assessing myocardial ischaemia, but there are false positives and false negative results; the mean sensitivity of the test is 68 per cent with a mean specificity 77 per cent. The resting ECG in approximately 30-to-50 per cent of individuals with a normal coronary angiogram have ECG abnormalities. Approximately 30 per cent of individuals with angiographically-proven CHD have a normal resting ECG. Most of coronary events occur in individuals without resting ECG abnormalities.
Management
The management of high-risk individuals centres on lifestyle modification and guideline-directed medical therapy (GDMT) known to reduce coronary events and improve survival. The approach includes smoking cessation, diet and exercise, and modification of risk factors. As for GDMT, the addition of moderate- or high-intensity statins based on baseline LDL, presence of diabetes and estimated 10-year cardiovascular disease risk along with the treatment of blood pressure and HbA1C to goal, if applicable.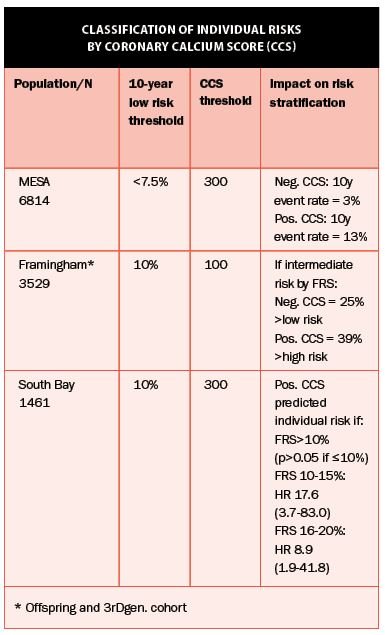 Beta blockers and calcium channel blockers have been shown to reduce silent ischaemia. Other agents include aspirin, statins, angiotensin converting enzyme (ACE) inhibitors or angiotensin receptor blockers (ARBs). Coronary revascularisation is appropriate for asymptomatic patients only if very high risk anatomy or high risk non-invasive testing despite medical therapy. Residual ischaemia at six months to 18 months is a significant predictor of future death or MI regardless of the strategy.
In summary
In summary, there is no role for routine screening of asymptomatic low-risk individuals but for intermediate- and high-risk categories of patients the detection of CHD at subclinical stages may identify individuals at high risk of a coronary event and appropriate therapy might improve prognosis. The primary purpose of screening for CHD is to identify patients whose prognosis could be improved with an intervention (ie, aggressive medical therapy or coronary intervention). A good history is the cornerstone of diagnosing CHD; use other adjuncts to reach a diagnosis and appropriateness for screening.
Screening for CHD identifies existing disease while risk estimation for CHD does not directly identify existing disease, but rather the likelihood of any future event. Asymptomatic patients at low risk: There is no role in performing screening electrocardiograms, stress testing, CCS, or coronary angiography. Candidates for CHD screening are 'special populations' in which a CHD event may pose unique or additional risks beyond those in the average population. Coronary intervention in stable patients does not improve outcomes; medical therapy does.
References on request