Giant-killing doctors enjoy magic of the cup
TEK United 1-2 St Vincent's Hospital FC
Saturday 14 September
Grange Grove, Lansville
Noel Ryan Cup, 2nd Round
After finishing on the wrong side of a 6-1 home defeat in their opening league game of the 2019/20 campaign, a visit to Major 1 outfit TEK United wasn't the ideal remedy on paper for St Vincent's.
A variety of mitigating circumstances seemed to be conspiring against the doctors for this tie away to TEK United, who play two divisions higher in the Saturday LSL pyramid. No fewer than nine enforced changes were made to the starting 11, while Mathew Berkeley, a substitute at left wing last time out was required to start the game in goal. Vincent's uphill task was exacerbated by the memory of playing away to Tek almost a year to the day last season, when the hosts ran out 7-1 victors in a one-sided cup game.
However, the squad on the day performed splendidly in searing mid-September heat. There were debuts for Paul Bourke, Paul Lynch and David Gildea, Matthew Coughlan and John Callaghan-Moore. After a tight opening, the visitors struck first. David Kennedy strode forward from right back to intercept a loose pass and poked the ball towards Lynch, who fired home a brilliant debut goal from long range with his left foot. His afternoon was unfortunately curtailed by injury shortly afterwards, but he had made his impact count.
Given the heat and TEK's experience, a 'backs-to-the-wall' performance in the second half was always on the cards for Vincent's. Despite having to retreat deep and defend stoically, the doctors managed to keep their opponents largely at bay, though Berkeley was required to make two sharp saves from snapshots from inside the box. After resisting waves of TEK pressure, Vincent's had a good spell of their own that culminated in a second goal. Skipper Kieran Keane found Gildea with a clever, quick free-kick and the striker made no mistake from close range. Even a late consolation goal for TEK in injury time couldn't take the gloss off an excellent defensive performance by the doctors, with left back Alex McDaid shining particularly in a tenacious and composed display. Vincent's now go through to the last 32 of the Noel Ryan Cup, where potential opponents can come from throughout the Saturday ladder.
Matchday squad (4-3-3): Mathew Berkeley, David Kennedy, Kieran Keane (c), Paul Bourke, Alex McDaid, Rory Durand, Paul Lynch, Barra Neary, David Carolan, David Gildea, Cian Ward.
Subs: Matthew Coughlan, John Callaghan-Moore.
Trinners come out winners
Dublin University FC 2–1 St Vincent's Hospital FC
Saturday 21 September 2019
Trinity College, Dublin
LSL Saturday 1B League match
Having beaten TEK United 2-1 in the cup, St Vincent's FC went into the game against Dublin University FC with high expectations. Due to weekend work, a number of seasoned regulars were unavailable for the game, and this was a contributing factor in what lay ahead for the medics. Although it was a sunny day on the Trinity campus, a gloomy afternoon was in store for the away team.
Vincent's looked livelier in the opening 20 minutes and were rewarded for their efforts. A John Cosgrove corner was redirected towards goal by the head of Rory Durand and was flicked in by Paul Bourke. It was Bourke's first ever goal for Vincent's and certainly won't be his last.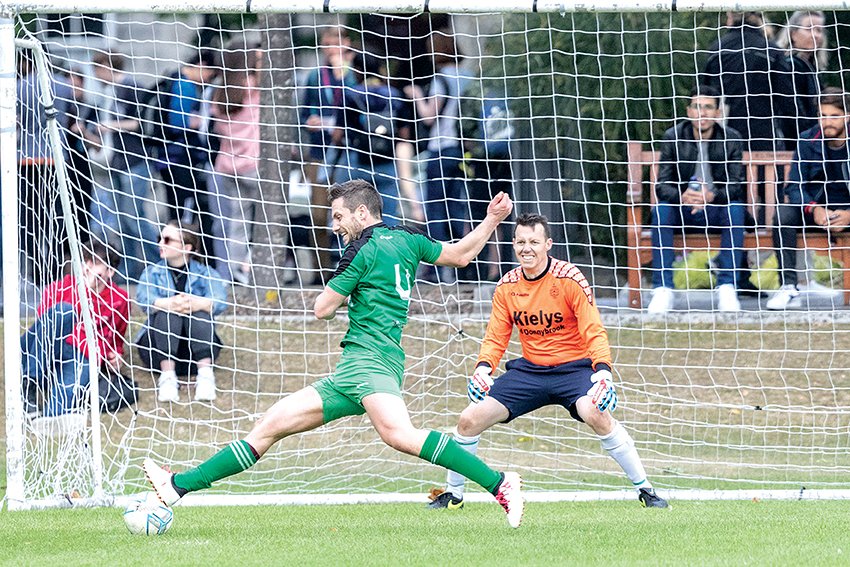 The home team dominated the remainder of the first half, and scored after 35 minutes with a well-placed low strike, which left former Ireland underage keeper Paul Whelan with absolutely no chance.
Unfortunately it did not get any better for Vincent's in the second half.
A free-kick from 30 yards out on the right hand side was met by the head of a Trinity player and the ball somehow crossed the line after a goalmouth scramble. The scrappy goal summed up the nature of the second half as Vincent's never got going. The away team created very few chances and will be very disappointed with their second half performance and it was Dublin University FC who looked more comfortable for the duration of the game. Although Rory Durand had a half chance in the dying stages, the home team deserved the win and will be delighted to get their first league victory.
It has been a poor start to the league campaign for Vincent's having lost their opening two games. However, their next two outings are both cup games, so they can regroup and come back stronger for their next league game in mid-October.
Matchday squad (4-3-3): Paul Whelan, Kieran Keane, Dan Hales, Andy Delaney (c), Alex McDaid, Paul Bourke, Paul Carroll, John Cosgrove, Cian Ward, Rory Durand, Eddie Wrynn.
Subs: John Callaghan-Moore, Mark Dwyer, David Carolan, Barra Neary, Brian Gaffney
Upcoming game: Saturday 5 October – Leinster Junior Cup – Away to Dunboyne AFC.
RCPI to celebrate 140 years of the Dublin Hospitals Rugby Cup
On Thursday, 3 October, the RCPI Heritage Centre will host a special commemorative event on the history of the Dublin Hospitals Rugby Cup.
The Dublin Hospitals Rugby Cup has a long and interesting history, which lies at the very heart of Irish rugby. It is the longest running rugby cup competition in Ireland and many Hospitals Cup players went on to represent Ireland and the Lions. Dublin medical students hold the distinction of captaining Ireland to their first Triple Crown and grand slam successes.
Talks will be delivered by former Irish rugby international Dr Con Feighery, Dr Michael Farrell and Dr Morgan Crowe, all of whom played in the Dublin Hospitals Rugby Cup. They will discuss stories and findings from research they carried out over the past two years into the many hospitals that participated, most of which are now closed, as well as reflections on the energy and ambition of some of the players down through the decades.
"As a rugby playing student in RCSI I heard many stories about the Hospitals Cup from my father, who had played for RCSI in the 1940s. There were stories about famous students and players such as Jamie Clinch, yarns about playing for several different hospitals in the same week of the competition and trying to persuade GAA players to tog out when teams were short in numbers," said Dr Michael Farrell.
Almost 20 per cent of the players capped for Ireland since international rugby began in 1875 were medical doctors, the majority of whom had excelled in the Hospitals Cup and in their later careers.
Many of these had also played hugely important roles in the development of the game of rugby in Ireland.
"The interhospital rivalry often carried over from school's rugby where you could find yourself playing against your best pals from school or colleagues attending different hospitals – so there was no holding back.
"The Hospitals Cup promotes social interaction within the hospital team and is a wonderful opportunity for young medical students to get to know and interact with older students, newly qualified young doctors and with consultant staff who act as mentors, not just in rugby but also in their careers and in life in general," said Dr Con Feighery.
"Although my Dad had won several medals with the Richmond Hospital and went on to play for Ireland, he never talked much about rugby so you can imagine how surprised I was to discover that because of a Hospitals Cup injury he was forced to drop out of the 1930 Lions trip to New Zealand," revealed Dr Morgan Crowe.
The event, in 6 Kildare Street, will start with an opportunity to view a selection of Hospitals Rugby Cup photos and memorabilia between 6-7pm. Talks will take place 7-8.30pm, followed by a reception.
If you would like to attend the event please contact RCPI Heritage Centre heritagecentre@rcpi.ie