While the battle against Covid-19 has consumed much of the globe, it is far tougher and more complex in the developing world. Bette Browne recently spoke to Irish woman Dr Laura Heavey of Médecins Sans Frontières about the challenges involved

If they do not even have food to eat — why would they have soap?"
This chilling question posed by a medical worker in Africa underscores the enormity of the Covid-19 battle faced by Médecins Sans Frontières (MSF) volunteers in many parts of the developing world.

"Hunger makes ICUs seem a bit of a distant problem," Mr David Walubila Mwinyi, MSF Medical Data Supervisor in South Kivu, Democratic Republic of the Congo (DRC), wrote in his MSF blog.

"We do not even have the money to guarantee enough food for everyone, let alone ventilators. When it comes to prevention measures, if you want people to wash their hands with soap and water, you need to provide them with soap and water."

The complexity of the issue was highlighted further by Irish MSF volunteer Dr Laura Heavey in an interview with the Medical Independent (MI), where she outlined the many problems faced in the field.

"The Covid-19 pandemic has put some of the most advanced healthcare systems in the world under immense pressure in countries with social safety nets and where most people have access to running water and space to self-isolate," said Dr Heavey.

"In most places where MSF works, including the DRC, healthcare systems are much more fragile, and living conditions are generally much more challenging.

"How can you self-isolate in a refugee camp? In some countries, the quality and quantity of available data (including test results, number of cases and deaths clinically associated to Covid-19, or even crude mortality rates) also may not be easily available to give a close, real-time understanding of the spread of the virus, which has been vital in managing outbreaks in developed countries.

"We need to be prepared for the pandemic taking hold in these countries, and for the impact as it moves into impoverished urban areas or refugee camps. People living in overcrowded conditions, on the streets, in makeshift camps or substandard housing are at particular risk," added Dr Heavey.
"Many are already in poor health and excluded from the formal healthcare system. In some places, hundreds of thousands, if not millions of people, live in such conditions, without a social safety net. Diseases spread easily in overcrowded camps, without adequate water or sanitation, and we know physical distancing will be infinitely more difficult or impossible. We must find other ways to help people keep themselves protected, such as mass distributions of soap, water, and, in carefully considered circumstances, reusable cloth masks."

Dr Heavey continued: "We also know from previous epidemics that the indirect and knock-on effects of such an outbreak on the rest of the health system can be devastating, when there is a reduction in people coming forward to seek healthcare. This could be extremely damaging in the long-term.

"We know after the West Africa Ebola epidemic the reduction in women coming for maternal healthcare resulted in a tragic spike in maternal and neonatal mortality. Many also died from HIV and TB as their treatments were interrupted by the collapse of the health system. So the concerns for the impact of Covid-19 in the developing world are serious and complex."

Adapting

MSF must therefore balance these concerns in its missions around the globe with the additional challenges presented by Covid-19. But adapting quickly to new medical challenges is something to which MSF has become accustomed in the course of its work over many decades.

"As Covid-19 is a new disease, every medical and public health entity around the world involved in treating it must innovate in one way or another," Dr Heavey told MI. "While MSF can draw on almost 50 years of responding to epidemics and outbreaks, we have also been learning and adapting."

When Covid-19 struck, MSF was ready to act quickly to provide help in Ireland, Europe and around the globe. "We have set up dedicated MSF-run Covid-19 facilities in many parts of the world and have also been assisting health authorities in their response.

"When the epicentre of the pandemic was in Europe, we were supporting hospitals in northern Italy, set up hospitals in Madrid in Spain, and assisted nearly 500 elderly care homes there, responding to health needs of vulnerable groups such as migrants and the homeless across Europe," Dr Heavey said.

MSF volunteers have also been active in Belgium, where a medical isolation structure with capacity for up to 150 beds has been set up in Brussels. An MSF outreach team is assisting other centres where vulnerable people are living, such as homeless people and undocumented migrants.

"Closer to home in Ireland, we supported a frontline medical organisation here to provide care and rapid testing for vulnerable groups, such as people who are homeless, and assist in facilities where people from vulnerable groups are isolating. This work in rapid testing has most likely helped to avert or lessen the impact of outbreaks in vulnerable groups."

But the logistics and challenges can be enormous. "While we are responding in over 70 countries now, the pandemic has made it difficult to move staff and the medical supply system will be disrupted for weeks or even months," Dr Heavey explained.

Therefore it is even more important to keep finding ways to strengthen not only the response to the humanitarian crisis, but also hygiene and infection prevention measures to stop the virus from spreading.

Technology

"We're always exploring new ways of doing things, from working with local communities to make cloth masks, to exploring the possibility of using apps to assist in contact tracing," according to Dr Heavey.

"In some countries, we've also been making more use of telemedicine to assist people under isolation at home. For instance, in Hebron, Palestine, MSF teams of social workers, counsellors and psychologists launched a dedicated hotline to address the mental discomfort and to enhance coping mechanisms of people such as those sick, in isolation, working in frontline positions, and prisoners."

The organisation has also had to adapt its existing programmes in many parts of the world to reduce the risk of transmission of Covid-19.

"In all our operations, we are adapting programmes to the new reality of Covid-19. A key priority is to keep our regular medical programmes running for the tens of thousands of patients and extremely vulnerable communities we help support around the world," Dr Heavey emphasised.

"In many countries where we work, such as in Colombia, Iraq and Nigeria, we have been opening dedicated wards inside health facilities to help separate Covid-19 patients from non-Covid-19 patients and to extend the capacity of hospitals to provide care.

"We've also been adapting our regular operations to reduce the risk of transmission of Covid-19. "For example, in South Africa and many other places where we have significant HIV and TB programmes, we now give larger supplies of medicine at each consultation to reduce the need for patients to leave lockdown and return for refills."

In Sierra Leone, MSF has donated hand-washing stations to 42 villages after meeting with community representatives. In Mexico, it is implementing protocols to prevent and reduce the spread of Covid-19 in migrant communities, such as setting up isolation areas for new arrivals in migrant shelters.

For the first time, the organisation has sent a team of doctors to the US to help the Navajo Nation and is also assisting a number of US states battling the soaring death toll from the pandemic.

At time of writing, Navajo Nation, home to about 170,000 people, had more coronavirus cases per capita than any state in America. Due to a shortage in nursing and specialised medical staff, the most critical patients have to be airlifted to hospitals outside of the reservation. In addition, Navajo people carry a high rate of diabetes and hypertension, making them more susceptible to serious infection.

"MSF's response in the United States has a few elements," Dr Heavey explained. "In New Mexico and the Navajo Nation, an MSF team is working with local officials and healthcare providers to address Covid-19-related needs in Native American communities. We are providing technical guidance to healthcare facilities and communities to assist with infection prevention and control and are also engaging with community leaders to increase access to health promotion and education."

Elsewhere in the US, MSF has opened a temporary relief station in Manhattan to provide free showers, toiletries and information on additional services to homeless people.

"In Florida, where some 10,000-to-20,000 migrant farm-workers continue to work during the pandemic with minimal access to healthcare and testing, we're running a public health education campaign and mobile 'virtual' clinics, which provide testing and remote consultations for Covid-19 and other health issues."

Outside the US, its teams are responding to the pandemic on multiple fronts — caring for patients, offering health education and mental health support, and providing training for vital infection control measures in health facilities.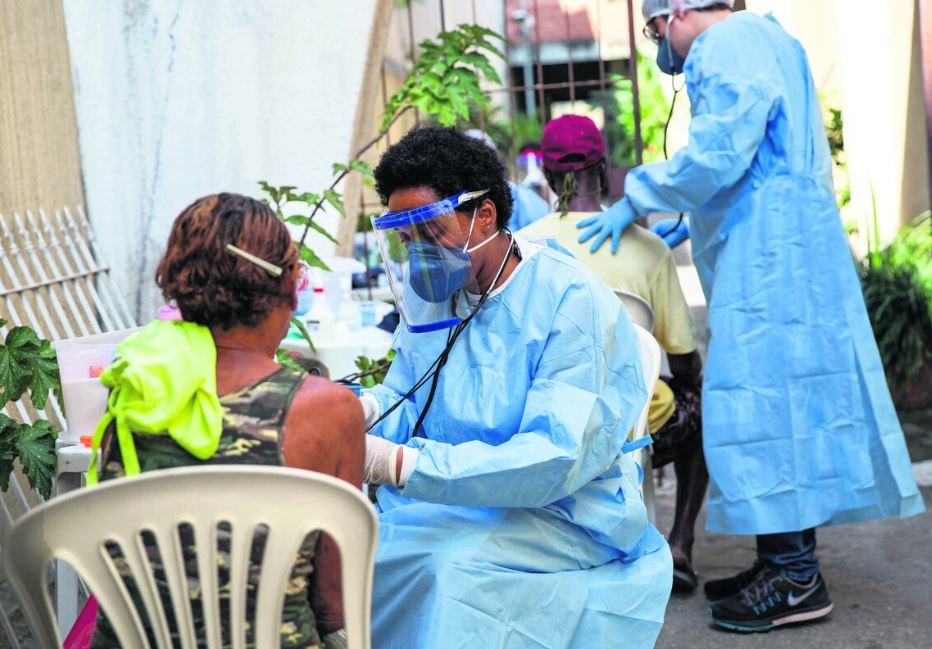 "MSF is caring for patients in dedicated Covid-19 facilities in Burkina Faso, Democratic Republic of Congo, Cameroon, Ivory Coast, Mali and Pakistan, and we have opened dedicated Covid-19 facilities in Kenya, Lebanon, Niger, Philippines, Senegal, Syria and Yemen, among others," Dr Heavey told MI.
"These facilities will care for patients with moderate-to-severe forms of Covid-19, including those who suffer from acute respiratory problems."
MSF teams are also providing care to vulnerable communities in the Americas. "In São Paulo, Brazil, we provide medical consultations and help to detect people with Covid-19 among homeless people, migrants, refugees, drug-users and the elderly, referring patients in more serious conditions to hospitals.

"We're also working with local authorities in countries where we have medical projects to help prepare for the impact of Covid-19. This usually involves running health promotion activities so that people understand the steps they can take to reduce the chances of contracting the disease and to stop the further spread of the virus. Where possible, we are distributing soap and setting up water points so people can regularly wash their hands."

Attracting volunteers

With the global focus on Covid-19, has it now become more difficult for MSF to attract volunteers for its other missions and keep the spotlight on its battle against all global diseases, especially in developing countries?

"While it's too early to say what long-term impact the pandemic may have on our future volunteer and staffing requirements, we are certainly concerned about the impact that it's having on our existing healthcare projects — from maintaining supply chains, to making sure staff can travel to our field operations as needed. For example, most of our field staff are hired locally, but some international staff, such as medical specialists, are critical to continue our work," Dr Heavey said.
We're continuing to work with authorities and transport companies in all countries where we have operations to facilitate our work by helping us move staff in and out. Of course, all MSF staff must then follow national public health measures, which usually means a 14-day quarantine or self-isolation immediately on arrival.

"Unfortunately, however, we've already had to put some of our programmes on hold, such as our paediatric surgical programme in Monrovia, Liberia, which has been suspended for the time being due to the lack of flights and travel restrictions.

"Another element that we are very concerned about in this pandemic is the availability of adequate stocks of personal protective equipment (PPE). While we aren't experiencing imminent shortages in our stocks for now, the sourcing of PPE is difficult globally, and prices have gone up significantly.
We need to ensure there is a basic level of transparency about the availability, cost and global distribution of essential PPE stocks, and that all countries can access PPE according to their level of needs."

A Galway native, Dr Heavey is one of many Irish MSF staff working on operations around the world, from refugee camps on the Greek islands and Lebanon, to MSF healthcare facilities in a number of African countries and in the Middle East.

Dr Heavey studied medicine in NUI Galway, which is where she first became interested in the work of MSF. "I went to talks in NUI Galway given by Irish doctors and nurses who had worked for MSF and I loved the principles of MSF — how they spoke out and fought for the most vulnerable. MSF is a great organisation to work for."

Paediatrics
After completing her basic training in paediatrics in Ireland and gaining experience in emergency medicine, Dr Heavey worked for MSF as a paediatric doctor in South Sudan and in Borno State, Nigeria, where the conflict with the jihadist terror group Boko Haram has displaced millions of people.

She was mostly looking after children with malnutrition, which was a result of food insecurity related to the conflicts in both countries. "There were constant outbreaks of infectious disease as well, as both countries had their routine vaccination programmes disrupted by war. There were deadly measles and meningitis outbreaks, as well as malaria in the rainy season."
Dr Heavey then returned to Ireland to do a Master's in public health and is now working on Ireland's Covid-19 response in the Health Protection Surveillance Centre.

She describes her work with MSF as intensely rewarding, but also physically and emotionally challenging. "They work in all the most extreme environments and conflict zones. MSF staff take risks every day to provide medical care to people trying to survive in some of the harshest places imaginable."

Places like Afghanistan. A horrific attack on 12 May at the MSF-run maternity wing at Dasht-e-Barchi hospital in Kabul numbed Dr Heavey. "Words can't convey how shocked and upset I was by the attack on MSF's maternity ward in Afghanistan. I felt physically sick when I read about what happened."

MSF has since confirmed that 15 mothers were killed in the hospital. Five of these women were in labour and were minutes, or at most hours, from giving birth to their babies. An MSF midwife, Maryam Noorzad, was also killed in the attack, as well as two children aged seven and eight.

The assailants systematically moved from one room to another, killing mothers in their beds. The attackers entered the hospital through the main gate and moved quickly past several buildings, heading directly to the maternity wing.

The MSF assessment carried out in the aftermath of the attack and the intervention of the security forces showed walls sprayed with bullets, blood on the floors in the rooms, vehicles burnt-out and windows shot through. The attack was brutal, with the ordeal lasting for hours. "This was a terror attack, aimed to terrorise a vulnerable community by targeting the maternity wing and systematically shooting pregnant women and babies," MSF stated.

In the wake of the attack, MSF has had to close the maternity wing and suspend its actvities there. The area of Kabul served by the maternity wing is home to more than one million people, the majority of whom are Hazara. The Hazara are a historically marginalised and poor people, displaced from their original land in the provinces of Afghanistan due to decades of conflict. In Afghanistan each year, 638 women die per 100,000 live births. In comparison, the ratio in France is 8 per 100,000 live births, in Belgium it is five, and in Spain, four.  

"I used to work in the National Maternity Hospital in Holles Street," Dr Heavey said. "I could never imagine something like that happening there but, somehow, these kinds of attacks seem to have become unsurprising in Afghanistan.

"I waited to see international leaders speak out about this atrocity, but there was very little in the media. We need to make sure that we don't accept hospital attacks as a 'normal' part of war. Hospitals must remain safe places for everyone."