Bette Browne looks at the life and times of a US president who became a global humanitarian
When I first met Jimmy Carter decades ago, he had exited the stage as US president, but his efforts to improve global healthcare were only just beginning. Now, as he enters his 100th year, he has carved out an enduring legacy fighting disease and deprivation around the world.
Guinea worm eradication is one of the significant areas on which the Nobel Peace Prize laureate has focused. He has also led efforts to eliminate diseases such as river blindness, while his work with the home-building charity Habitat for Humanity became, in his words, "a global effort to alleviate the curse of homelessness."
Much of this work was carried out under the auspices of the Carter Centre, which the former president and his wife Rosalynn founded in 1982, a year after he left the White House. Its mission centred on 'Waging Peace. Fighting Disease. Building Hope'.
Background
The 39th US president was born on 1 October 1924 in the small farming town of Plains, Georgia, about 260km from the state capital, Atlanta. He grew up with three siblings: Gloria, Ruth and Billy.
He was a strong supporter of the civil rights movement and later joined the Democratic party. Carter became a Georgia state senator, serving from 1963 to 1967. In 1971, he was elected governor and remained in that post until 1975. In his presidential campaign in 1976, he embraced healthcare reform and championed the expansion of healthcare insurance coverage.
Carter won the White House in 1976 in the aftermath of the presidency of Republican Richard Nixon, who had resigned after the Watergate political scandal. The 'peanut farmer from Georgia' was seen as the type of steady leader the country needed.
"Mr Carter was a political sensation in his day," wrote Mr Peter Baker in The New York Times earlier this year. "[He was] a new-generation Democrat who, after a single term as governor of Georgia, shocked the political world by beating a host of better-known rivals to capture his party's presidential nomination in 1976 and then ousting the incumbent Republican president, Gerald Ford."
During his term in office from 1977 to 1981, President Carter worked to restore trust in government after the Vietnam War and the Watergate scandal. On the international stage, he negotiated the Camp David Accords, making peace between Israel and Egypt. But he lost his bid for re-election to Ronald Reagan in large part because of the 444-day hostage crisis in Iran in which 52 American diplomats were held captive by militants. They were released by the Iranian government as Carter left office and President Reagan was sworn in as his successor.
Global humanitarian
Now out of office, Carter would begin his work as a global humanitarian, promoting housing, human rights and conflict resolution. In 1987, six years after he'd left the White House, I met Carter in Atlanta while covering a visit there by Pope John Paul II. At this time, he was clearly focusing on his humanitarian work with the Carter Centre. "That's what's important for me now," he emphasised, "helping to improve people's lives."
Echoing those sentiments more than 30 years later, the Carter Centre website sums up its achievements as follows: "The Carter Centre has helped to improve life for people in more than 80 countries by resolving conflicts, advancing democracy and human rights, preventing diseases and improving mental healthcare."
Guinea worm
A number of developing countries have benefitted from the former president's healthcare mission. The fight to eradicate disease associated with the Guinea worm is a prominent example. Guinea worms are spread through contaminated drinking water. They cause painful open blisters through which the worms emerge. Where a person has contact with water to try to sooth the pain, the worm may release tens of thousands of baby worms, contaminating the water.
"Guinea worm disease has no cure, no vaccination, basically the entire eradication effort is built on behaviour change," Ms Kelly Callahan, a public health worker with the Carter Centre, said in an interview with KFF Health News in March.
This work has involved teaching people to filter their water and providing them with the low-cost tools. Other strategies have included access to safe water supplies, better detection, cleaning and bandaging wounds, preventing infected people and animals from wading into water, and use of larvicide to kill the worms.
Arising from such work, the world has come close to eradicating Guinea worm. "I would like to see Guinea worm completely eradicated before I die," Carter said in 2015. "I'd like for the last Guinea worm to die before I do. I think right now we have 11 cases. We started out with 3.6 million cases."
However, complete eradication has not yet been achieved. In 2018, for example, Guinea worm disease was found in Angola, which was not previously known to have had cases. In February 2019, Angola president Joao Lourenco accepted Carter's offer for the Carter Centre to assist eradication efforts. In 2019 the World Health Organisation extended its expected eradication date by a decade – to 2030.
Another area of focus has been onchocerciasis, also known as river blindness. This has been eliminated from most of the Americas and has dramatically reduced in Africa due to the work of the former president and his centre. Significant in-roads have also been made against other neglected diseases including lymphatic filariasis, a painful parasitic condition.
Foreign policy
The fact that global conflicts not alone kill people but also decimate healthcare facilities is something that haunted Carter and spurred him to use his diplomatic skills to foster solutions to such conflicts.
Significant foreign policy accomplishments of his administration included the Panama Canal treaties, the Camp David Accords on peace between Egypt and Israel, the SALT II treaty with the then Soviet Union, and the establishment of US diplomatic relations with China. He is the author of 32 books, many covering areas of conflict and war, not least the Middle East. Among them are The Blood of Abraham: Insights into the Middle East; Talking Peace: A Vision for the Next Generation; Palestine: Peace Not Apartheid; and Beyond the White House: Waging Peace, Fighting Disease, Building Hope.
In Palestine: Peace Not Apartheid he sparked controversy for characterising Israel's policies in the occupied West Bank and Gaza Strip as amounting to apartheid. He defined apartheid as the "forced separation of two peoples in the same territory with one of the groups dominating or controlling the other". In his 2010 book We Can Have Peace in the Holy Land, he described Israel's unwillingness to withdraw from the territories and settlement expansion as the primary obstacle to peace in the Middle East.
Carter also made a brief foray into Northern Ireland politics in 1977, a good 20 years before President Bill Clinton's involvement in helping to broker the 1998 Good Friday Agreement.
"But in some ways Carter's role can be seen as more significant than, or certainly foundational to, Clinton's efforts," according to a 2019 paper in Diplomatic History by authors Mr PJ McLoughlin and Ms Alison Meagher of Queen's University Belfast.
Successive US administrations had refused to comment on the Northern Ireland situation, deeming it an internal affair for the British government. But the White House changed its attitude and issued a formal statement on Northern Ireland in August 1977, the so-called Carter Initiative. President Carter declared: "The United States wholeheartedly supports peaceful means for finding a just solution that involves both parts of the community of Northern Ireland… as well as the Governments of Great Britain and Ireland.… In the event of such a settlement, the US government would be prepared to join with others to see how additional job-creating investment could be encouraged, to the benefit of all the people of Northern Ireland."
In 2002, Carter was awarded the Nobel Peace Prize for his work to find peaceful solutions to international conflicts, advance democracy and human rights, and promote economic and social development. The Nobel citation said: "[President] Carter has stood by the principles that conflicts must as far as possible be resolved through mediation and international co-operation based on international law, respect for human rights, and economic development."
In his speech, Carter said: "My concept of human rights has grown to include the rights not only to live in peace, but also to adequate healthcare, shelter, food, and to economic opportunity."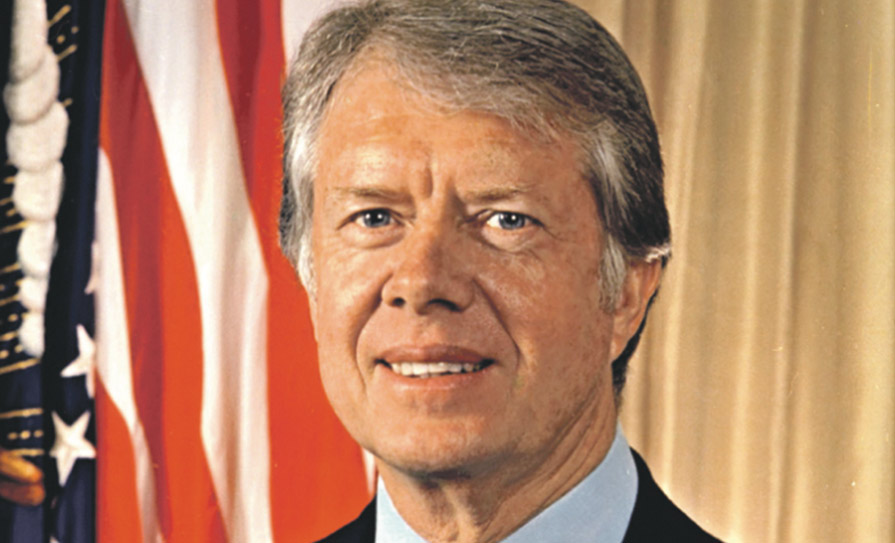 Housing
Housing is another area in which the former president and his wife, Rosalynn, have been deeply involved for decades. Habitat for Humanity, which helps homeowners build homes alongside volunteers, was founded near President Carter's hometown of Plains, where he first volunteered with the organisation in 1984.
Later that year, President Carter happened to see another Habitat building project in New York City. He and his wife joined as volunteers and they brought more people with them, helping to renovate the apartment building that would house 19 families.
Since then, the Carters have worked alongside 103,000 volunteers in 14 different countries to repair, renovate, and build more than 4,331 homes, according to the Carter Centre.
In 2010, after an earthquake in Haiti that killed 200,000 people and made thousands of others homeless, the Carters started building homes in the country.
Mental health
Advancing mental health has also been a priority. Shortly after assuming office, Carter created a presidential commission on mental health. His action suggested the existence of ingrained problems in a mental health system that was fragmented and often failed to meet people's requirements.
During his term as president, the number of hospitalised patients fell by about 30 per cent, and a large number of community mental health centres were created.
Legacy
As Carter has advanced in years, his humanitarian legacy has become increasingly recognised. US presidential historian Mr Douglas Brinkley, author of The Unfinished Presidency, told Al Jazeera in October 2021: "Jimmy Carter is being seen as one of the great humanitarian and state persons of the 20th and 21st Century."
On his 97th birthday, in October 2021, Carter told the PBS News Hour: "I'm glad to know that people are remembering that, during my administration, we tried to keep the peace. And we cherished our human rights."
Health
Recent years have seen a number of serious health challenges for Carter.
In February this year, the Carter Centre announced that Carter had decided to forgo further medical treatment and was entering hospice care at his home in Georgia.
"After a series of short hospital stays, former US president Jimmy Carter decided to spend his remaining time at home with his family and receive hospice care instead of additional medical intervention," the statement said. Hospice care is also being provided in their home to Mrs Carter, who was recently diagnosed with dementia.
Josh Carter, one of their 11 surviving grandchildren, told People magazine in August that there is always somebody at his grandparents' home, usually one of their four children – Amy (55), Jack (75), James (72,) and Donnel (70). Mrs Carter, now 96, is also navigating her dementia well, he said. "She still knows who we are, for the most part – that we are family. My grandmother is still able to form new memories."
He said his grandfather is in "the final chapter" of his life, but "he's still fully Jimmy Carter. He's just tired. I mean he's 99 years old, but he fully understands (how many wishes he received for his birthday). He has felt the love."
Another grandson, Jason Carter, Chair of the Carter Centre's Board of Trustees, told USA Today on 14 September that the couple are "coming to the end". He added: "They are happy. They are together. They are at home. They're in love, and I don't think anyone gets more than that. I mean, it's a perfect situation for this time in their lives."