Prof Anthony O'Regan, Dean of the Institute of Medicine at the RCPI, reflects on the year since the Institute was founded and what vital lessons must be learned from Covid-19
The Institute of Medicine was launched in the RCPI on 23 January 2020. Ireland's newest medical training body, the Institute of Medicine, is the national professional and training body for clinical postgraduate medicine, dedicated to advancing the oversight and practice of 18 medicine specialties through education, advocacy, and quality improvement. We now represent the largest spectrum of medical specialties in Ireland, with over 1,000 trainees and 1,000 consultant trainers.
Our mission is to unify the many voices of Irish doctors practising in medicine and its specialties for the benefit of our patients, our members, and our profession. Over the past year, I have been really encouraged by the engagement and dedication of our members and here at the Institute of Medicine, we look forward to continuing to support you in your lifelong medical career.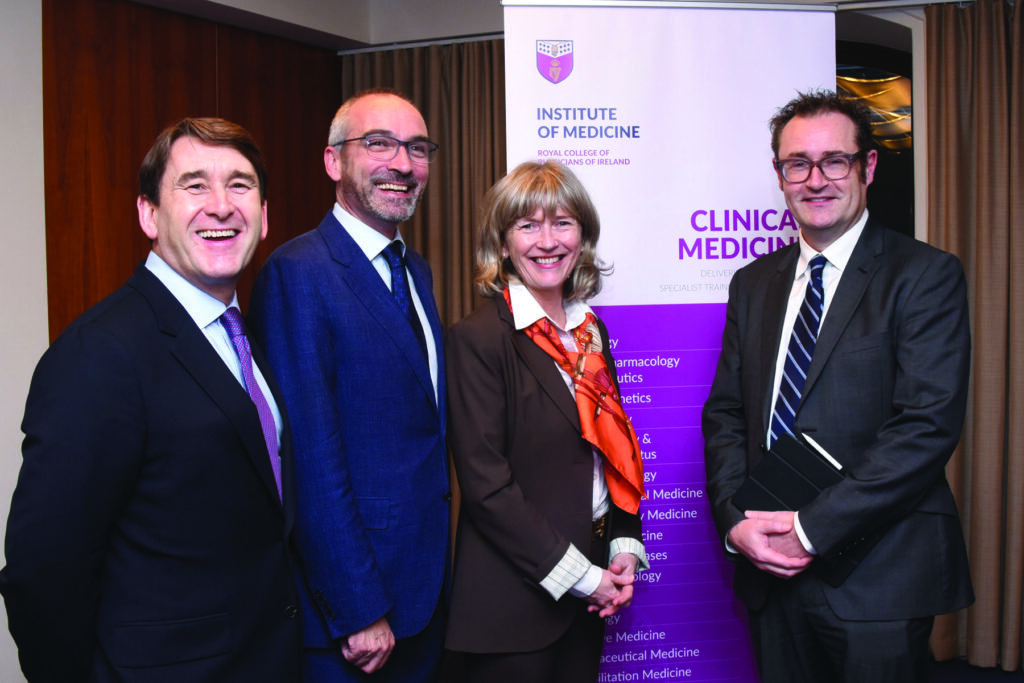 The year since we launched the Institute of Medicine, as you know, has been a challenging time. It has been the toughest year in living memory, bringing many frontline workers to their very limits. But we have held firm, united by a drive to provide the best possible care for our patients, young and old, and a very real feeling of 'this is what we did our training for'. In the first wave, many medical trainees stepped up to give much-needed support, and throughout the year, trainees have had to juggle their all-important training and exam commitments and their invaluable work in treating seemingly endlessly increasing numbers of Covid-19 patients.
Towards a 'new normal' for physician training
As we come to grips with the pandemic and anticipate society slowly reopening, the priority must be rest and recuperation for all frontline workers who have contributed so much in the response to Covid-19. This is especially true for trainees, who have worked incredibly hard to play their part and on whom the entire effort relied upon so heavily. Wellbeing is a critical issue, but also ensuring that training remains on track and is as uninterrupted as possible – this is the key priority for RCPI.
The incredible work of our outstanding community of trainers has also been of crucial importance during this period of uncertainty and challenge. Trainers play a crucial role in the delivery of our basic specialist training (BST) and higher specialist training (HST) programmes. They guide trainees along the path to becoming a specialist and help the next generation of medical leaders reach their full potential.
Reimagining professional exams
Despite Covid-19, we have been able to support career progression with innovative approaches to end-of-year assessments, interviews, and in particular, examinations. The RCPI was the first college to utilise remote invigilation, which allowed written examinations to continue. Our general medicine clinical examinations resumed last winter with adjusted protocols and procedures to ensure the safety of all participants, including personal protective equipment, use of surrogates/actors, social distancing, and a pre-examination questionnaire.
During the course of these exams, 100 BST trainees completed the clinical examination in time for interview for HST, and another 100 in March across five different days in Dublin and Galway. I want to sincerely thank everyone involved and especially the examiners and exam sites for their support. This year will see the highest ever numbers of trainees within the Institute of Medicine following the intake of 61 additional doctors to BST and a 10 per cent increase in trainees in higher specialist training. This increase in part reflects Covid-19 and we will work closely with the HSE National Doctors Training and Planning to determine intake numbers for 2022. Last year, we also welcomed 120 new members in the specialty of general medicine to the College.
A 'digital first' approach to learning and development
One year ago, virtual events seemed like a temporary fix to keep "business as usual" for a few months. By leveraging the power of online events to reach and connect with our members during a time of lockdowns, we found a way to successfully drive our educational programmes and events and provide a great experience to those who needed it.
Within a week of the pandemic, we commenced the Covid-19 webinar series in March 2020 adapting the way we deliver education and reached thousands of clinicians with rapidly evolving information and experience from across the world.
We subsequently launched the hugely popular acute medicine series. The sixth online event in this series, 'Hot Topics in Rheumatology,' took place on 21 April. Audience numbers and feedback throughout the year have been inspiring. I have been particularly delighted that the Institute was able to partner with many specialist societies in the presentation of our webinar series.
RCPI's webinar, events and masterclass recordings are available on the online platform Panopto for you to save, create an online library, and watch back anytime. The webinar library is a great source of scientific and educational content, prepared by industry leaders and experts, ensuring you stay up-to-date with the latest developments in various specialties.
Summer Symposium 2021
The Covid-19 pandemic brought on new challenges and new opportunities for the organisation of meetings and events. As we move into 2021, online events are where we can meet, share, and exchange insights relating to health innovations, new technologies and tools, and the latest topics and trends in patient experience that are transforming healthcare. The first annual Institute of Medicine Summer Symposium is being held online on Thursday 1 July. The event will consist of a rich mixture of symposia, award conferrals, forums, presentations, and lectures from eminent international physicians.
As the postgraduate system grapples with Covid-19 and its impact, this year's symposium will focus on how the pandemic will interact with trends in healthcare for those on the frontline of medicine. The theme of the 2021 Summer Symposium will be a celebration of achievements in medicine and our graduating HST trainees.
As part of the online event, we have invited prestigious guest speakers to deliver the inaugural Prof John Stearne and Dr Eliza Dunbar lectures. Among the speakers are Dr Mike Ryan, Executive Director of the World Health Organisation's Health Emergencies Programme and Prof Jeff Drazen, immediate past Editor of the New England Journal of Medicine. Prof Drazen will also receive an honorary fellowship from the RCPI in a special online ceremony.
The symposium will also include a recognition of key members of the Institute of Medicine and their contribution to its mission. Participants will have the opportunity to actively participate in the sessions and also network with colleagues during what I am sure will be an unmissable event.
Bringing together key figures from across the healthcare sector, our first Summer Symposium will be an important event for those working in the field in 2021. Wherever you are in the world, you can expect to hear insights and experiences from experts and leaders sharing their visions on healthcare management, best practices, and ways to improve the care we deliver to our patients.
For more information on the Institute of Medicine Summer Symposium 2021, including the agenda and speakers' bios, and to book your place, visit www.rcpi.ie.
You can find out more about the Institute of Medicine's work as the national professional and training body for clinical medicine in Ireland by visiting www.rcpi.ie/faculties/institute-of-medicine.