Emergency medicine and flight medic Dr Lisa Cunningham speaks to Niamh Cahill about her exceptional working life, Mayo roots, and love for the Irish language
Dr Lisa Cunningham became a volunteer with the Order of Malta, one of the country's largest pre-hospital voluntary organisations, when she was just 13 years old. The association ignited what would turn out to be a lasting passion for pre-hospital care and emergency medicine. In 2010 the Mayo native graduated from University College Dublin (UCD). From there she completed her internship in counties Galway and Mayo before commencing an advanced emergency medicine training scheme.
While completing training Dr Cunningham had three children, Cathal (7), Cuán (5), and Féile (2). During this time pre-hospital emergency medicine was developing as a specialty. As her training progressed, it gradually became an area she was keen to learn more about. There is currently no structure in Ireland to study pre-hospital emergency medicine. This took the 35-year-old to the UK last year, where she is currently finishing her fellowship in pre-hospital emergency medicine with the Essex and Hertfordshire Air Ambulance Service.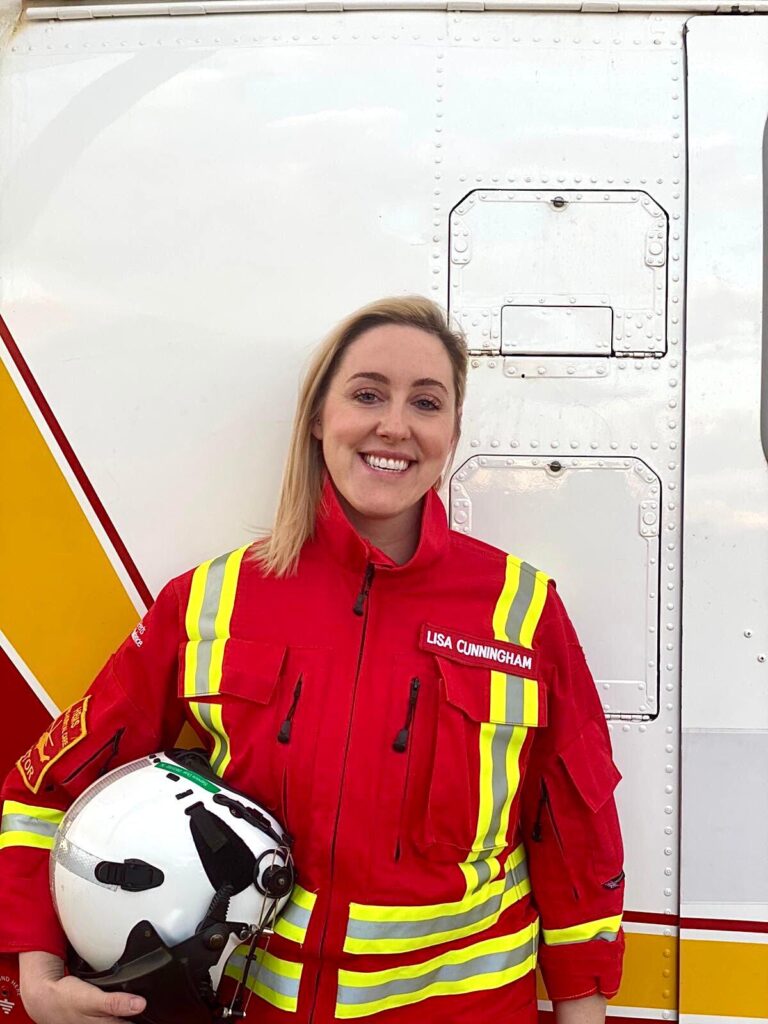 She is part of the Helicopter Emergency Medical Service (HEMS) team that provides life-saving time-critical interventions in the pre-hospital environment. Her work involves performing rapid sequence intubation (RSIs), blood transfusions, patient extrications, thoracotomies, thrombolysis, and pre-hospital major incidents, among other life-saving tasks. Dr Cunningham regularly posts information and images about her work to her more than 41,000 followers on Instagram.
She left for England after the Covid-19 pandemic began and will complete her training in July, when she will return to the West to work in emergency medicine. Travel restrictions have made coming home more difficult in 2021. She has only been back twice since Christmas.
"That's very hard when you have three young kids and a husband. Up until that point I was able to isolate. We knew that this period might happen so it's not unprecedented, but it doesn't make it easier," she said.
"Everyone is going through something similar. We'll get through it and we'll take it day by day and week by week and we'll be grand."
Gender
According to a 2017 emergency medicine medical workforce report, just one-quarter of emergency medicine consultants working in public hospitals in Ireland were female.
"It has been a difficult time throughout the rotation trying to rotate around the country not being able to get parental leave. I had to go through the IMO to get parental leave at one stage," according to the Ballina local. The lack of access to leave was not due to the specialty in which she was training, but because of hospital structures and a lack of focus on work/life balance for trainees.
This is changing with more flexible rotas, focused on the needs of trainees, now in place, both in Ireland and in the UK, believes Dr Cunningham. However, she points out that the inflexible nature of trainee work structures had to be highlighted before changes were introduced.
"St Vincent's [hospital] was one of the places that was definitely very accommodating for me in terms of parental leave."
She hopes these positive changes will encourage more females into previously male-dominated training specialties, such as emergency medicine.
"I get so many female medical students asking me about work/life balance. There is a huge amount that have the interest in it."
Volunteering
Dr Cunningham is Chief Medical Officer of the Order of Malta Ambulance Corps. She also holds the rank of Commandant and is the youngest and first female to ever hold the position. The charity, which has over 5,000 volunteers, teaches first aid, provides ambulance cover at large events, medical aid, patient transport and community and nursing services. Her introduction to the role in January last year was "a baptism of fire", as just weeks later the country was plunged into crisis.
"We had our first meeting at the end of January and then everything went awry in February, as all of a sudden we were thrown into Covid."
Along with the chief nursing officer and chief paramedic, Dr Cunningham set up a Covid team and twice weekly meetings were held. The charity quickly adapted its community service activities to meet the needs of those impacted most by the virus. Volunteers picked up prescriptions for 'cocooning' older patients and implemented Covid-19 guidance. Now the charity is assisting individuals with transport to and from vaccination centres and hospital appointments. Its volunteers are helping at vaccination centres with paperwork, car parking, and any potential anaphylaxis events.
The Order has more than 420 Pre-hospital Emergency Care Council (PHECC) recognised practitioners including emergency medicine technicians (EMTs), paramedics and advanced paramedics. When she returns to Ireland, Dr Cunningham plans to volunteer with the Irish Community Air Ambulance (ICAA), a flying doctor service made up of volunteers, including fellow Mayo resident Dr Jason Horan, Consultant in Emergency Medicine at Mayo University Hospital. The charity responds to emergency calls involving critical injuries and works with the HSE National Ambulance Service.
Football
Last month, Dr Cunningham was approached to take up the role of team doctor with the Mayo Ladies GAA Football Team. As an avid Mayo GAA supporter, she was delighted to get the opportunity and despite being abroad, has had one meeting with the team to-date.
"I've a huge GAA interest and would have went to many ladies matches in the past. To do it and see the amateur professional set up of the team has spurred me on so much. It is a privilege."
She hopes to introduce learnings from her time with the team to her work in emergency medicine.
"We take an awful lot from aviation into the emergency departments so why not introduce the sports structure and what happens there and bring that into the pre-hospital or emergency department."
Gaeilge
Dr Cunningham did not grow up in a Gaeltacht area but due to a "really good teacher" developed a love for the Irish language from a young age. Going to the Gaeltacht as a teen also helped.
"I went to the Gaeltacht out in Belmullet six years in a row. The first year I thought it was going to be the worst time of my life but after two or three days I absolutely loved it and kept going back."
She speaks Irish at home with her children, who all attend Gaelscoils, and even speaks the odd word of Irish to her sometimes bemused colleagues in the UK.
"There are some people over here that didn't realise Irish was a language. So I've done my bit for the Irish language by telling someone that it exists."
She has featured on TG4 and Raidió na Gaeltachta numerous times in her capacity as doctor, commenting on topical issues such as Covid-19 vaccinations. She recently appeared in a TG4 television programme titled Mayo Day – Ár Bpobal, celebrating the culture and traditions of Co Mayo.
Future
After her training finishes in July, Dr Cunningham said "there'll be no gallivanting". Instead, she is determined to develop the specialty of pre-hospital care in the west of Ireland.
"You could count on one hand the number of doctors in Ireland with an interest in developing pre-hospital emergency medicine.
"I've reached a point in my career that I want to give my input to pre-hospital care in the West of Ireland. If I need to go abroad to develop my skillset, that's an option, but at the moment no gallivanting. I want to develop and increase what we have in the West."
"You can't replicate what we have in Ireland anywhere else; it's the same in other systems. You can't take what they do in Sweden and just lob it into Ireland. There has to be ways we can develop it for ourselves. Our population and geography is quite unique to others."
Several Irish-born doctors are studying the specialty abroad but may return to Ireland shortly, boosting expertise here, she hopes. She welcomed publication of the new national trauma strategy for Ireland, which underlines the need for enhanced pre-hospital care. But Dr Cunningham was keen to stress that trauma and pre-hospital care are quite distinct and emphasised that she will remain solely focused on pre-hospital emergency care in the time ahead.