Paul Mulholland speaks to Scientific Director at the Beaumont RCSI Cancer Centre, Prof Leonie Young, about how the Centre attained OECI accreditation and why the process is improving standards
Earlier this year, the Beaumont RCSI Cancer Centre (BRCC) reached a significant milestone. It was announced in May that the Centre had achieved accreditation by the Organisation of European Cancer Institutes (OECI). It became only the second cancer centre in the country to receive the accolade, with the Trinity St James's Cancer Institute (TSJCI) having been accredited in November 2020.
The assessment is based on standards across several domains, such as: Governance; research; multidisciplinary working; patient involvement and empowerment; organisational quality; prevention, diagnosis, and treatment of cancer.
The Centre is a collaboration between Beaumont Hospital, Dublin, the RCSI and St Luke's Radiation Oncology Network (SLRON) and was established in 2019.
Scientific Director at the BRCC, Prof Leonie Young, told the Medical Independent (MI) that accreditation was a goal for the Centre since its establishment.
"We were enthusiastic from the beginning that we get outside accreditation for our centre because we knew it would enhance standards," Prof Young said.
"It would also help give us a focus on the journey of bringing together the necessary elements of clinical care, research, and education. So we looked around at all the standards that could be achieved. We knew that our colleagues in the Trinity St James's [Cancer] Institute had gotten OECI accreditation and we decided to go down the same route they did."
Accreditation process
In the second quarter of 2020, the Centre reached agreement with the OECI that it would be evaluated for accreditation. The process begins with what the OECI terms "self-reflection".
"This was a little bit more involved than we had first anticipated," said Prof Young.
"It involved a really deep, evidenced-based reflection on your practice, on your research, and education offerings."
Preparing for accreditation required "a huge body
of work".
"In terms of research, their bar is extremely high and that is something in Ireland that we would be well used to," Prof Young said.
"And in terms of basic and translational research, for example, all biobanking activity had to be accredited by an outside organisation and publications had to be numerous and of a high standard."
The OECI also required a broad interpretation of education offerings.
"It was really about the idea of offering education for all and not just those like clinical oncologists that you would associate with cancer education," she said.
"That it would be for everybody involved in the delivery of cancer care and in cancer research. That everybody would have an open opportunity to education in cancer and that it would be relevant and forward looking."
The self-assessment was submitted to the OECI in June 2021.
Prof Young admitted this was an "anxious" time.
"We really were anxious that we would meet a European standard. But once we passed the go/no go we knew we were in relatively good shape."
The OECI conducted a site visit in October 2021. The inspectors visited both Beaumont Hospital and the SLRON centre at the site, as well as the RCSI.
"They talked to everybody from the porters to the nurses to the consultants to the CEOs," according to Prof Young.
"Everybody was involved in-depth. But it was very good. And we came out of that with very good recommendations. They were very pleased with us – they were very pleased with the care that we provided, the level of patient partnership that we had, and the organisation of our research was also mentioned as particularly strong."
The OECI prepared a final report, a draft of which was "amended a little" by the BRCC. It formed the basis of a five-year action plan for the Centre.
"The action plan is really a contract with them about how you are committing to maintaining and improving standards in care, research and education," Prof Young said.
"It gives you a tight roadmap to follow. It is a really helpful piece of documentation, though onerous."
Clinical trials
One of the targets in the action plan is to increase participation in clinical trials. Currently, 5 per cent of patients at the Centre are on clinical trials. Under the action plan, the aim is to increase participation to 10 per cent.
Prof Young said this is perhaps the "biggest challenge" contained in the document, but that the BRCC had to be "ambitious".
"I know [the current 5 per cent participation] sounds tiny, but when you think about the number of patients that are suitable for trials, and the amount of trials we can get open, it is not that bad," she told MI.
"And the National Cancer Control Programme (NCCP) standard is 6 per cent. So, though it is a big job, we are committed to doing it."
She added that increasing the diversification of trials is another target to which the Centre is committed.
"That means not just thinking about the traditional pharmacological intervention trials, but maybe looking at surgical trials, more radiation trials, other intervention trials, and bringing up our translational trial portfolio, which will help feed into more investigator-initiated trials," according to Prof Young.
"All of those things are hugely important to us."
Research
Prof Young said Ireland is operating at a high level internationally in the cancer research arena. Her own research team has been making significant strides in the area of secondary breast cancer that has spread to the brain (see panel).
"We are operating at an international level," Prof Young said.
"I don't think there is any dispute about that. I think if you look at the publications from Irish cancer scientists, they stack up very, very well against their international counter-parts."
However, she admitted that there is room for improvement, particularly regarding regulation.
"We can be a little bit mired with the pressure in terms of regulation…. It needs to be easier to open up a clinical trial, or it needs to be facilitated better. That is a national conversation… Ireland needs to be seen as an attractive place, and right now I'm not sure it is seen as a super attractive place."
Data
A key part of the OECI accreditation process and subsequent action plan is standardising and improving data collection. While the Irish healthcare system is hindered by the lack of an electronic health record, Prof Young pointed out that progress is being made.
"That conversation is happening all the time. That is the important thing. We are moving towards the point where systems can communicate with each other, even if it is not the same system everywhere."
She added that the manner in which data is collected and collated is important, not only the IT infrastructure.
"It is about making sure that everybody is collecting the same data so that the data can be analysed in a national format. That is part of the OECI journey – that everything will become standardised, and that we will be doing something in a standardised mechanism. Whatever system you have is only as good as the information that you are giving it."
Prof Young said deciding upon which metrics are most important is key and can still be a matter of contention. She added that even if it were possible to capture every metric, these would quickly become meaningless.
"You have to make sure it is the most important metric that you are recording and that everybody is recording the same metric in the same way so you can analyse it across systems. That is a job of work to be done. And then also having an electronic system that is compatible across the centres will also be of huge importance. But at least it is recognised now."
Conference
The BRCC held its first conference in Dublin on 22 September 2022. The event brought together healthcare professionals, academics and key stakeholders to mark the accreditation and present the Centre's vision for comprehensive cancer care in Ireland.
"It was really a celebration, I suppose, for everybody who worked so hard to get the accreditation," Prof Young said.
International keynote speakers included Prof Alastair Thompson, Breast Cancer Surgeon and Professor and Chief, Section of Breast Surgery, Baylor College of Medicine, US, and Dr Jean-Benoît Burrion, Chair of the OECI Accreditation and Designation Programme.
Prof Young described the networking event on accreditation held in the morning as particularly "fruitful". It involved not only the BRCC and TSJCI, but also hospitals hoping to achieve accreditation, such as the Mater Private in Dublin, and sites based in Saolta University Health Care Group and the South/South West Hospital Group. The session was chaired by Dr Jerome Coffey, the former NCCP National Director.
"We had a really broad representation of people involved in cancer and cancer research and education, all looking to raise standards within the country," Prof Young said.
"What we tried to do was to identify the challenges that were ahead of us in terms of getting accreditation, getting organised and moving towards comprehensive standards."
Prof Young said the discussion was "really collegiate".
"It is really difficult to break down the barriers and the tribalism that often happens within different organisations. This was really an attempt to break that down and have a conversation with our colleagues about how to make things better."
Support
Prof Young stressed how both the CEOs involved in the BRCC project – Mr Ian Carter, Beaumont Hospital and Prof Cathal Kelly, RCSI – have been very supportive of the OECI accreditation process.
"We have complete buy-in from our CEOs, which is phenomenal," Prof Young said.
"They are supporting it with the resources that they have. Unless you have support throughout the organisation, at least from the top down, doing these types of things can be frustrating and very unrewarding. But this hasn't been our experience. You are getting a commitment from the highest level of the organisation that this plan needs to be supported."
While Prof Young said Government investment was essential to raise standards, other funding models needed to be pursued. This would include partnership models with industry and the charity sector.
"I don't think we can just sit back and ask for investment and expect to get it. We need to identify key areas to make us stronger and then we need to go and see how we are going to raise that money to do the job that is necessary."
Overall, Prof Young said applying for and attaining OECI accreditation has already led to improvements in patient care.
"There is a feeling that this is a team," Prof Young concluded.
"There is a feeling that we can be a centre of excellence. It has just raised everybody's game."
New way to target secondary breast cancer
that has spread to the brain
Prof Leonie Young was the Principal Investigator of a recent study which revealed a potential new way to treat secondary breast cancer that has spread to the brain, through the use of existing drugs.
The study, published in Nature Communications at the beginning of 2022, was funded by Breast Cancer Ireland with support from Breast Cancer Now and Science Foundation Ireland.
The research, led by Beaumont RCSI Cancer Centre investigators Prof Young, Dr Nicola Cosgrove, Dr Damir Varešlija and Prof Arnold Hill, was carried out in collaboration with the Mayo Clinic and University of Pittsburgh, US.
The research team genetically tracked the tumour evolution from diagnosis of primary breast cancer to its metastatic spread in the brain.
"We are really lucky that we have such a fabulous neurosurgery centre in Beaumont," Prof Young told the Medical Independent.
"This enables us to research breast cancer patients where the cancer has metastasised to the brain. It is a really dreadful disease because life-expectancy is less than 12 months after diagnosis and there are currently no targeted therapies for these patients."
The researchers found that almost half of the tumours had changes in the way they repair their DNA.
"What we discovered was there were large deficiencies in the DNA repair mechanisms in the tumours that had gone to the brain," she said.
"Before, these had been associated only with patients who had germline mutations – those who had a family history with either BRCA1 or BRCA2 genes. What we found was that it was much more prevalent than that."
This discovery meant the tumours were vulnerable to PARP inhibitors, which work by preventing cancer cells to repair their DNA.
"It opened up the possibility of treating patients that didn't necessarily have germline mutations with PARP inhibitors," according to Prof Young.
"It has given us a new therapeutic strategy to treat patients with breast cancer brain metastasis."
The research team is continuing to examine the area. They recently completed a study that shows aberrations in RNA methylation on brain metastasis, which could hopefully lead to "an actionable target".
"We have just finished writing up those observations and we are looking now to see in terms of pre-clinical models if this new target will pan out," according to Prof Young.
Biography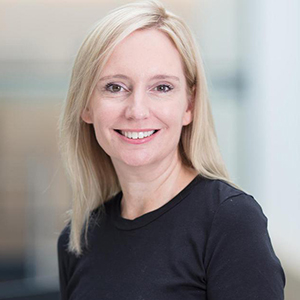 Prof Leonie Young graduated from Trinity College Dublin and completed her PhD training at University College Dublin in 1997.
She leads the endocrine oncology research group at the RCSI.
Her research is focused on uncovering networks involved in SRC-mediated resistance in breast cancer to both tamoxifen and aromatase inhibitors. In doing so, these investigations will identify markers that predict these outcomes and importantly develop new therapeutic targets. The research focuses on SRC-1 and takes a high-level view to harness data from high throughput experimental methods, molecular studies, functional models, and translational studies. Prof Young's group capitalises on established strengths in translational research, in particular making use of primary breast cell cultures derived from patient tumours and large clinical datasets. By modelling the mechanism(s) of resistance associated with SRC-1, this research has defined new predictive markers and therapeutic targets suitable for commercial development and clinical trial interventions that could improve patient outcomes.