RCPI's President and CEO outline how the College has responded to the biggest healthcare emergency in living memory
It's a humbling time to be President of the Royal College of Physicians of Ireland," says RCPI President Prof Mary Horgan. "Our doctors working on the frontline are showing unbelievable levels of bravery, putting their own lives at risk to save the lives of the most vulnerable. They are, in every sense of the word, heroes."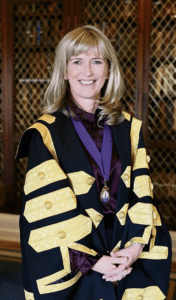 The situation in relation to Covid-19 has moved extremely quickly. Prof Horgan says that the RCPI, led by CEO Dr Terry McWade, has been quick to take action.
"This is an extraordinary time but, as a College, we know it is our duty and responsibility to step up and support those on the frontline of healthcare," she says.
"Our actions now, and the actions of our members, will be vital in the fight against Covid-19. We have adapted and will continue to adapt to ensure we do all that is necessary at this time to ensure patients receive the very best care.
"We will assist in upskilling and training frontline staff who are coming out of retirement, coming back from abroad or are being redeployed."
Dr McWade says the College has had some major, and at times difficult, decisions to make in terms of its day-to-day operations and how best to support medical training and education at this challenging time.
"As a College, we knew we had to act quickly, decisively and in line with Government advice to ensure the safety of our members, staff and the public," according to Dr McWade.
"When the WHO declared Covid-19 a pandemic, the vast majority of our staff began working from home. Our historic home at 6 Kildare Street, and our campus at Setanta House, both temporarily closed. For those who did need to come into our Frederick Street office, robust social distancing and hygiene measures were put in place.
"In light of the most recent Government advice on 27 March, we have now closed the College campus until we receive information that it is safe to open again."
While this was a huge undertaking, Dr McWade says it was necessary for the College to lead by example.
"I'm immensely proud of how the staff have risen to the challenge of ensuring that we support our doctors at this uncertain time. They have worked tirelessly to provide updates to our doctors and, where possible, ensure the continuation of our activities as much as possible," he says.
Exams
"Obviously, there has been concern about those doctors taking exams and we are working with them at this time," Dr McWade says.
"Our conferring ceremonies have been suspended and we are admitting new members and Fellows in absentia, with plans in place to stage a welcome ceremony for them at a later stage. We are reconfiguring our courses, moving them online where possible and convening meetings and interviews remotely while conferences and other events are being rescheduled."
Covid-19 update
One of the key innovations during this time has been the establishment of a weekly update on Covid-19 that is livestreamed to RCPI's trainees, members, Fellows and participants in professional competency schemes every Wednesday at 5pm.
They are also sharing these updates with the other postgraduate medical training bodies each week and medical schools on the island of Ireland. "This is an opportunity to distill the huge amount of scientific information that is being published to make it relevant to members on the frontline and to the Irish context," says Prof Horgan.
"I'm very proud of how quickly the College mobilised to create the ongoing Covid-19 update series. Our intention is to keep our doctors, and as many healthcare professionals as possible, informed by experts about the latest advancements in the fight against Covid-19."
From the beginning, RCPI has been aware of the important role it could play in the dissemination of key information in relation to the virus. A specific hub has been created on the RCPI website to communicate all relevant Covid-19 updates [www.rcpi.ie/covid19], something Prof Horgan describes as "invaluable". The President and faculty members at RCPI have made themselves available for media appearances, reiterating and echoing messaging from the HSE on the importance of social distancing and good hygiene practices.
"It is important that the public understand that the actions they take through social distancing are essential at this time. The frontline staff are so appreciative of the high level of compliance with social distancing, which will help to save lives and ease the pressures on the health system," she said.
We will assist in upskilling and training frontline staff who are coming out of retirement, coming back from abroad or are being redeployed
One of the initiatives the College supported online and through its network of retired members and Fellows was the HSE's On Call For Ireland campaign to encourage healthcare professionals to return to hospitals to assist in the crisis.
Prof Horgan says that the response from the College's retired doctors has been phenomenal. "We had immediate interest from our retired members and Fellows, something which has made me extremely proud. These physicians, after dedicating their life to medicine, are willing to come back to the frontline: That's a truly selfless decision to make."
The health and wellbeing of doctors at this difficult time is something the College says it will continue to support. Plans are in place with the RCPI's Director of Health and Wellbeing, Prof Gaye Cunnane, to create information and supports for doctors who may need them.
On 6 April, in collaboration with the University College Dublin School of Psychology, RCPI was due to present an online webinar for its members titled 'Coping with Covid-19 anxiety and uncertainty'. The College says that this will guide members, "through evidence-based exercises and activities to help with anxiety and uncertainty around Covid-19."
As the Covid-19 pandemic progresses, Prof Horgan says she is aware there will be further challenges but she is confident that the RCPI is well prepared to handle the difficult road ahead.
"We have had to find a new way of working. We don't know how long we will be required to deliver training in this way, but we remain determined to provide the very best education to all our doctors and support them in every way we can."
This article was produced by the RCPI. For more information on RCPI's response to the Covid-19 pandemic, please visit its Covid-19 online hub, which is updated regularly with information for its members and healthcare professionals at www.rcpi.ie/covid19 .
You can also follow RCPI on Twitter, @RCPI_news.