As the two-year implementation period for the HSE National Standards for Bereavement Care Following Pregnancy Loss and Perinatal Death draws to a close, Niamh Cahill reports on the many achievements made to date, but finds that concerns remain regarding a lack of clinical leadership on bereavement care in some hospitals
By the end of March, a clinical midwife bereavement specialist will be in place in all 19 maternity hospitals nationally.
The development marks a major step forward in bereavement care in Ireland. Just two years ago, less than half of all maternity units had a clinical midwife bereavement specialist.
A key recommendation of the HSE National Standards for Bereavement Care Following Pregnancy Loss and Perinatal Death was the introduction of a bereavement specialist midwife and bereavement teams in every maternity unit.
The specialist is regarded as a crucial driver in the delivery of effective bereavement care following pregnancy loss and perinatal death.
Today, more staff and resources are in place in maternity units specifically focussed on bereavement care thanks to the work of a 14-member HSE National Implementation Group, headed-up by Dr Keelin O'Donoghue, Consultant Obstetrician at Cork University Maternity Hospital (CUMH).
Dr O'Donoghue took over as Chair of the implementation group in March 2017 and was given an ambitious two-year period to complete her work.
Ms Riona Cotter, senior midwife at CUMH, has served as Programme Manager for implementation of the standards.
A huge amount of work has been undertaken since implementation commenced and a Maternity Bereavement Forum, held in University College Cork on Saturday 2 March, highlighted the many developments achieved by the implementation group to date.
Officially titled the 'Maternity Bereavement Forum for the Implementation of the National Standards for Bereavement Care Following Pregnancy Loss and Perinatal Death', the conference featured international speakers and input from individuals who have suffered pregnancy loss.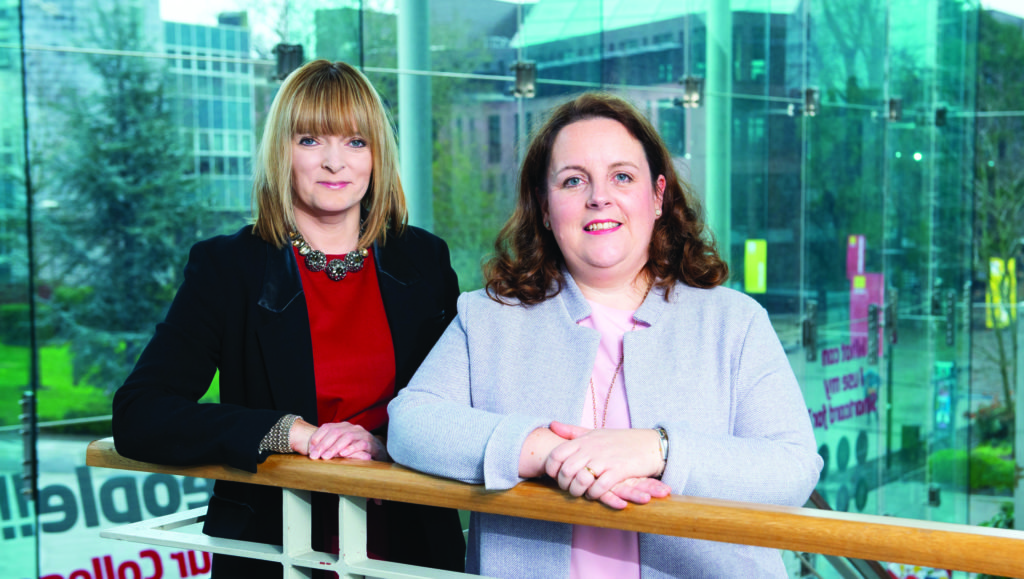 Long journey
The journey towards change began many years ago, when the standards were published in August 2016.
The standards were developed in response to recommendations in the HSE's investigation report into the death of Savita Halappanavar and the report of Consultant Obstetrician Dr Peter Boylan following his review of maternity cases at Midland Regional Hospital, Portlaoise.
The implementation period commenced in March 2017 and as part of the process, Dr O'Donoghue and Ms Cotter visited all 19 maternity units nationally.
Personnel, facilities and processes were examined in each hospital, and recommendations issued on these three specific areas.
In response, each hospital provided quality improvement plans on how to address each of the recommendations and a year later, a follow-up visit was made to review progress.
"Every hospital has made progress. There is no hospital that has everything 100 per cent but they are all aware of where changes need to be made," Ms Cotter told the Medical Independent (MI).
She added that some issues, such as recruitment and capital funding for infrastructure changes, were beyond the control of hospitals locally. Despite this, she insisted progress was being made.
Parental involvement
A 16-member Parent Forum was established during the implementation process, which met three times a year.
The forum was made up of a group of parents who have experienced different types of pregnancy loss.
It was established in order to consult parents who have direct experience in pregnancy loss, to ensure that all recommendations made by the group would be reviewed by a representative body of parents.
Having parents at the heart of the process was an important part of the implementation programme, Dr O'Donoghue said.
"It really matters how pregnancy loss, the end of a pregnancy, the death of a baby, is managed by our maternity services. Parents will remember the care received, good or bad, and it can have a long-term impact on them. We get one chance to get it right for most families we meet.
"We can't always prevent pregnancy loss, but we can influence the quality of care provided and the support given to parents. Bereavement care needs to be an integral part of our maternity services and needs a standardised approach.
"Pregnancy loss is the most common complication of pregnancy but it is not talked about enough, and there remains a lot of silence and stigma around it. This means that parents are unprepared for pregnancy loss when it occurs, which means they are extremely dependent on healthcare staff for care and need good services in place in all our maternity hospitals."
Website
Another fundamental part of the standards was the development of a website, www.pregnancyandinfantloss.ie.
It will act as a resource for healthcare professionals and parents and will launch before the end of March.
Clinical care pathways, guidelines, links to support groups and educational information for clinicians will be provided on the site.
Funded by the Irish Hospice Foundation (IHF), the website will be overseen by members of the standards implementation group and representatives from the IHF.
The site will help to address the scarcity of information on bereavement care for parents following pregnancy loss and perinatal death and increase awareness of the issue in society. There is currently no website like it in Ireland.
Audit
Dr O'Donoghue has written a national pathway on the provision of perinatal palliative care and structures around this have been put in place, Ms Cotter told MI.
An audit tool for each hospital to self-audit annually against the standards has also been developed and it is hoped this will be facilitated by and the results fed back to the HSE National Women and Infants Health Programme (NWIHP) in future.
Furthermore, a parental feedback tool, to be piloted in CUMH shortly, will likely be recommended to all maternity hospitals in the future.
This will involve a survey being issued to bereaved parents after their loss, which will seek feedback on their care. The results will be collected and collated annually and submitted to the NWIHP, it is envisaged.
Dr O'Donoghue believes the work has helped to raise awareness of pregnancy loss and bereavement care in general, and that more resourcing and attention are now being given to improving facilities in hospitals.
"We're proud of what we have achieved and the fact that there are now dedicated bereavement teams in all hospitals. Work on developing relationships in and between maternity hospitals, with a bereavement midwife group network now coming together, is ongoing. And we have put staff support and education back on the agenda, as staff need to be supported in their practice alongside bereaved parents."
Challenges
The implementation phase, in spite of the immense progress, has not been smooth and several challenges were encountered by the national implementation group.
According to Dr O'Donoghue, "it has been a slow process to recruit the relevant bereavement staff. But by the end of March, there will be one bereavement specialist midwife in every maternity unit. They are a key driver of bereavement care in those hospitals, where they help co-ordinate care and are advocates for parents.
"Many maternity units around the country are quite old and to get single rooms with en suite facilities is difficult. While we acknowledge that it's the people that always matter most, improved facilities would demonstrate that hospitals care about maternity patients, specifically those who have suffered a pregnancy loss.
"In some hospitals, management teams are very supportive, but others have been reluctant to engage. Some hospitals engaged fully with the process and were very enthusiastic but in others, there was a reluctance among senior management to engage. This is not helped by a lack of senior clinical leadership (obstetricians specifically) around pregnancy loss issues," according to Dr O'Donoghue.
Handover
Now that the implementation period is officially complete, all remaining work will be handed over to the NWIHP.
Dr O'Donoghue and the entire standards implementation group are keen to see that progress continues and structures are put in place to allow the audit tools to become embedded and standard practice in hospitals.
"Much progress has been made but some issues remain, and work is required to continue to ensure the standards become normal practice. This is the responsibility of hospital management in the 19 units and the HSE's National Women and Infants Health Programme."
Following a recent meeting with the NWIHP, the need for a transition piece after the implementation finishes at the end of March was agreed, as well as the need to embed bereavement care work into normal practice.
A national oversight group will be established, chaired by Dr O'Donoghue, and will include members of the original national standards implementation group, HSE and parents and representatives from the larger support groups and organisations, among others.
The group will meet twice a year to review progress, look at hospital audits, monitor parent feedback, review guidelines and related documents, and help with website content.