Sandra Ryan outlines new and emerging research presented at the 2019 Alpha-1 Conference held in Dublin recently
Dublin's Marino Institute of Education welcomed attendees to the 2019 Alpha-1 Conference on 25 October, where one of the main focuses was the growing need to improve public awareness of alpha-1 antitrypsin deficiency (AATD), the only readily identified genetic cause of chronic obstructive pulmonary disease (COPD).
AATD is a rare hereditary condition that leads to decreased circulating alpha-1 antitrypsin (AAT) levels, significantly increasing the risk of serious lung and liver disease in children and adults.
Although a rare condition, Ireland has the third largest prevalence of AATD in the world. Over 15,000 people in Ireland are severely affected by alpha-1 deficiency, while some 250,000 people are at-risk. It is amongst these undiagnosed members of the population where better awareness is needed to prevent disease and change lifestyle behaviours – mainly smoking.
As well as highlighting this lack of awareness, the conference heard an update on the Alpha-1 Foundation Ireland's targeted national detection programme and discussed emerging therapies in this area.
National AATD targeted detection programme 
In May 2004, the Alpha-1 Foundation Ireland launched the national AATD targeted detection programme, supported by the HSE and Department of Health.
In October 2019 a milestone was reached: 20,000 people with COPD, asthma, and liver disease, as well as first-degree relatives of people known to have AATD, had been tested.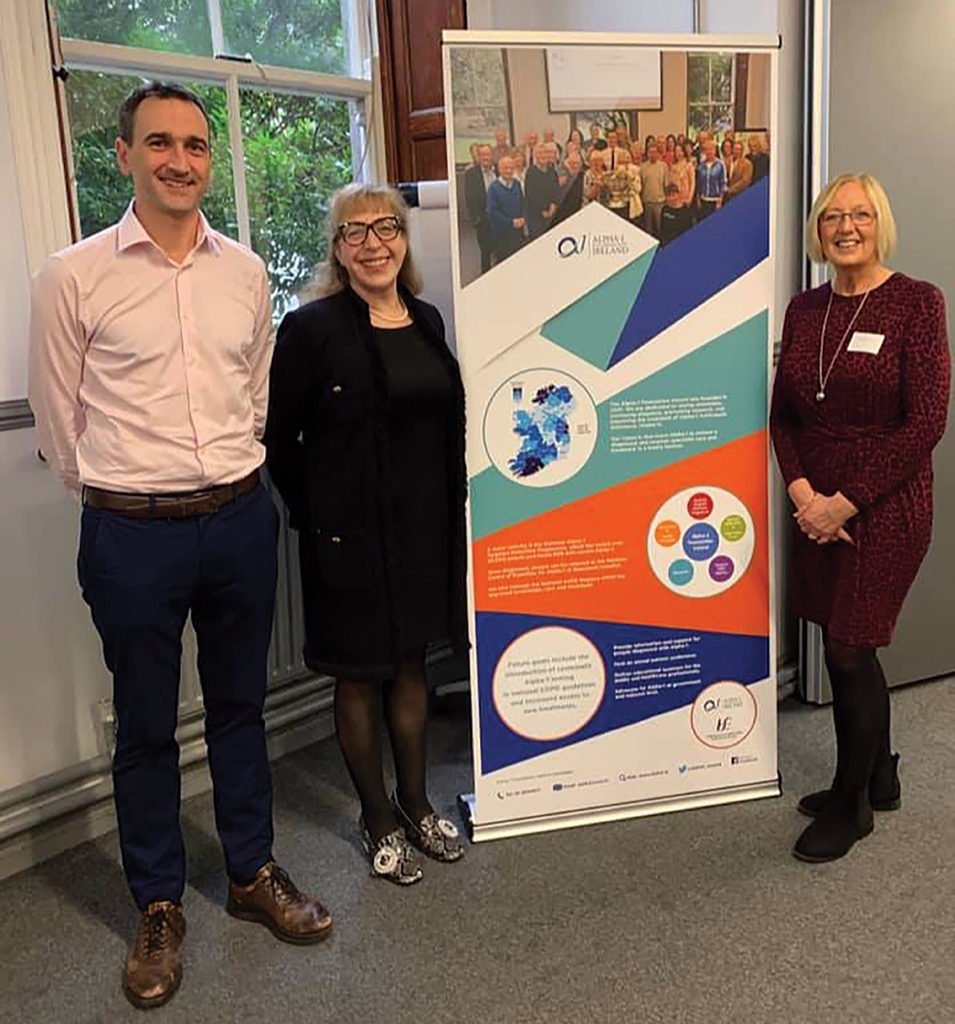 Dr Tomás Carroll, Chief Scientist at the Alpha-1 Foundation Ireland, has led and championed this testing programme for over a decade and at the conference he provided an overview of what has been achieved. He revealed that of the 20,000 tested, over 4,200 people were found to have a form of alpha-1, while 400 tested positive for the ZZ genotype – the most severe form of deficiency.
The testing has provided significant insight into Ireland's alpha-1 population:
A total of 358 ZZ individuals have been identified.
350 people were positive for the SZ genotype (all significantly at-risk of liver disease, and lung disease if they are smokers).
3,425 MZ genotypes were detected (representing mild deficiency – carriers are significantly at-risk of lung disease if they smoke).
This last group are the most commonly-detected, as one-in-25 people carry the MZ alpha-1 genotype, the large majority of whom are unaware.
Dr Carroll told the Medical Independent (MI) that testing for alpha-1 should automatically be carried out in Ireland in everyone diagnosed with COPD, a recommendation first made by the World Health Organisation in 1997, but which still is not standard practice in this country.
"A correct diagnosis of alpha-1 means early intervention to prevent disease, reduce smoking, and potentially prevent the financial burden of COPD. It also allows for closer medical surveillance and the opportunity for patients to enrol in clinical trials," said Dr Carroll.
Crucially, it is those amongst this quarter of a million people classified as MZ genotypes who are smokers where positive change can be effected – if testing was more widely carried out. This theory has been examined by the Irish team at the targeted detection database with some startling results.
Ground-breaking Irish research
Two research topics were discussed at the conference – the potential to reduce smoking in those with alpha-1 deficiency, presented by Mr Mansour Alkhunaizi, final year medical student at the RCSI; and new research on the SZ genotype, presented by Dr Alessandro Franciosi, Clinical Lecturer and Researcher, RCSI.
Using statistics from national alpha-1 antitrypsin deficiency registry, which holds results from 534 Irish enrolled participants, the team checked whether a diagnosis of alpha-1 deficiency affected smoking levels.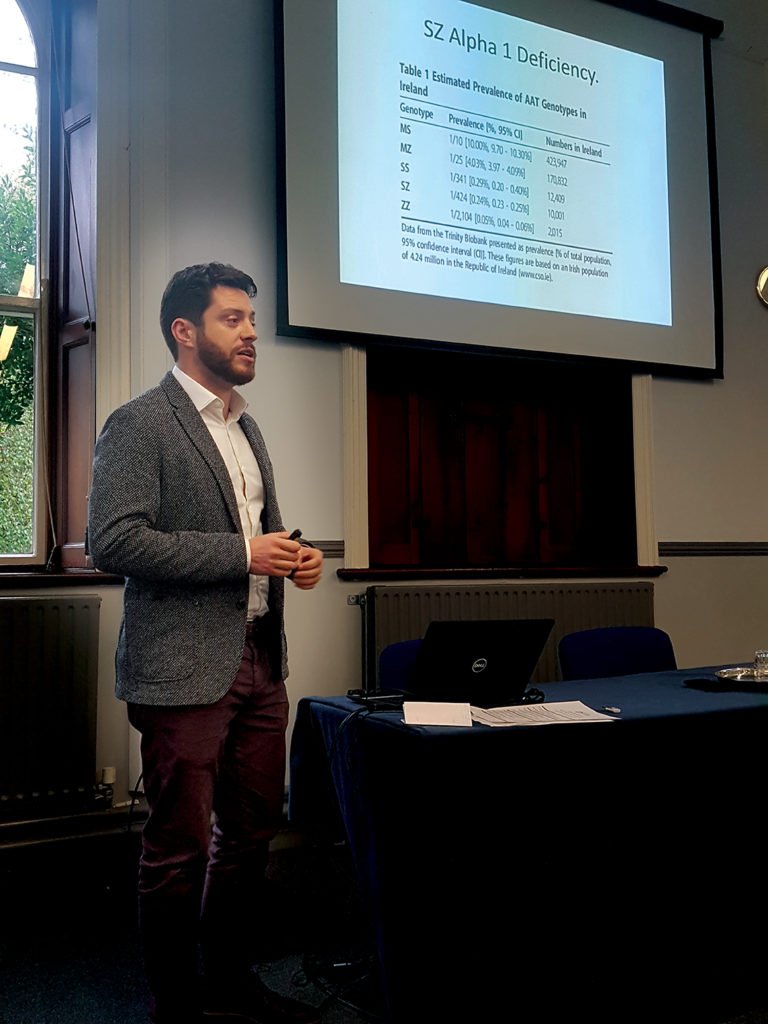 The Irish statistics show that just 16 per cent of those registered on the alpha-1 database retain smoking habits following deficiency diagnosis – regardless of genotype. Furthermore, only 2 per cent of smokers on the register with ZZ genotype continued to smoke.
These findings are part of a new paper which will be published shortly.
This area hasn't been studied on a wide scale internationally, although one previous three-month study in a small cohort indicated that even serious smokers quit after learning about their alpha-1 diagnosis.
Explaining the significance of these statistics, Dr Franciosi said that typically, in the COPD population, only about 30 per cent of people manage to quit smoking. A diagnosis of alpha-1 deficiency is a bigger motivation to quit smoking than a diagnosis of lung disease or lung cancer – in one US study, 42.9 per cent of patients continued smoking following surgery for lung cancer.
Dr Franciosi has conducted new research focusing on the SZ genotype, which he describes as the genotype "closest to MZ rather than ZZ".
"Those with the SZ genotype have in some countries and guidelines been classified as people with serious deficiency," said Dr Franciosi, "Although there has never been good evidence that SZ deficiency directly resulted in disease."
His new research showing that SZ alpha-1 should be classified as moderate and not severe aims, overall, to change the way risk is predicted in alpha-1 deficiency.
Both Dr Carroll and Dr Franciosi stated that the focus nationally should include aiming to change lifestyle behaviours and prevent disease, as well as managing the severe forms of deficiency and treating resulting disease.
"Ideally, testing would be conducted to find the vast number of people who have deficiency and don't know it – and are smoking," said Dr Franciosi. "This is a test that should be done when people are well."
Treatment is not recommended in the mild and moderate forms of the deficiency; awareness, prevention and monitoring is the goal.
New and emerging therapies
Prof Gerry McElvaney of the National Centre of Expertise for AATD at Beaumont Hospital, Dublin, presented an overview of emerging treatments for AATD.
He explained that the clinical presentation of AATD is variable and depends on lifestyle behaviours including smoking.
Several new therapies are currently in development for the lung and liver diseases, which result from severe AATD.
The only specific therapy currently available for people with emphysema caused by severe AATD (those with the ZZ phenotype) is augmentation therapy, which involves weekly intravenous infusions of the alpha-1 antitrypsin protein.
This treatment isn't available in Ireland, said Prof McElvaney, largely due to cost, although more than 20 Irish AATD patients took part in the recent RAPID clinical trial and received the treatment. This study provided the best evidence to-date that augmentation therapy has a disease-modifying effect, slowing down the loss of lung tissue, which is a hallmark of emphysema.
"Augmentation therapy has been available in the US for over 30 years, and is available today in many European countries," said Prof McElvaney. "Unfortunately, it is not readily available in Ireland due to its high cost. Therefore, there is an urgent need for new therapies and thankfully there are several on the horizon."
Prof McElvaney outlined that new treatments for AATD lung disease include a neutrophil elastase (NE) inhibitor in oral tablet form. A clinical trial testing this emerging treatment will begin recruiting in mid-2020, and it is hoped suitable Irish patients can take part.
New treatments for AATD liver disease, meanwhile, focus on a "gene silencing" approach. The number of patients affected by serious liver disease is small, with a lifetime risk in severe AATD of between 10-to-15 per cent for liver cirrhosis.
"Nevertheless, this will be the first ever specific treatment for AATD-induced liver disease and represents a huge step forward for the AATD community," Prof McElvaney told the conference. The new drug will also be trialled in Ireland next year and Irish patients may be able to take part.
Finally, he explained, there is one other exciting new therapy in development that aims to repair the underlying defect in severe AATD (ZZ type) at the protein level. Recruitment will begin in early 2020 for a series of studies which will evaluate this therapy at a cellular and clinical level.
"This approach could potentially correct AATD in both the liver and the lung and represents a very hopeful new approach," said Prof McElvaney.
For more information about AATD and testing, visit www.alpha1.ie