The Irish Defence Forces is playing a significant role in the State's response to Covid-19. David Lynch examines how it is being utilised at this time of crisis
On 12 March the Defence Forces published a 'preparedness statement' regarding Covid-19. It noted that "we have notified our personnel of the impending change to our force posture and all non-essential activities have been suspended".
"Our focus now is to maximise our preparedness to respond to requests for assistance from the civil authorities."
Since then, the involvement and support of Defence Forces personnel in the response to Covid-19 has substantially ramped-up.
"The response to Covid-19 is being coordinated under the guidance of the national public health emergency team, whose focus is on maximising and sustaining the support to frontline services for the duration of the response to Covid-19," a spokesperson for the Defence Forces told the Medical Independent (MI) on 23 March.
"The Defence Forces are providing 26 cadets per day to the HSE to assist with contact tracing and there are two pilots and a medical officer working in the National Emergency Operations Centre.
"In addition, LÉ Samuel Beckett is docked in Dublin, and is operating as a HSE Covid-19 testing centre. LÉ William Butler Yeats is also docked in Galway and LÉ Eithne is docked in Cork to generate further capacity for the HSE. We are also providing local support to the HSE as required.
"As this is a developing situation, the HSE remains in close contact with the Defence Forces to ensure forward planning and the best utilisation of resources."
In terms of personnel serving abroad and the impact of Covid-19, the spokesperson noted that "currently we have 585 members of Óglaigh na hÉireann serving overseas in 14 missions in 13 countries. All our members whether at home or abroad are strictly adhering to HSE guidelines."
MI also understands that members of the Medical Corps have been providing assistance to the HSE Public Health Office. Minister of State at the Department of Defence Paul Kehoe has also highlighted the work of members of the Reserve Defence Forces units in the midlands, who have been aiding the HSE in the transport of Covid-19 samples to testing labs.
At the HSE press briefing on Sunday 22 March, CEO Mr Paul Reid again highlighted the work of the Defence Forces and indicated that significantly increasing bed capacity in the health service "will involve putting in field hospitals".
The Defence Forces and field hospitals are also mentioned in the Government's national action plan on Covid-19, where it is noted under a section on expanding acute and critical care bed capacity .
The section notes that the Government would "examine all possibilities for providing acute care accommodation for people requiring isolation including: Using public facilities, military hospitals and associated facilities; repurposing facilities, using hotels and student accommodation; constructing field hospitals."
Skills
On Tuesday 24 March, Taoiseach Leo Varadkar announced that emergency legislation would be tabled to allow retired Defence Forces personnel, including both officers and enlisted ranks, to rejoin the organisation.
Independent Deputy Cathal Berry, a doctor and former Army Ranger, stood as an Independent candidate and won a seat in the recent general election in the Kildare South constituency. Deputy Berry was a Defence Forces commandant and in the military for 23 years, before his retirement last year. He also led the military medical school.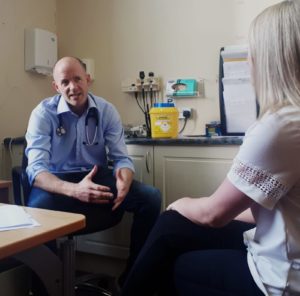 "What [the Irish Defence Forces] Medical Corps can bring is that you have a full plethora of skills from EMT [emergency medical technician] all the way to doctor," Deputy Berry told MI on 20 March.
"So it's EMT, paramedic, advanced paramedic, and doctor. A full spectrum of practice.
"The Medical Corps are obviously internally focused looking after the health and wellbeing of serving personnel, but they also should be there to back up and help the HSE with testing, for instance, or providing medical facilities.
"So you ask how can the military help? First by using the army's Medical Corps personnel. Secondly, using the Reserve Defence Force; we have medics, doctors, paramedics in our reserve force. We just need to capitalise on the assets that we have. We have two shells of hospitals, one in St Bricin's Hospital in the Phoenix Park and one in the Curragh."
Deputy Berry was speaking to MI on Friday 20 March, prior to the Government's announcement regarding legislation to allow retired personnel rejoining the forces.
Deputy Berry also mentioned that the Defence Forces has a number of isolation facilities that could possibly be used by the HSE if needed. He said that members of the Defence Forces are only too willing to help.
"I mean the spirit is phenomenal," he said.
"Lots of recent expertise that the military has is based on helping refugees in the Mediterranean over the last couple of years. But there is plenty of other experience that would be helpful, including we had people [during] the Ebola [outbreak] in Sierra Leone."
He also mentioned work in field hospitals in other countries.
However, Deputy Berry was critical of Government cutbacks in the area of defence and the military over the last 10 years, which he said has negatively impacted the current capacity of the Defence Forces.
Field hospitals
In terms of field hospitals, Deputy Berry noted while the Defence Forces has experience in the area, purchases of these facilities had not been made in the recent past. He described this as a mistake.
"A field hospital is basically container-based or tent-based," said Dr Berry.
"The key thing about it is that it's modular. So you can configure it. There is a car park in a hospital, let's say Portlaoise or Naas for instance, you would look at the configurations of the field hospital to 'bolt on' to the existing facility that is there.
"We can configure or build it in 48 hours basically. A field hospital can also be a standalone hospital, so it just gives a huge amount of flexibility and adaptability.
"We did have one in Liberia in 2005, we had one in Chad 2008/10. Now we have none."
Military exercises including the use of field hospitals were conducted in Ireland in recent years.
"You have ones that are container-based, the 20-foot container you see travelling around on trucks. Or it can be tent-based. These are advanced inflatable tents – not like boy scout tents."
Deputy Berry described the field hospital in the British Army's former base of Camp Bastion in Afghanistan.
"They are set up to work in CBRN [chemical, biological, radiological, and nuclear] environments… It is completely airtight. An air lock system for people who are scrubbed in and scrubbed out from a medical perspective," he added.
"They [field hospitals] can be bought on the open market. If you want an ICU heavy field hospital, you can just buy ICU containers. If you want to do more surgery, you can buy a few more operating theatre containers, or an emergency ward. They can increase capacity in hours."
Retired
Deputy Berry said he believed that the Department of Defence should directly contact ex-Military Corps members and ex-reservists with medical training to help in the fight against Covid-19.
"To solve this crisis we need a whole-of-Government approach. It is not acceptable to blame the HSE for everything or the Department of Health. It is up to every Government agency and every Government Department to assist in this national effort," he said.
"I am getting inundated via social media or by phone by people [retired and ex-members of the Defence Forces], they want to rejoin, they want to help. But unfortunately there is no system in place," he said.
"They are military people, they see a threat to the country, to the public, it's what they joined for in the first place when they were 18. Now they have an opportunity to show their skills. But there is no mechanism in place for them to do that, not yet anyway."
In response, the Department of Defence told this newspaper that although it had not undertaken a specific campaign for the recruitment of military trained ex-members of the Defence Forces, such people would be reached under the broader HSE campaign to recruit staff for the Covid-19 effort.
"The HSE recently launched a campaign to recruit medical professionals who are not currently working in the public health system through its 'On Call for Ireland' initiative," a spokesperson for the Department told MI.
"This initiative, which received an overwhelming response of some 50,000 applications [at time of writing], applies to all medical disciplines and is also open to retired personnel, including retired Defence Forces medical officers or those with other medical skills.
"Interviews will commence shortly and it is anticipated that some 6,000 per week will be interviewed."
In regards to the use of buildings and facilities owned by the Department of Defence, the spokesperson said: "The Department and the Defence Forces have engaged with the HSE in relation to any buildings or facilities they may require as part of the national response to the Covid-19 virus.
"The defence organisation will continue to liaise with the HSE to ensure that any arising requirements they have will be met."