The Department of Health is keen to step-down the official public health emergency on carbapenemase-producing Enterobacteriaceae (CPE) superbugs, but there remains a huge battle to contain and reverse the spread. Catherine Reilly reports
The threat posed to Irish healthcare by superbugs carbapenemase-producing Enterobacteriaceae (CPE) is "not considered resolved", Minister for Health Simon Harris recently told the Medical Independent (MI). He was responding to a query on indications his Department will soon end an emergency status declared in October 2017.
Papers obtained from the HSE under Freedom of Information (FoI) legislation reveal, however, that the threat of a potentially endemic situation still looms large.
"There is no indication that spread of CPE in the acute hospital sector in Ireland has been effectively controlled to date," stated a draft monthly report on CPE for Minister Harris, covering 1 January-3 February 2019 and prepared by the HSE's antimicrobial resistance and infection control (AMRIC) team. The paper referred to 61 new CPE patients identified in this period.
Outbreaks
Outbreaks were continuing in "multiple hospitals" and the number of cases detected was generally higher than for the corresponding period of 2018. MI understands increased screening is a factor in the rise in detections, although failure to fully implement screening guidance remains a major problem, with hospitals referring to lack of resourcing.
Another paper prepared by the HSE AMRIC team for the National Performance Oversight Group (NPOG) asked for the NPOG's support for "the principle that a significant level of service disruption including ward closures and restrictions is likely to be necessary to optimise the chance of control of CPE transmission in acute hospitals in 2019".
In March, MI reported that resourcing considered as urgent to fully implement screening guidance in acute hospitals nationally had not yet been provided to the HSE. In April, the Department announced extra funding of €5 million for antimicrobial resistance measures in acute and community services, which was in addition to €2 million allocated in 2018.
It appears, however, that the Hospital Groups await the new funding announced last month for 2019.
Tallaght University Hospital
Over autumn and winter of 2016, the largest outbreak to date was recognised at Tallaght University Hospital (TUH). The crisis was described as "unprecedented" in an internal HSE document in November 2016 and brought the hospital to the precipice of effective closure as an acute care facility.
"TUH received €1 million in 2016 to help with the initial management of a CPE outbreak. We have also received funding in 2019 for two lab scientists and 0.5 WTE clerical staff to help with the significant increase in laboratory testing for CPE," a spokesperson told this newspaper.
However, they added that the hospital requires more dedicated staffing, equipment and single rooms to help prevent the spread of cases. "Increased screening and surveillance of CPE in excess of national recommendations is taking place and TUH currently screens about 500 patients a week… The hospital has submitted a business case to the HSE for a capital development for an additional 72 single inpatient rooms."
In general, the number of CPE cases has slowly reduced, according to the spokesperson, "and we have had a reduction in numbers every year since the outbreak was detected in 2016". This downward trend is due to the "enormous work" of staff.
Difficulties in managing CPE, including a flagged deficit of screening resourcing, are writ large in draft summary notes on a visit by HSE AMRIC team members to Beaumont Hospital, Dublin.
Beaumont Hospital
The visit was prompted by concerns within the Department of Public Health, HSE East, that the CPE outbreak at Beaumont was not effectively controlled.
According to draft summary notes by Prof Martin Cormican, head of the HSE's AMRIC team, following a visit in February, the possibility of acquiring CPE on Beaumont's Hamilton Ward was "beyond" a level appropriate to ask patients if they accepted the risk.
The outbreak (involving OXA-48 CPE) became apparent in July/early August 2018 and 31 patients were considered to have acquired CPE on the Hamilton Ward since the beginning of the outbreak.
"It has been the ward on which adult cystic fibrosis (CF) patients have been accommodated. Some of these rooms were closed for refurbishment in the week prior to the visit," wrote Prof Cormican.
"I understand CF patients admitted to the ward have not been screened for CPE…
"I do not know to what extent the CF patients have been consulted in this matter or the extent to which they understand the risks and benefits associated with admission to the ward and CPE screening. Patients are entitled to decline CPE screening. Individual consultants in any hospital should discuss concerns regarding the impact of IPC practice that affects patients under their care with the IPC team and hospital management, they should not be able to opt-out of an institutional policy on screening without agreement with the IPC team."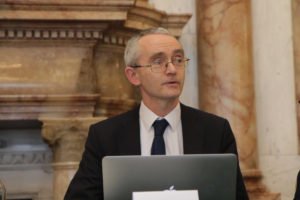 The Hamilton Ward is a 35-bed ward comprised of five single rooms (four ensuite), a two-bed room, four-bed room and four six-bed rooms. Some refurbishment had recently occurred, which reflected a significant improvement in facilities from an IPC perspective.
The inpatient facilities were "less than ideal" but better than in many hospitals visited, noted Prof Cormican. He also stated that Beaumont typically performed fewer than 1,000 CPE screens per month, which was "very low by comparison to [a] comparable hospital managing a CPE outbreak". Beaumont indicated there were "aspects of the national requirements for CPE screening that have not been implemented".
According to the epidemiology summary and staff feedback, the ward was temporarily closed to new admissions twice since the beginning of the outbreak.
An outbreak control team chaired by the Director of Nursing recommended closure of the ward to new admissions on 13 November 2018. However, Prof Cormican's understanding was this was not adhered to because of pressure to accommodate admissions.
According to the report, CEO Mr Ian Carter indicated there were certain patients vulnerable to infection who were not considered for admission to the Hamilton Ward. However, the CEO considered "that the number of patients awaiting admission in ED has regularly reached a level where the risk to patients associated with delayed admission to a ward has been assessed as greater than the risk associated with admission to the Hamilton Ward".
Prof Cormican's understanding was patients had been informed verbally they were being offered admission to a ward with an ongoing outbreak and may decline admission to the ward. "I understand that as of the week of the visit, patients offered admission to Hamilton Ward are also provided with written information about the outbreak."
The pattern described on the Hamilton Ward was highly suggestive of a persistent environmental reservoir, he noted.
As well as a complete refurbishment, recommendations included the suspension of new admissions to the Hamilton Ward, although it would be appropriate to admit patients already colonised with OXA-48 CPE.
In addition, the outbreak control team should be chaired by the CEO or COO, and national screening guidance implemented across the hospital.
A spokesperson for Beaumont said all patient cohorts are screened on admission to Hamilton Ward and a full refurbishment has taken place. The hospital has committed to achieve target compliance with national screening guidance by Q3 2019.
A healthcare-associated infection committee includes the CEO and COO, while the Director of Nursing leads the outbreak control committee.
A HSE spokesperson said discussions with the Department to finalise how additional funding will be used are ongoing. "However, the funding for all of the new posts intended to support screening for CPE (27 medical scientist posts and 12.5 clerical posts) has transferred to the Hospital Groups.
"Overall screening volumes are about double what they were this time last year but some hospitals are still not screening adequately."
New CPE screening guidance has just been issued and is available on the Health Protection Surveillance Centre website.
There is evidence that CPE contamination of the hospital environment is likely to have contributed to spread in a number of hospitals, confirmed the spokesperson. "The experience in the last year has brought this area increasingly into focus. The areas of concern are CPE contamination of surfaces such as shower trays and sinks that patients are likely to touch. This can be addressed by temporarily restricted admission to affected areas, performing intensive cleaning and decontamination and remedial works to fixtures and drainage systems if required."
Italian study
Nationally, the implications of not addressing CPE are stark. In February, senior public health officials shared results from a study of surveillance of CPE bloodstream infections (BSIs) in Italy from 2014 to 2017.
Prof Cormican advised colleagues that the number of BSIs in Italy rose from 1,403 in 2014 to 2,208 in 2017, and this may be an under-reporting.
"That's 7,632 CPE-BSI cases in four years, of whom 17 per cent were deceased at the time of reporting and with 76.4 per cent still in hospital at the time of reporting," stated Prof Cormican. "That is 3.14 cases [per] 100,000 inhabitants per year." This would correspond to about 150 cases per year in Ireland — 10 times as many as in 2018, he wrote.
"My comment also is that if we get to that stage, the situation is then essentially irreversible," stated Prof Cormican.