The RCPI's Heritage Centre has embarked on a project to preserve the history of the current pandemic
"My hope with this project is that we will preserve the thoughts, experiences and feelings of those working in healthcare at this most unprecedented time in modern medical history," according to Ms Harriet Wheelock, the RCPI's Keeper of Collections. Ms Wheelock, who is in charge of the RCPI's Heritage Centre and archive, is talking about an ambitious new project to collect a contemporaneous archive chronicling the ongoing thoughts, feelings and experiences of healthcare workers during the Covid-19 pandemic.
"At the beginning of the Covid-19 outbreak, it became apparent that this was something that is a once-in-a-generation occurrence within medicine and would form a significant part of the history of the profession in the 21st Century. By beginning to collate this information now, while the pandemic is ongoing, my hope is that we can build an archive that will help us to fully examine this moment in history in years to come. "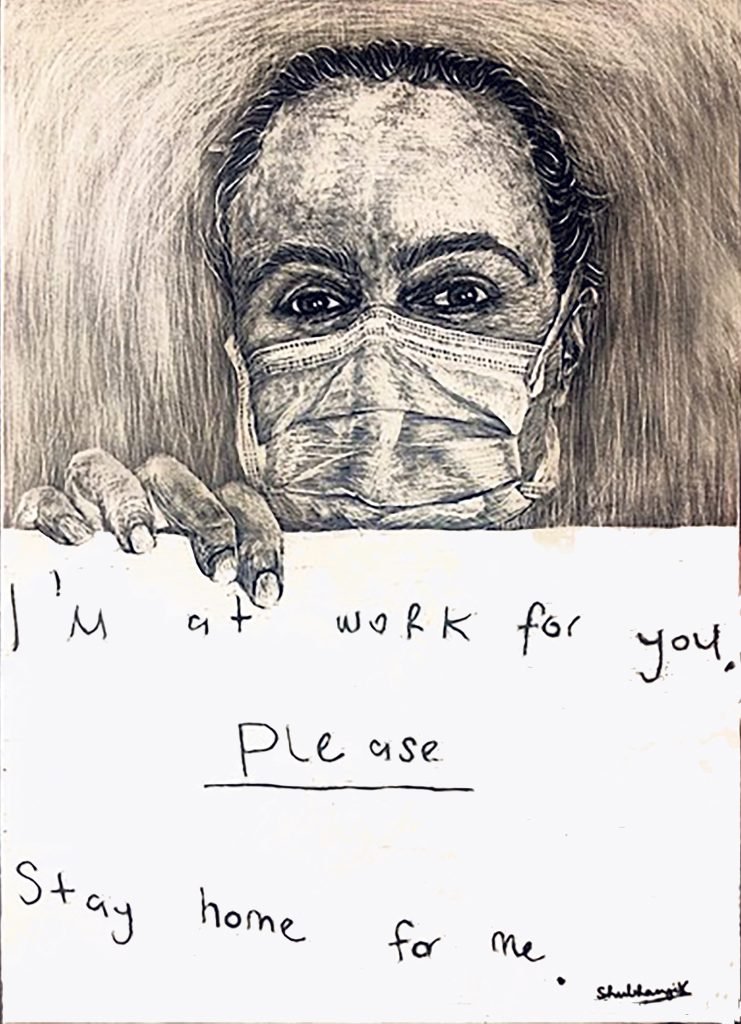 Ms Wheelock says that inspiration for the creation of this collection came from documents in the RCPI's collection relating to the flu pandemic of 1918-1919 and how these have been used to reflect on that time and the impact it had on Irish life.
"Recent research carried out into the flu pandemic of 1918-1919 by researcher like Dr Ida Milne demonstrates the value of this kind of first-hand testimony," according to Ms Wheelock.
"We can see that the impact of a pandemic of this kind can affect medicine and society in many different ways, and for decades after the event."
The biggest issue with information in relation the 1918-1919 pandemic, however, is that first-hand contemporaneous materials are largely under-represented in the collection.
"In our collections we have materials related to this time; however, many of these were not produced contemporaneously, meaning that they may have been subject to revisions by the authors with the gift of hindsight.
"What this means is that while we can build a picture of the history of this period, there may be omissions or anomalies, information the authors might not want included for various reasons. In that case, it can be a like a jigsaw missing some pieces; we just don't have the full picture. "
Lives lost
From the beginning, Ms Wheelock says that remembering and respecting the patients who have contracted Covid-19 during the pandemic, and those who have lost their lives, is something she was aware would be central to the mission of this archive.
"As this pandemic is ongoing, I am acutely aware of the need to treat any information received sensitively. Sadly, many patients have lost their lives to this virus, and this archive will respect their memory by ensuring that the items received are treated in strictest confidence, bound by strict access rules and only released when appropriate to do so and if agreed to by the authors."
Consultant Psychiatrist Prof Brendan Kelly, Dun's Librarian Elect at the RCPI, says he welcomes this new project and underlines its importance.
"The history of medicine is full of unexpected challenges, new illnesses and extraordinary innovation under pressure," according to Prof Kelly.
"The Covid-19 pandemic has generated rapid, seismic changes in the delivery of medical care in Ireland and elsewhere. There is a strong likelihood that many of these changes will persist long after the pandemic has subsided. With this in mind, the RCPI Heritage Centre project to build an archive of healthcare workers' experiences of the pandemic is exceptionally important."
He continues: "As Keeper of Collections, Harriet Wheelock initiated this project and is conducting it with dedication, professionalism and foresight. A careful, reliable, first-hand record of this period is vital, both to fully understand it today, and to ensure that future historians can learn the long-term lessons of this extraordinary period in the history of medicine."
Information
Prof Mary Horgan, President of the RCPI, says she welcomed the idea for such an archive to be assembled. She says the project could be invaluable to reflect on in the future.
"Healthcare workers and Ireland are living and working through an unprecedented time," according to Prof Horgan.
"Because of the nature of Covid-19, so much is still unknown about the virus; each day brings new questions, new experiences and new challenges. In the future, being able to look back at how we reacted to information which emerged during this time could inform future policy in relation to pandemics, and could be a useful tool for when we can reflect on the response.
"As well as creating an archive of interest for future historical research, contributions will be beneficial in the near-term, as we deal with the aftermath of the pandemic and process our experiences as workers who have been through this, hopefully, once-in-a-generation experience. For those working on the frontline, my hope would be that in expressing themselves through this information, it may also help them to process what they will have worked through."
Dr Terry McWade, CEO, RCPI, says the College's work in the preservation of the history of medicine in Ireland is something that makes him immensely proud.
"At RCPI, we hold such a comprehensive archive on the history of medicine," he says.
"Harriet's hard work in helping to collate this collection on Covid-19 will ensure that this period in medical history will be recorded for future generations to reflect on when the time comes."
Ms Wheelock is keen to hear from anyone working in healthcare who might be interested in contributing to this collection.
"I would encourage you to share your experiences in written, audio or video format, whichever you feel most comfortable with. You can submit letters, diaries, video diaries; any format of material. It can be a one-off submission, or you can keep a diary and chronicle how things change over time. If you would prefer to be interviewed by someone, let us know and we can arrange that.
"We are also interested in collecting visual material or items that relate to Covid-19, such as photographs, drawings, newspaper cuttings and objects. Do you have a piece of poetry, or other creative work which you would be willing to donate? If you have something you think might be of interest, please let us know. There is no restriction on the format of material you can submit, or the quantity."
To date, Ms Wheelock says there has been considerable interest in contributing to the archive.
"I've been surprised by the breadth of materials that we have been offered as part of this project. In addition to diaries being kept by healthcare professionals, I've also been offered artworks, poetry and even some recordings. Social media looks set to become an integral part of the collection, with many offering their permission to take their posts and record these within the archive, which in itself is a reflection of how we responded through these new platforms at this time. Who knows, in years to come our researchers could be looking back at tweets or Facebook posts to examine this pandemic through the lens of healthcare workers' lived experiences."
This article was produced by the RCPI. If you would like to get involved with this project, please contact Ms Harriet Wheelock, RCPI Keeper of Collections, at harrietwheelock@rcpi.ie. For more information on the RCPI Heritage Centre, please visit www.rcpi.ie.