The recently-rebranded National Orthopaedic Hospital Cappagh held a seminar last month to showcase innovative practices to enhance patient outcomes. Catherine Reilly reports
Thousands of children could be taken off the orthopaedic outpatients lists if a plan developed by the National Orthopaedic Hospital Cappagh comes to fruition, Consultant Paediatric Orthopaedic Surgeon Mr Connor Green told a recent seminar organised by the hospital.
Speaking at the event in Cappagh, themed 'Enhancing patient outcomes through practice innovation', Mr Green said: "We have 3,000 long-waiting children on our outpatient waiting lists across the two children's hospitals and we met here recently, and we have a plan here in Cappagh where we could reduce that waiting list by 2021.
"So that with our new [consultant] appointment, we would be seeing all new referrals when they happen that year, and we wouldn't have the backlog we've had up until now."
Mr Green said he has a four-year waiting list for surgery at Children's Health Ireland (CHI), Temple Street, "that just doesn't exist in Cappagh", an elective orthopaedic hospital. The more complex cases would remain at Temple Street.
Mr Green spoke about the work of the hospital's paediatric orthopaedics service, known as Cappagh Kids.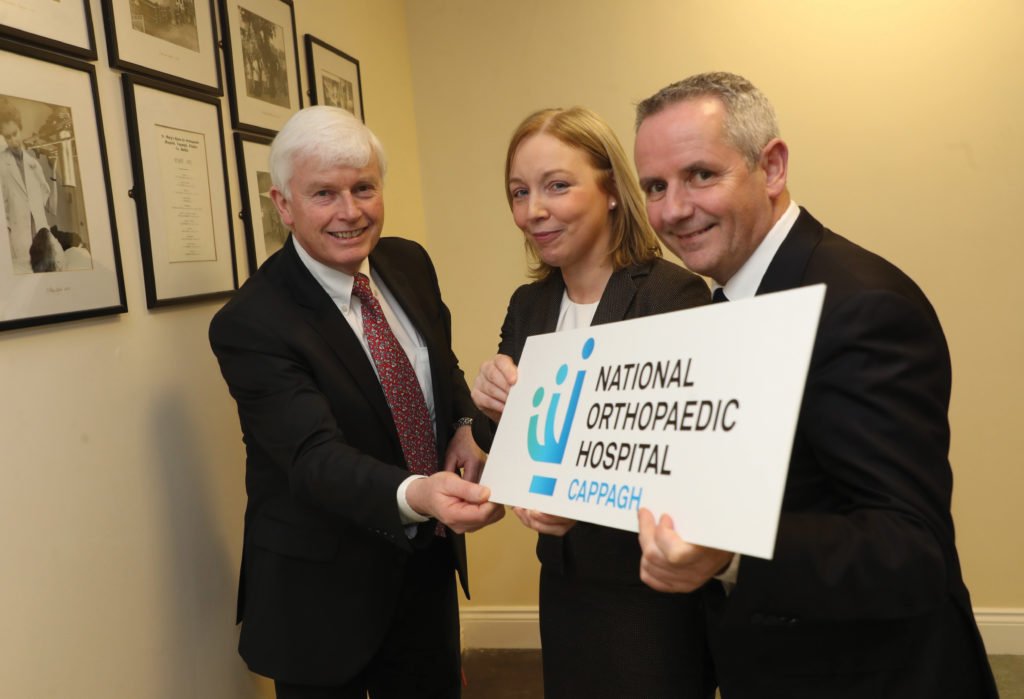 Among the procedures it delivers are limb-lengthening, limb reconstruction, scoliosis and hip preservation surgery.
With the assistance of the hospital and CHI, a rapid-access scoliosis service has been established, which has virtual, clinical and radiological components. The processes established under this service, with support from multidisciplinary colleagues, has dramatically reduced waiting times, according to Mr Green.
Currently, when a GP referral comes in, the child will be triaged immediately by Mr Green and seen within a month.
The hospital is also among a select number of global sites to be part of the International Perthes Study Group.
Ethos
There is an "ethos" in the hospital that good outcomes can be achieved for patients, even in difficult cases, according to Mr Green.
"At every limb reconstruction clinic, we see patients who are told that there is nothing that can be done any more for their problem, and we sit down together as a team and sometimes I ask my adult colleagues for an opinion, and we come up with a treatment for that person," he said.
"There is no 'we can't' in Cappagh. From the moment you walk in the door, it is always 'we can' or 'we can't right now, but'…And it's not about numbers, although we are clearing numbers; it's about the children and it's about the team, all of us working together."
Commenting on limb-lengthening surgery, he said it was important for patients' quality-of-life.
"It is not about being tall. It's about when you go to the bathroom, hanging your nice bag on a hook instead of putting it on the floor; pushing yourself on a swing; putting your feet up; driving a car; looking in the mirror in the hotel without standing on the rubbish bin; and being able to order from the counter."
Mr Green described an ongoing focus on ensuring Cappagh is as child-friendly as possible. "We now have a set of iPads and kids pick their playlist before they go for their anaesthetic, and soon they are going to be waking up to their own music rather than in a strange environment."
Further capacity
In opening the seminar, hospital CEO Ms Angela Lee emphasised that the hospital has further capacity "and we look forward to increasing our activity and being part of the solution for the reduction of waiting lists nationally".
"We have increased our orthopaedic activity by over 15 per cent in the last two years, with support from the NTPF [National Treatment Purchase Fund] for waiting list initiatives. We now have no patients waiting over six months for total hip and total knee replacement surgery, and we have also had a marked improvement in our waiting times across other subspecialties."
Commenting on the hospital's recent rebranding, she said this was considered necessary to "communicate our national remit".
She added that Cappagh "consistently ranks among the top hospitals in the country for patient satisfaction", as evidenced by national patient experience surveys.
Director of Radiology Prof Stephen Eustace outlined the history and genesis of the radiology department, which has published widely and established strong affiliations in academia, clinical training and sport.
He said Cappagh performs about 2,500 interventional procedures with image guidance annually.
"Through the charitable work and fundraising of the Cappagh [Hospital] Foundation, we are going to install the first dedicated orthopaedic CT in the hospital with general anaesthetic equipment… it will allow us to do complex interventions under general anaesthesia. We also hope to redevelop our department with the help of [HSE funding]…
"We would like to establish the national image-guided minimally-invasive spinal musculoskeletal intervention unit, so that we will bring on an expanded range of image-guided interventions to this hospital that can be performed really in this hospital alone," he added.
"We would like to expand our robotic interventions and these will be supported by theatre-based mobile CT and navigation software that was deployed in theatre in this hospital in 2018… again through the Cappagh Foundation," according to Prof Eustace.
Mobile CT scanning with navigation in-theatre has facilitated the development of a percutaneous tumour ablation service, particularly the establishment of the osteoid osteoma ablation service.
"Finally, we would like to expand our use of imaging to provide services for musculoskeletal patients across this entire country, supported by artificial intelligence and computer-based image interpretation," concluded Prof Eustace on future plans.
Same-day discharge for hip replacement
Consultant Anaesthesiologist Dr Brid McGrath spoke about delivering same-day admission and discharge for suitable patients undergoing total hip replacement. This initiative has been led by Consultant Orthopaedic Surgeon Mr James Cashman.
"Patients like it, they want to be in their own surrounds; nobody wants to be in hospital, and also managers like it because it is cost-saving," said Dr McGrath.
"It is not for everyone, not for every patient, not for every clinician. The most important thing is the patient must be really well motivated… they must be fairly well, live fairly close by, and they must have somebody at home to look after them — they can't go home on their own."
She said the "key to success" is empowering the patient and the team.
Suitable patients are identified by Mr Cashman or a colleague. At the pre-operative assessment clinic, the patient is seen by multidisciplinary team members, including the anaesthetist, arthroplasty nurse, physiotherapist, and occupational therapist. They have bloods done and receive full information about the operation, etc.
Patients are admitted early in the morning, receive a short-acting spinal anaesthetic and minimally-invasive surgery of short duration. In the afternoon, they receive physio, multi-modal analgesia, education, and are discharged at 7pm.
Mr Cashman said that there is strong "evidence to show enhanced recovery is safe and beneficial". The hospital had been employing enhanced recovery for a number of years and "the day case element of it is really an evolution of the enhanced recovery programme".
Same-day discharge commenced in 2018, with 22 patients selected as of the end of 2019. Some 19 patients achieved same-day discharge, and of these patients, two were readmitted.
"It is not without problems, but it is the problems we see with any arthroplasty," remarked Mr Cashman.
Around 18 per cent of total hip replacement patients have been discharged on 'day zero' under this process, which compares well with international literature published to date, he noted.
Mr Cashman said achieving same-day discharge was a team effort. "It is not about fancy surgery, it is not about fancy anaesthesia, it is about the care the patient gets along their whole journey from medical staff, nursing staff, physio, occupational therapist, catering — everyone needs to be positive, everyone is engaged with the programme."
Bone cancers
Mr Alan Molloy, Consultant Orthopaedic Surgeon, spoke about the hospital's role as the national patient referral centre for primary bone and soft tissue tumours.
"We are a tertiary referral centre, and what that means is, we take referrals from our colleagues around the country," he said.
"We take all the referrals here for the bone cancers — the malignant bone cancers — and complex benign lesions from around the country. We also take the vast majority of soft tissue sarcomas…
"All referrals would be triaged by myself or Prof [Gary] O'Toole, and advice and guidance would be given to the referring consultant. And that is why it is so important to have the support of the hospital. To know that the letters are going out that day to the referring consultant is huge, so that they will be able to act on that advice."
The clinics are consultant-delivered, which Mr Molloy considered important, given the nature of the medical issues involved and to provide confidence to families.
"We also operate on complex benign tumours referred nationally and the surgeries we do here are not performed elsewhere in the country."
The evening's talks were concluded by Consultant Orthopaedic Surgeon Prof John O'Byrne, who spoke about the wide range of undergraduate and postgraduate medical and surgical training at Cappagh, with concluding remarks from Chair of the board Mr John Wilkinson.
Mr Wilkinson paid tribute to the "passion and commitment" of staff. He also highlighted that the hospital infrastructure "is creaking in places" and drew particular attention to the high-dependency unit.
Earlier, HSE CEO Mr Paul Reid told attendees he had visited most of the 49 acute hospital settings nationally and felt a "very distinct culture" at Cappagh.
He said that "having dedicated elective hospitals is a major part of our strategy for the future".