Ms Averil Power, CEO of the Irish Cancer Society, outlines its response to Covid-19
Everything has changed in the past three months. Things have happened in Ireland that I will never forget. I know you will never forget them either.
I'm sure you will remember the pressure, the decisions, the fear. But I hope you will also remember people in every community in Ireland standing on their doorsteps, clapping and cheering the professionalism, empathy and the selflessness shown by our healthcare heroes.
I know many of you reading this have been through a lot in recent weeks, professionally and personally. You have risen to the Covid-19 challenge and rapidly reconfigured services, while also working hard to ensure urgent non-Covid-19 care continues.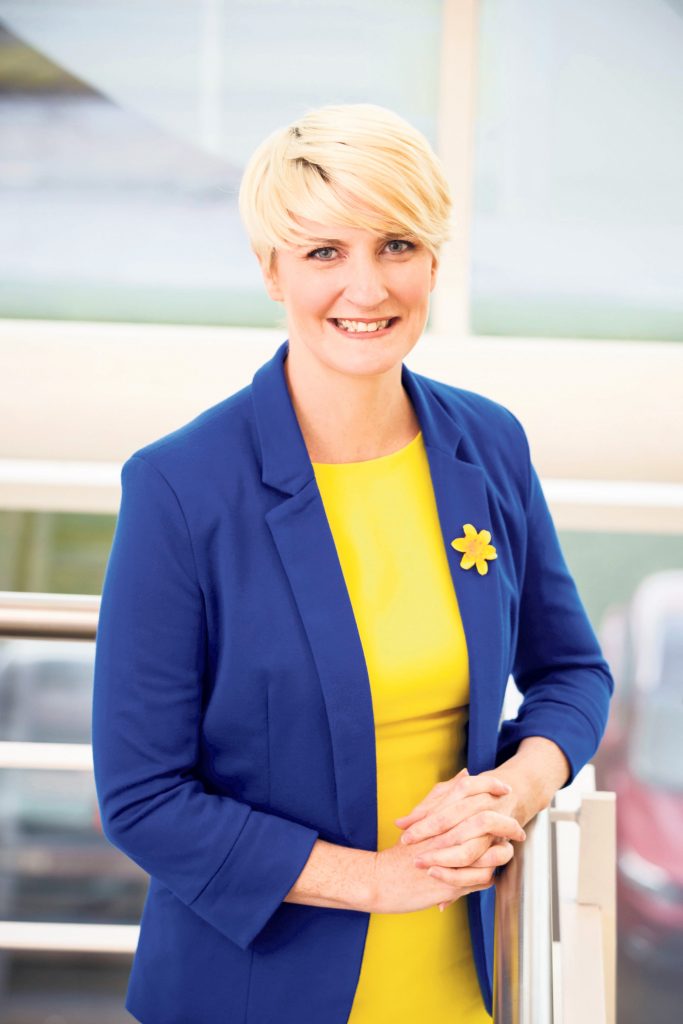 While delivering change at breakneck speed, you have been preparing and planning, caring and delivering, so that patients can still benefit from the highest-quality care. All while you have been worrying about protecting your own loved ones from the virus and struggling with childcare and other challenges.
On a human level, the vital changes that have enabled the health service to respond so effectively to Covid-19 have come at a cost. Delivering bad news from behind a mask. Asking families to share their love through a computer. Isolating people for the greater good. The emotional toll of Covid-19 will be long-lasting on many.
The impact on cancer patients has been immense. Knowing they are at greater risk if they catch the virus has caused great anxiety for patients and their families. Having to cocoon, away from loved ones, has deprived people of vital emotional support at a tough time. And changes to treatment plans, even though made in the best interests of the patient, have also caused concern.
Since the start of this crisis, the Irish Cancer Society has been working hard to support patients, their families and their healthcare teams.
Nursing, information, counselling and psycho-oncology supports
Many of our hospital-based Daffodil Centre nurses have moved to working in their hospital's cancer units, providing vital information, education and support to patients and helping to relieve some of the pressure on hospital staff. Others have joined our Freephone Support Line, enabling us to extend the service to evenings and weekends and deal with a big increase in calls from cancer patients, survivors and their loved ones.
Our cancer nurses are now available to provide support and advice seven days a week on freephone 1800 200 700, via email and through our online support community. In addition, we also have people on-hand to answer questions about non-medical issues such as financial supports, tenancy and employment queries, which we know are additional worries for people at the moment.
We have added a bank of new resources to our website over recent weeks, including information on Covid-19 and cancer and a new online hub called 'Staying Well While Staying Home'. This provides specific advice and supports across topics such as mental health, nutrition and physical activity. We are very grateful to the clinical colleagues who have made this possible by giving us their time and expertise.
With people unable to attend in-person counselling at this time, we have partnered with the National Cancer Control Programme (NCCP) and Cancer Care West to ensure they can access psychological supports by phone instead. Anyone with a concern can call our support line and be referred to an experienced cancer counsellor connected with a local cancer support centre or one of the clinical psychologists from Cancer Care West, as appropriate.
This will ensure that everyone, no matter what their level of distress, can access the right support, at the right time.
Our 200 highly-experienced night nurses are also continuing to provide vital end-of-life care to terminally ill patients in homes all across Ireland. We have experienced a big increase in demand for this service in recent weeks and are currently recruiting extra nurses to ensure we can be there for everyone who needs us.
Travel
Getting to and from treatment can be a burden for many vulnerable people in our community and we are humbled by the nearly 1,000 ordinary men and women who regularly volunteer with us to drive members of their community to and from chemotherapy sessions. This transport has become even more vital in recent weeks. However, the age and health profile of some of our volunteers precluded many of them from continuing with the programme. A national call for more drivers has been answered and, combined with new online training, is allowing us to safely transport patients who need our transport services throughout the country. In the first quarter of this year, we have brought 1,000 patients on journeys totalling nearly 400,000km.
Being able to safely continue vital services such as night nursing and the volunteer driver service, has required huge investment in additional personal protective equipment (PPE). At a time of massive global shortage, many businesses large and small have gone to incredible lengths to source us PPE to protect our staff, patients and volunteers.
Research
The Irish Cancer Society is Ireland's largest voluntary funder of cancer research. At present, much basic research has been temporarily paused due to institutional closures and shortages of equipment, reagents and PPE, as well as researchers volunteering for Covid-19 control efforts. However, the Society continues to support research and our funding of Cancer Trials Ireland is ensuring patients continue to benefit from existing trials.
Advocacy campaigns
We have been in regular contact with the NCCP and cancer policy unit of the Department of Health throughout this emergency, highlighting issues that relate to cancer services and care.
I have also been in touch with Minister for Health Simon Harris regarding a number of different issues facing cancer patients and he has responded positively, outlining his commitment to ensuring urgent treatment and diagnostics continue throughout the crisis. Many of our suggestions were included in the National Action Plan on Covid-19. Now we need to ensure the HSE, Hospital Groups and clinical teams have the resources and support they need to deliver on these commitments.
We have also been working with partners, such as the ICGP and the IMO to communicate critical issues to patients, like the imperative that they attend a doctor if they notice any potential signs and symptoms of cancer during the coronavirus pandemic. One of our greatest risks during this crisis is that of delayed diagnoses due to people not attending their GP when they ordinarily would.
In addition, we have used our own communications channels and the national media to strongly urge the general public to follow the public health advice and stay home to protect vulnerable groups like cancer patients and healthcare staff.
The future
Throughout the Covid-19 crisis, we will continue to do everything we can to support, and advocate for, people affected by cancer and the healthcare professionals that care for them. We will remain flexible and respond to new needs as they emerge.
However, we are also focused on the future. We are conscious that negotiations for a new Government are taking place and want to ensure health, and in particular cancer services, is a priority.
We appreciate any new Government will have to deal with the economic impact of Covid-19, an unexpected and unprecedented challenge. However, we also believe whatever resources are available should be used to prioritise improvements in public services like healthcare. This will be particularly important in the cancer area, to clear the increased backlog in screening, diagnostics and treatment caused by Covid-19. We have highlighted this to the different political parties in recent weeks to ensure cancer is a priority in any new Programme for Government.
Ireland has an excellent national cancer strategy that, if resourced, would significantly improve life for people affected by cancer. We cannot let that opportunity be lost.
The coronavirus outbreak has revealed what is really important to each of us, above all else — our health. The solidarity, selflessness, kindness and compassion displayed by our nation, and particularly our healthcare workers, has been a huge source of national pride. In post Covid-19 Ireland, let's ensure this is not lost and that we deliver the health service our patients and our healthcare staff deserve.