The National Council for the Blind of Ireland (NCBI) aims to have an eye clinic liaison officer (ECLO) embedded across all Irish hospital eye clinics by the end of 2021, with the goal of providing early intervention and support at time of diagnosis. Mr Aaron Mullaniff provides an overview of the initiative
The new eye clinic liaison officer (ECLO) service run by the National Council for the Blind of Ireland (NCBI) is all about responding to patient need at as close to the point of diagnosis as possible. Now funded by HSE acute services, the ECLO programme is operational across the Ireland East Hospital Group.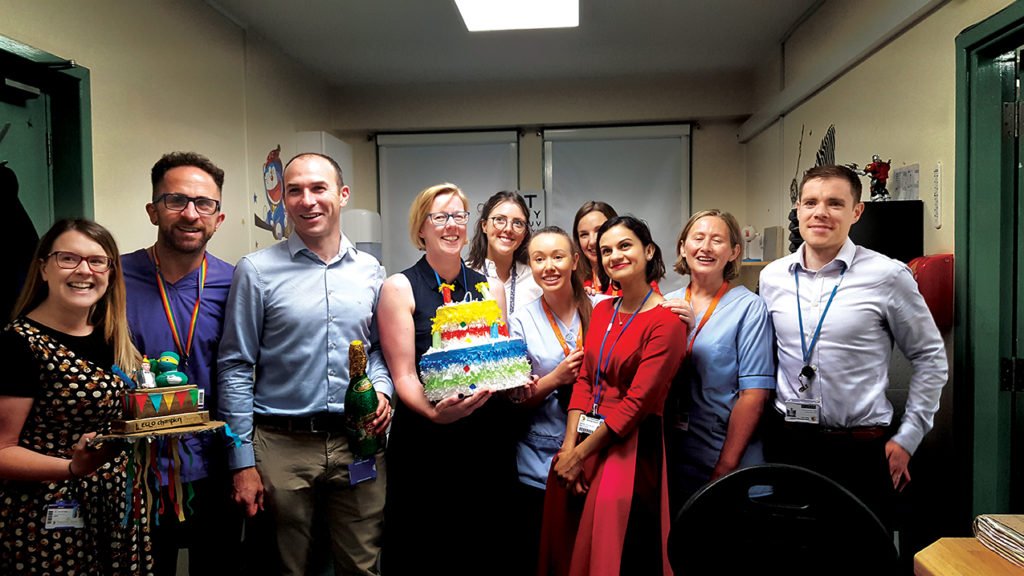 Commenting on the programme, which has been rolled-out at eye clinics in the Mater Misericordiae University Hospital, Dublin, Prof David Keegan, Consultant Vitreo-Retinal Surgeon at the hospital, noted: "The rehabilitation supports and community-based services that are available beyond the eye clinic are vital to patients dealing with a diagnosis and subsequent loss of vision.
"Research consistently shows the provision of early intervention and support at, or immediately after, diagnosis means patients require less intensive support at a later date – this is crucial given current ophthalmology waiting times. Having access to a trained ECLO will allow clinicians like myself the additional time to concentrate on the clinical aspects of the patient's care."
Under the funding agreement, NCBI currently employs one ECLO across the Royal Victoria Eye and Ear Hospital (RVEEH) and the Mater.
The concept of ECLOs are well-established in the UK, where they successfully act as a bridge between eye clinics and social services, providing practical and emotional support to patients and their families.
The ECLO service in Northern Ireland, which has 100 per cent coverage across eye clinics, has been shown to continually improve efficiency and patient capacity, with some ophthalmologists reporting 10-minute savings per patient as a result of the presence of an ECLO.
Ms Elaine Crossan, ECLO in the Mater and RVEEH eye clinics, explained that "a diagnosis of a sight condition can be devastating, which can bring enormous practical and emotional consequences and challenges. Many patients report feelings of panic and anxiety.
"It is my job to act as a key contact point for patients by providing vital information on their eye condition, as well as offering practical and emotional support where and when they need it most. Most importantly, patients now receive the time and support that is essential to them and to their families."
Progress and governance
Overseeing the service, Mr Aaron Mullaniff, NCBI, stated that "already 415 patients have been supported by the service, with over 70 per cent of those patients now being actively supported across their local community to maintain their independence.
"The ECLOs are also helping prevent avoidable sight loss, which is done by talking patients through treatment and helping family members to understand the importance of compliance with their medication. This role effectively releases clinic staff to focus on more complex cases. Being co-located with the clinic team enables the ECLOs to receive referrals as soon as possible and to advise acute staff on the appropriateness of a referral to community-based services."
Blindness in children
Given the sharp increase in the number of children with serious visual impairment and blindness, the NCBI was keen to further partner with Children's Health Ireland (Temple Street) to support the heightened demand on the system.
Ms Hilary Devlin, children's ECLO at Temple Street, said: "One of the most important parts of being an ECLO is giving patients and their families time.
"The news that your child has an eye condition and may be visually impaired can be devastating and often totally unexpected. It is extremely important that support is provided at this time so as to enable parents in particular to work through their feelings, find out what services and supports are available to their son or daughter, but most of all, know they are not alone."
International research
A 2019 study on the impact of eye clinic liaison officers across ophthalmology clinics in the UK found ECLOs who had a presence in hospital ophthalmology clinics were seen as valuable in streamlining processes within the clinic, particularly in relation to providing continuity of care for patients when they were discharged from medical treatment.
ECLOs also saved staff time in the clinic as they were often responsible for providing emotional and practical support for patients living with sight loss. The study further found the impact of ECLOs may depend on efficient communication with the clinical team, being trusted by other staff and having a good knowledge of local and national sight loss support services outside of the hospital setting.
Types of support
ECLOs are also there to alleviate the burden on eye clinic staff, and most importantly, to put patients, family members and carers in touch with useful services by making referrals on their behalf.
ECLOs will support patients to:
Assess the impact of their eye condition on their own personal circumstances;
Set up appointments with children's, working age, and positive aging services in the patient's local area;
Seek professional advice on employment related concerns;
Access rehabilitation supports and independent living skills training;
Access assistive technology, low vision solutions, advice and training;
Access benefits they may be eligible for;
Access other Vision Impaired Service Providers Alliance (VISPA) service providers like Childvision, Fighting Blindness, Irish Guide Dogs, and other local support groups.
ECLOs are endorsed by the UK Ophthalmology Alliance, the Royal College of Ophthalmologists and the National Institute for Care and Health Excellence (NICE), UK. All NCBI ECLOs are qualified and highly trained and operate from a quality framework.
NCBI aims to have an ECLO embedded across all Irish hospital eye clinics by the end of 2021. This means that every patient attending a hospital eye clinic in Ireland would have access to an ECLO, particularly around point of diagnosis.
References on request
For further information on the ECLO programme, email
aaron.mullaniff@ncbi.ie or telephone 01 830 7033