Ms Angela Lee, Chief Executive of the National Orthopaedic Hospital Cappagh, outlines the impact of the Covid-19 crisis on the hospital and its response
The proliferation of Covid-19 has presented our healthcare service with the ultimate challenge. As infection and death rates escalated, hospitals were faced with unprecedented demand for services.
At an emergency meeting of our medical board on 11 March, it was unanimously decided to suspend all non-essential elective surgical procedures and outpatients appointments to assist national efforts during this time of crisis.
The focus switched to cater for orthopaedic trauma patients who would ordinarily receive treatment in a major acute hospital setting. In doing so, we could help alleviate pressure on the major acute hospitals, freeing-up beds and resources to deliver vital care for Covid-19 patients.
Transformation
The transformation of the National Orthopaedic Hospital Cappagh (NOHC) to a trauma centre began with the appointment of designated trauma leads: Prof John O'Byrne, Head of the NOHC Professorial Unit; Mr Paul Curtin, Chair of the Medical Board; and Mr Peter Keogh, Clinical Director. A comprehensive stakeholder analysis was then undertaken to define processes for referring hospitals, the patient journey and NOHC's touchpoints. Given the diverse nature of cases presenting, decisions have to be made as to which need urgent attention and which can be deferred. To assist in making these determinations, we have considered guidelines from a number of respected institutions, including the American College of Surgeons (2020) and the RCSI (2020).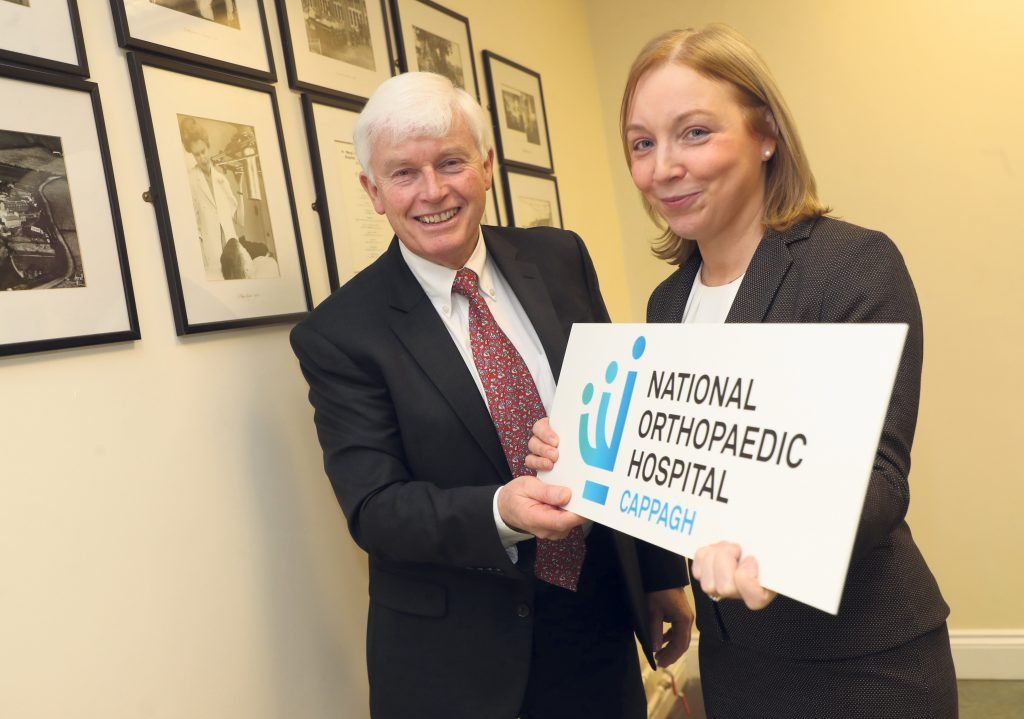 The transition from elective surgery to trauma commenced in mid-March. The hospital is providing treatment for upper and lower limb trauma, hip fractures, and continuing to offer essential treatment for paediatric and cancer patients and those requiring urgent joint revision surgery. Visiting surgical teams from Beaumont Hospital, Dublin, the Mater Misericordiae University Hospital, Dublin, St James's Hospital, Dublin, and Tallaght University Hospital have been granted operating privileges to do plastics lists, and others are providing specialist trauma care in foot and ankle and upper limb.
Safety
Patient and staff safety underpin new pathways and algorithms, which are being consistently reviewed and updated to reflect emerging national and international guidance and are communicated to relevant stakeholders. A patient referral form has been developed, which is completed and emailed by the referring hospitals. Data elicited enables risk assessment and capacity planning. In a bid to overcome social distancing challenges, medical teams co-ordinate patient care using the Siilo App. This secure medical messaging platform enables real-time patient data exchange, collaboration and decision-making.
In contrast to elective procedures which are planned in advance and to precision, trauma presents unforeseen challenges. Our staff have embraced these challenges. They have defined new ways of working, acquired new skills, adjusted weekly rosters to facilitate social distancing measures, and agreed to be on-call in order to provide a 24/7 service to include weekends. Daily theatres are now running for extended periods, with staff working longer shifts, covering absenteeism whilst continuing to deliver excellent patient care. Staff in the referring hospitals have also been very accommodating, providing valuable patient information for individuals redirected to our services and also providing essential theatre sets and equipment.
New protocols
New protocols govern all stages of care. Personal protective equipment (PPE) is prioritised for suspected Covid-19 patient cases and the personnel tasked with their care. Robust processes are in place for the screening of referred patients, which include triage by nursing staff on the day prior to admission. The questionnaire is repeated on admission and vitals are taken. Non-suspected cases are admitted for surgery and suspected cases are discussed by the medical team to determine urgency and are dealt with on a case-by-case basis.
To minimise risk of infection for staff and in particular anaesthetists, regional or spinal anaesthesia is used where possible rather than general anaesthetic. In the context of the Covid-19 pandemic, surgeons are evaluating patients on a case-by-case basis to determine appropriate follow-up, including if an outpatient appointment is necessary. They are documenting a plan for six-to-12 weeks' post-op and comprehensive care plans are given to patients on discharge.
Key to the success of the trauma centre to date are the interdisciplinary huddles, which convene each morning to discuss patients for surgery, and again in the evening to review performance and plan for the following day. Daily learnings continue to be applied to processes for continuous improvement and enhanced clinical outcomes. In addition to the daily huddles, a weekly Covid-19 strategy meeting takes place, which is attended by key members of senior management and designated trauma leads. Changes in direction, policy and strategy are approved, if appropriate, at this meeting.
Elective services
The hospital will continue to deliver trauma services until the major acute hospitals are in a position to resume such activity. Now that the data indicates a decline in Covid-19 incidences and deaths, we are looking at continuity plans for the safe resumption of elective services, mindful that this virus will persist for a considerable time.
As we consider returning to elective orthopaedic surgery, while aiming to limit the occurrence of a second wave, NOHC faces many challenges. In particular, the hospital's ageing and augmented infrastructure is not conducive to social distancing practices. To comply with the national guidelines and recommendations, we are considering the reconfiguration and compartmentalisation of wards, clinics and common areas, which unfortunately will result in a reduction in bed capacity. Ultimately, capital investment in new infrastructure is crucial to future-proof operational efficacy, utilise resources to optimum capacity and meet growing demand for services.
We recognise that an inevitable reduction in capacity for inpatient and outpatient cohorts will impact waiting lists, quality-of-life and long-term patient outcomes. This is unfortunate, as we successfully introduced several initiatives in the past two years which significantly reduced waiting times. As part of our continued commitment to patients, we will explore extended hours and days of operation, new ways of working and virtual consultations, where appropriate, to enable timely access to diagnosis, treatment and care.
The hospital's return to elective services is being guided by 'Protocols for resuming elective orthopaedic surgery' from members of the international consensus group, the research committee of the American Association of Hip and Knee Surgeons and the HSE guidance relating to the management of planned hospital admissions. The national guidelines recommend that patients attend for a Covid-19 test within 48 hours of admission and that patients cocoon for two weeks before admission. However, it is nigh-on impossible to enforce patient compliance. To assist patients in their understanding of and adherence to new guidelines, we undertook a review-and-refresh of all patient information leaflets, algorithms and pathways. We believe the protracted admissions process would benefit from rapid Covid-19 testing, and we remain optimistic that an effective treatment will emerge.
The global Covid-19 crisis has created the need for change management on an unprecedented scale. NOHC's move to trauma is an example of how an organisation can adapt at pace amid such a crisis. A spirit of collaboration and camaraderie underpinned this transition, and we continue to overcome challenges, embracing new recommendations and learnings daily to improve the quality of care.
As we adjust to the 'new normal', we are cognisant that Covid-19 is anomalous, and this is an evolving situation. We must, therefore, prepare for the unexpected and remain united, poised and ready to take on the many challenges that are yet to come.