Prof Luke Clancy recently received the Irish Thoracic Society Award (ITS) for Outstanding Contribution to Respiratory Medicine. Consultant Respiratory Physician, Beaumont Hospital and past President, ITS, Prof Ross Morgan outlines Prof Clancy's career and achievements
Prof Luke Clancy, Director General, Tobacco-Free Research Institute Ireland (TFRI) and Adjunct Professor, Technological University Dublin, Kevin Street, was presented with the Irish Thoracic Society (ITS) Award for Outstanding Contribution to Respiratory Medicine at the 2019 ITS Annual Scientific Meeting in Galway.
This award recognised Prof Clancy's many achievements in respiratory medicine and particularly his work in research, which, combined with tireless advocacy and civil leadership, has brought far-reaching benefits to public health in Ireland and internationally.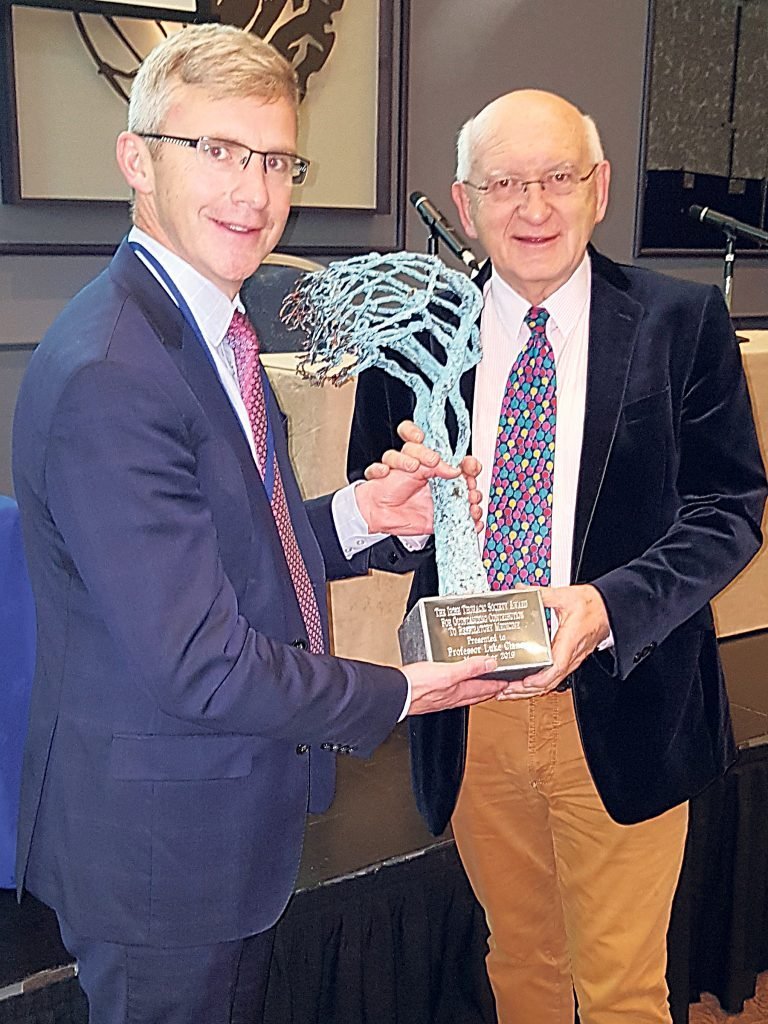 A graduate of University College Galway, Prof Clancy worked in Edinburgh with pioneering respiratory physician Sir John Crofton, and in Nottingham, before taking up posts in St James's Hospital and Peamount Hospital in Dublin, and as Senior Lecturer in Respiratory Medicine in Trinity College Dublin (TCD).
He has played a leading role in medical and respiratory curriculum development, both as Director of Postgraduate Education for the TCD group of hospitals, and as RCPI respiratory specialist nominee on the Specialty Advisory Committee of the Joint Committee of Higher Medical Training (UK and Ireland).
Throughout his clinical career he has introduced significant innovations in medical practice, including the first outpatient fibre-optic bronchoscopy service (1978), the first multidisciplinary team in lung cancer (1988), and the first outreach service for COPD patients (2000). He was appointed as the first Clinical Director in acute hospital medicine in Ireland when the CResT (CardioRespiratory and Thoracic Surgery) Directorate was established at St James's Hospital.
This followed the Johns Hopkins model and has become the accepted model for involvement of clinicians in hospital management in Ireland.
TB
In keeping with the origins of the ITS, Prof Clancy developed a special interest in tuberculosis (TB) —leading strategy and research, both nationally and internationally, on TB control, epidemiology, and infectiousness. As Medical Director of Peamount Chest Hospital, he was responsible for the treatment of inpatient TB treatment on a national level, as well as for training medical students and trainee doctors in all aspects of tuberculosis care, including treatment and ground-breaking TB research. He also served as advisor to the Department of Health on TB. At international level, he was an advisor to the World Health Organisation, as well as serving as President of the International Union Against Tuberculosis and Lung Disease, when he initiated the Wolfheze Conferences (Netherlands), which have played a major role in European TB control.
Air pollution
Prof Clancy is a passionate advocate for elimination of air pollution and smoking. His ground-breaking report on increased mortality due to air pollution in Dublin and subsequent campaign led to the smoky coal ban in 1990. This resulted in an immediate improvement in air quality and his study on the effects of this intervention, reported in The Lancet and elsewhere, is considered seminal in this field. It is still one of the few studies in the literature showing that mortality is decreased following such a public health intervention.
It helped to establish the importance of inspired particles, as well as gases, as a cause of mortality and morbidity. His further collaboration studies clarified the importance of temperature changes in air pollution episodes, as well as separate cardiovascular and respiratory effects.
Prof Clancy subsequently showed that there has been a sustained 18 per cent drop in respiratory mortality in Dublin since that time. This work has been recognised outside of Ireland and the US Environmental Protection Agency has used this data to determine limits and controls on air pollution in the US. As national co-ordinator for the International Study for Asthma and Allergies in Childhood, he provided estimates of asthma prevalence and data on 'smoking in teenagers', which has helped initiate Government action to reduce smoking in children.
Smoking research
While chairing Action on Smoking and Health (ASH) Ireland, Prof Clancy led the campaign to make Ireland the first country in the world to introduce a ban on smoking in the workplace in 2004. Furthermore, as Director General of TFRI, he led research projects ranging from the evaluation of many aspects of 'smoke-free' legislation, to smoking in immigrants, smoking cessation services, health effects of smoking in children, and effects of second-hand smoke in pregnancy. His work on evaluating 'smoke-free' effects was used internationally to follow the Irish model, as well as driving further policy change domestically in the form of point-of-sale bans and 'plain packaging'.
At international level, Prof Clancy has collaborated in numerous consortia involving colleagues from many EU countries and the US, usually as a WorkPackage (WP) leader in these projects. He has advised European governments, the EU Parliament and NGOs. His major research on price and taxation of tobacco is contained in the outputs from the Seventh Framework programme for Research and Technological Development (FP7) Pricing Policies and Control of Tobacco in Europe (PPACTE) project, for which he was project co-ordinator.
Prof Clancy's current research is on health effects of second-hand smoke on asthma and COPD patients in the outside areas of pubs (a Horizon 2020 project) and the levels of exposure to particles of e-cigarettes aerosols in non-users. With TFRI colleagues, Prof Clancy recently published the first randomised clinical trial in the world on Allen Carr's smoking cessation method (2018). As the Principal Investigator for Ireland on the European School Survey Project on Alcohol and Other Drugs (ESPAD) International Survey 2019, he is surveying Irish teenagers on smoking, e-cigarettes, alcohol and other drugs, with the report due out later this year. The last ESPAD report was in 2015.
The Irish Thoracic Society Award for Outstanding Contribution to Respiratory Medicine was presented to Prof Clancy by then ITS President Prof Ross Morgan. The breadth and impact of Prof Clancy's achievements and the esteem in which he is held by colleagues and patients alike was evoked on the evening in a warm, witty and informative citation delivered by his colleague in St James's Hospital, Dr Finbar O'Connell.