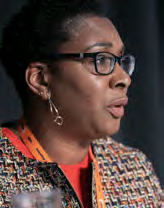 A new IMO survey on gender equality in Irish medicine has found 40 per cent of female doctors experienced sexual harassment during their careers, compared to 14 per cent of males. Additionally, 54 per cent of female doctors experienced gender-based harassment, compared to 12 per cent of males. Overall, female and male doctors experienced similar rates of bullying (59 per cent versus 52 per cent, respectively).
At a panel discussion on these issues at the IMO AGM, Clinical Lead for the national intern training programme and Senior Lecturer at the RCSI, Dr Gozie Offiah, said: "We need to start challenging things. And until we do that, I think gender stereotypes and gender bias will always remain." 
Issues such as the "absolutely huge" competitive culture within medicine and the hierarchal structure in hospitals needed to be challenged to address stereotypes and biases, according to Dr Offiah.
In relation to gender-based bullying and harassment, Consultant Gastroenterologist at Tallaght University Hospital Prof Anthony O'Connor said the problem "is within the structures of what we do in healthcare. It's not an environment that's necessarily set up [to be] conducive to… good mental health and good relationships."
The survey found that 44 per cent of bullying of both male and female doctors was by another doctor. It also found 31 per cent of gender-based harassment and 20 per cent of sexual harassment towards female doctors was also by another doctor.
"I don't think we take it seriously enough," Prof O'Connor said. "And I think it starts with actually calling ourselves out. I suspect it might be a lowball estimate that 40 per cent of women have experienced sexual harassment in our hospitals. [This] should be earth-shattering, really. It's totally unacceptable."
The survey showed 51 per cent of female doctors and 39 per cent of male doctors struggled to source childcare options that fitted with their working hours. Overall, 79 per cent of doctors believed the HSE should provide childcare facilities on-site in line with expected working hours.
The NCHD representative on the panel, Dr Rachel McNamara, added that tackling gender inequality was "to the benefit of all". "Acknowledging that parents want to see their children or acknowledging that having [an] appropriate length of maternity leave and paternity leave; all of these things are to everyone's benefit," stated Dr McNamara.
Regarding family-oriented supports to help address gender inequalities, Roscommon GP Dr Madeleine Ní Dhálaigh said on-site creches and childcare "would take a lot of pressure off young families, where they're maybe moving around from post to post, having to find… very expensive childcare".
The survey, which was sent to all members of the IMO, received 1,615 responses.
Irish Medical Organisation, Annual General Meeting, Aviva Stadium, 28 May 2022.