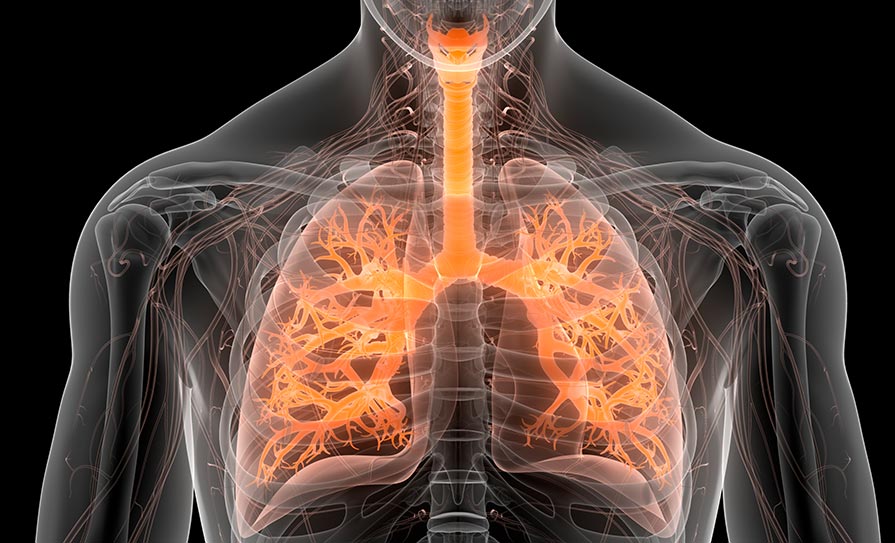 Paul Mulholland speaks to Prof Aidan O'Brien about the upcoming annual meeting of the Irish Thoracic Society
The Irish Thoracic Society Annual Scientific Meeting will take place in the Limerick Strand Hotel from 9 to 11 November. The meeting will feature a mix of guest lectures, and oral and poster sessions. It will also feature meetings of affiliate groups, such as Anáil (Respiratory Nurses Association of Ireland) and the Irish Institute of Clinical Measurement Physiology.
"The attendance has been growing over the last few years," according to meeting organiser, Prof Aidan O'Brien, Consultant in Respiratory Medicine, University Hospital Limerick.
"It has now reached almost 500 attendees. It is a really great forum for facilitating research in the respiratory communities in Ireland."
Prof O'Brien told the Medical Independent (MI) that "world-quality" research in respiratory medicine is taking place in the Irish health service. However, he argued this needs more support.
"There is evidence that is being presented at international meetings; there are international grants being obtained for the research that is happening in Ireland. But to get on a par with other countries – the likes of the US, England, and some of our other European neighbours – more funding is definitely needed."
The first session, on the afternoon of Thursday 9 November, will focus on specialist register training. This will be followed by a poster review and case study oral presentations.
Proceedings will begin on Friday 10 November with a poster session. Among the topics to be covered during the poster discussions are: Asthma and sleep; interstitial lung disease and long Covid; and telehealth.
Prof O'Brien said Covid-19, which is respiratory disease, has had a significant impact on the specialty, adding that its effects are still being felt.
"Now we are seeing much less of a burden, but we are seeing long Covid, and post-Covid sequelae, which consist of respiratory problems. That is an ongoing burden from Covid. And there are still the active cases that we see."
Long Covid services are predominantly led by infectious disease specialists, with support from respiratory services, among others.
"We deal with more of the post-acute Covid patients," Prof O'Brien told MI. "This has been supported very well nationally by the HSE."
Aside from its general impact on the health service, Covid-19 has also affected medical practice. For instance, telehealth is now more embedded than it was before the pandemic.
"Some of this began during the Covid phase when we were monitoring patients remotely. We are now expanding their use for other lung diseases such as interstitial lung disease and asthma. It is also being used for people with sleep apnoea."
Guest lectures
After the poster session, the first guest lecture will be presented. The lecture is entitled 'Seeing is believing' and it is about the imaging of mucus plugs in asthma and chronic obstructive pulmonary disease (COPD).
It will be delivered by Dr Eleanor Dunican, Consultant in Respiratory Medicine, St Vincent's University Hospital, Dublin. She graduated from the University of Galway in 2005 and completed higher specialist training in respiratory and general internal medicine in 2014. Dr Dunican continued her postgraduate training at the University of California San Francisco (UCSF), where she completed an ACGME-accredited clinical Fellowship in pulmonary disease, followed by a research Fellowship in advanced pulmonary and critical care medicine. She was awarded her Masters of advanced studies in clinical research from UCSF in 2015. Prior to her arrival to University College Dublin, as senior lecturer in 2017, Dr Dunican was a co-investigator in the multi-centre severe asthma research programme, SARP, investigating the molecular pathways that drive severe asthma. Her particular research focus is in understanding the mechanisms that contribute to the heterogeneity in clinical phenotypes and treatment response in asthma, in order to advance precision medicine approaches to management of asthma.
The next guest lecture, which is on the subject of COPD, will take place in the late afternoon, after more oral and poster sessions and discussion. The lecture will be delivered by Prof Fernando Martinez, Cornell University, US. Prior to becoming Chief of the Division of Pulmonary and Critical Care Medicine at Weill Cornell Medicine in New York, Prof Martinez was Professor of Internal Medicine and Associate Chief for Clinical Research in the Division of Pulmonary and Critical Care Medicine at the University of Michigan Health System, as well as Medical Director of its Pulmonary Diagnostic Services and Co-Medical Director of the Lung Transplantation Programme.
His research interests include COPD, interstitial lung disease, lung transplantation, and lung volume reduction.
Final day
The third guest lecture of the meeting will take place on the morning of Saturday 11 November. During the talk, Dr Melissa McDonnell, Consultant in Respiratory Medicine, Galway University Hospital, will provide an update on bronchiectasis. Dr McDonnell has an extensive research interest in bronchiectasis over the last number of years and has published frequently in this area. She is currently exploring a number of mechanisms that lead to worsening outcomes in bronchiectasis and has a particular interest in the role of reflux.
Dr Guy Scadding, Royal Brompton and Harefield, NHS Foundation Trust, UK, will deliver the next guest lecture. The talk is entitled 'The role of immunotherapy in allergic airway disease'.
Dr Scadding studied medicine at Somerville College, Oxford and Imperial College London. He undertook training in general medicine at St Mary's Hospital and Northwick Park Hospital before becoming a specialist registrar in Allergy at the Royal Brompton Hospital.
His clinical interests include food and drug allergy, rhinitis and rhinosinusitis.
There will then be a panel discussion on integrated care. The panel members are from the National Clinical Programme for Respiratory: Dr Stanley Miller (Clinical Lead); Ms Olga Riley (Health and Social Care Professions Lead); and Ms Susan Curtis (Programme Manager).
Under the programme, respiratory integrated care consultants have been appointed to provide a continuum of care across both acute hospitals and specialist ambulatory care hubs.
Prof O'Brien said the hubs have been a great success in developing new clinical pathways.
"It avoids the need to send referrals to tertiary centres for respiratory assessments and support. There is also GP input as well."
Prof O'Brien said the integrated care programme is "badly needed".
"The goal is patients get their care locally, which as a result decreases the burden on tertiary centres. It leads to better access and shorter waiting times for patients. The problem again in developing these programmes to their full extent is the lack of personnel: Consultants; respiratory physical therapists; respiratory nurses; respiratory scientists."
The final guest lecture of the meeting is entitled 'The answers come from asking the right questions – Guiding the physiologic assessment in practice: A case-based session'.
The lecture will be given by Prof Eric Gartman, Associate Professor of Medicine, Warren Alpert Medical School (Division of Pulmonary and Critical Care), Brown University, US. At the Providence Veterans Affairs Medical Centre, he has been the Director of the Pulmonary Function Laboratory and the Cardio-pulmonary Exercise Testing Laboratory. Prof Gartman's interests are in respiratory physiology and testing, medical education, and lung cancer screening implementation.
On the Saturday, there will also be a parallel information session on the National Bronchoscopy Quality Improvement Programme.
Speaking about the state of the specialty currently, Prof O'Brien commented: "We have been very much under-resourced for decades. Now the Government and the HSE have definitely focused on providing more appropriate resourcing. And a tremendous job has been done in resourcing respiratory services, especially with regards the establishment of the integrated care programme in the community."
He noted there has been an increase in the number of consultant appointments; however, many posts remain unfilled.
"And we have also managed to increase the number of specialty registrar positions, but more are needed of those."