Gathering Around Cancer 2021, virtual, 4-5 November
The Gathering Around Cancer 2021 conference hosted a presentation titled 'Lung cancer update', which was delivered by Dr Sinead Noonan, Consultant Medical Oncologist, CUH and University Hospital Kerry. Dr Noonan
spoke about adjuvant and neoadjuvant therapy in nonsmall cell lung cancer (NSCLC) and provided updates on
immunotherapy trials in first-line stage 4 NSCLC.
She also discussed targeted therapies and previously undruggable targets that are now becoming druggable, as
well as managing resistance to targeted therapies and the impact of Covid-19 on NSCLC treatment.
She presented National Cancer Registry Ireland data showing that even with curative intent, 60 per cent of NSCLC patients who are treated will relapse and in stage 1 disease, at five years, over 40 per cent of these patients were still alive. She provided a brief synopsis of some trial data and told the conference: "Looking at surgical outcomes for these patients, the big concern with neoadjuvant treatment would be, do patients get to surgery, which is ultimately the curative treatment?" She presented research to show that numerically, according to some of the data, more patients received surgery in an experimental arm compared to a chemotherapy arm, regardless of the baseline stage of the disease.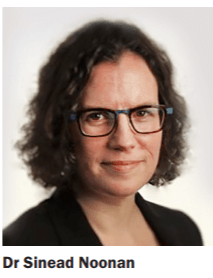 "Really, it's about watching the space, as there is a huge amount of activity here, with multiple studies looking at
adjuvant immunotherapy plus chemotherapy, and also in the neoadjuvant setting," said Dr Noonan, who also
provided a brief overview of trial data on stage 4 NSCLC.
Regarding Covid-19 and cancer care, Dr Noonan said: "Unsurprisingly, the pandemic has caused significant decreases in lung cancer screening, diagnosis rates and patient encounters in multiple health systems," she commented. "[US] Data show that there was a 20-to-60 per cent decrease in lung cancer biopsies compared to 2019, there was a 50 per cent decrease in screening rates, and there was a 59 per cent decrease in the diagnosis of new lung cancer patients. Certainly in Ireland, we have found that we are seeing patients at a much later stage and the pandemic has impacted on the lung cancer community, resulting in fewer diagnoses, less-frequentacce ss to care and less support due to patients' fear of engaging with the healthcare landscape."
Dr Noonan summarised: "There is no doubt that immunotherapy is moving into the neoadjuvant or adjuvant space and it will likely be combined with chemotherapy – we are eagerly awaiting the survival data in this space," she said.
"We already know that there is a significant overall survival benefit in the metastatic setting with IO and IO/ chemotherapy combinations, and it remains to be seen how this will be impacted by the changes in the treatment of early-stage disease.
"There is a lot of research, and we have promising new therapies for, new targets, and also in the setting of overcoming resistance," she continued. "This will have implications for our practise, particularly for molecular testing, and probably [increases] the need for repeat biopsies in these patients. Also, the impact of Covid-19 will be felt for years to come in terms of the management of our NSCLC patients."
During an interactive Q&A session, Dr Noonan postulated that immunotherapy offers the chance of cure based on its mechanism of action in terms of cell-to-cell destruction. "There is still a question as to whether adjuvant TKIs are just delaying a progression… when you look at pathological complete response rates with combined immunotherapy and chemotherapy, it's hard to see that we will eliminate chemotherapy altogether, but perhaps we might [in future] be able to use less chemotherapy.
The advantage of using neoadjuvant treatment in lung cancers is that in patients who don't have complete pathological responses, maybe they are the ones who need more intensive treatment with perhaps the combination of chemotherapy plus immunotherapy, whereas if they have a complete pathological response, perhaps they may just need maintenance immunotherapy, so I think we can tailor the treatment that way," she said.
"I think that's the big advantage of the neoadjuvant setting – I think it gives us a lot of prognostic data and allows us to escalate or de-escalate treatment as appropriate."